An aircraft with the Canadian Forces Snowbirds demonstration team crashed in Kamloops, B.C., on Sunday, killing one person and seriously injuring another.
"It is with heavy hearts that we announce that one member of the CF Snowbirds team has died and one has sustained serious injuries," the Royal Canadian Air Force said.
Military to lead investigation into deadly crash of CF Snowbirds jet
"We can confirm that we have contacted all primary family members of those involved. More information will be communicated in the near future."
Multiple sources told Global News that Capt. Jennifer Casey was killed in the crash. Casey, the team's public affairs officer, is from Halifax, according to her Canadian Forces biography.
She joined the CAF in 2014, and the Snowbirds in 2018. Prior to that, she worked as a radio reporter, producer and anchor.
"Jenn was a delight to be around, solid in her work, and had such an infectiously upbeat and genuine way about her," Scott Simpson, Casey's former colleague at Halifax's News 95.7, said in a Facebook post.
"We could all see the pride she expressed in her work with the Canadian Forces Snowbirds as Captain Jenn Casey.
"I don't know her family, but my thoughts go out to them, and everyone else who knew and loved Jenn."
The Canadian Forces said the other victim's injuries were considered non-life-threatening. In a tweet Sunday night, the RCAF identified him as Capt. MacDougall.
Capt. Richard MacDougall is listed in a Sunday night statement by the CAF as the pilot of the aircraft and one of the team's coordinators.
Defence Minister Harjit Sajjan said in a statement Sunday night that he was "deeply saddened" by the crash, and that his thoughts were with all those who were involved.
"I know that all Canadians grieve this tragic loss," he said.
Prime Minister Justin Trudeau said his thoughts were with the families of Capt. Casey and Capt. MacDougall, and the Snowbirds team: "All Canadians are with you during this difficult time."
Canada's Governor General Julie Payette said she is "devastated" by the news.
"To the Royal Canadian Air Force, the military Public Affairs Branch, and the entire Canadian Armed Forces community, Canada stands with you today and in the days to come. You are in our hearts."
'Operational pause'
The fleet of aircraft — the CT-114 Tutor — has been placed on "operational pause," according to a CAF statement Sunday night.
Operation Inspiration has also been delayed "indefinitely" and a flight safety investigation will be carried out.
"A RCAF Flight Safety team will depart from Ottawa shortly to investigate the circumstances of the accident and will begin their work immediately upon arrival," the statement said.
"One of the aims of the flight safety program is to investigate such occurrences with the objective of quickly identifying effective preventive measures that will either prevent or reduce the risk of similar occurrences in the future."
Growing memorial outside Kamloops airport for Snowbird crash victims
Plane crashed in residential area
The crash occurred as the aircraft was taking off from the airport in Kamloops. The BC Ambulance Service says it received a call around 11:30 a.m. and deployed multiple units, both ground and air. One patient was taken to hospital by ground ambulance.
Kamloops Mayor Ken Christian said first responders were called to a fire at one home — the site of the plane crash — and an injury at another.
"This accident today really shakes us to our core," he said. "But we will respond to it in every way that we can to support the Canadian military as well as the women and men in service."
Fire Chief Mike Adams said there was a large amount of debris in the area of three homes.
"One home was significantly damaged by fire," he told reporters.
Other first responders and representatives from the airport and military also attended the scene.
The B.C. RCMP said officers asked the public to avoid Glenview Avenue, Crestline Street, Schreiner Street and Tranquille Road.
Retired nurse says she 'raced over' to help
Dana Hings told Global News she was at home, watching the Snowbirds when she heard the crash.
"We thought it broke the sound barrier and we come over onto the deck and we see smoke, so we raced over," she said.
"I'm a retired nurse, so of course I went into the backyard and there was a woman, she was in the plane and she was deceased.
"We worked on her for quite a while, but … she had catastrophic injuries."
Police, firefighters respond after CF Snowbird jet crashes in Kamloops, B.C.
Hings said the other occupant of the plane was able to eject and landed on a nearby roof.
Video from the scene appears to show two people ejecting from the jet before it crashed.
Mike Trafford, who lives near the airport, told Global News the aircraft had just taken off when something went wrong.
"The plane did a barrel roll, and shortly after the barrel roll there was a spark and the pilot ejected," he said.
"Then the plane took a nosedive and went straight down."
Trafford said the aircraft crashed into a residential area, on Glenview Avenue, near Crestline Street.
"I'm just just hoping that everyone's OK. I hope that, you know, whatever happened happened and that the pilots are OK and whoever was in the house is OK."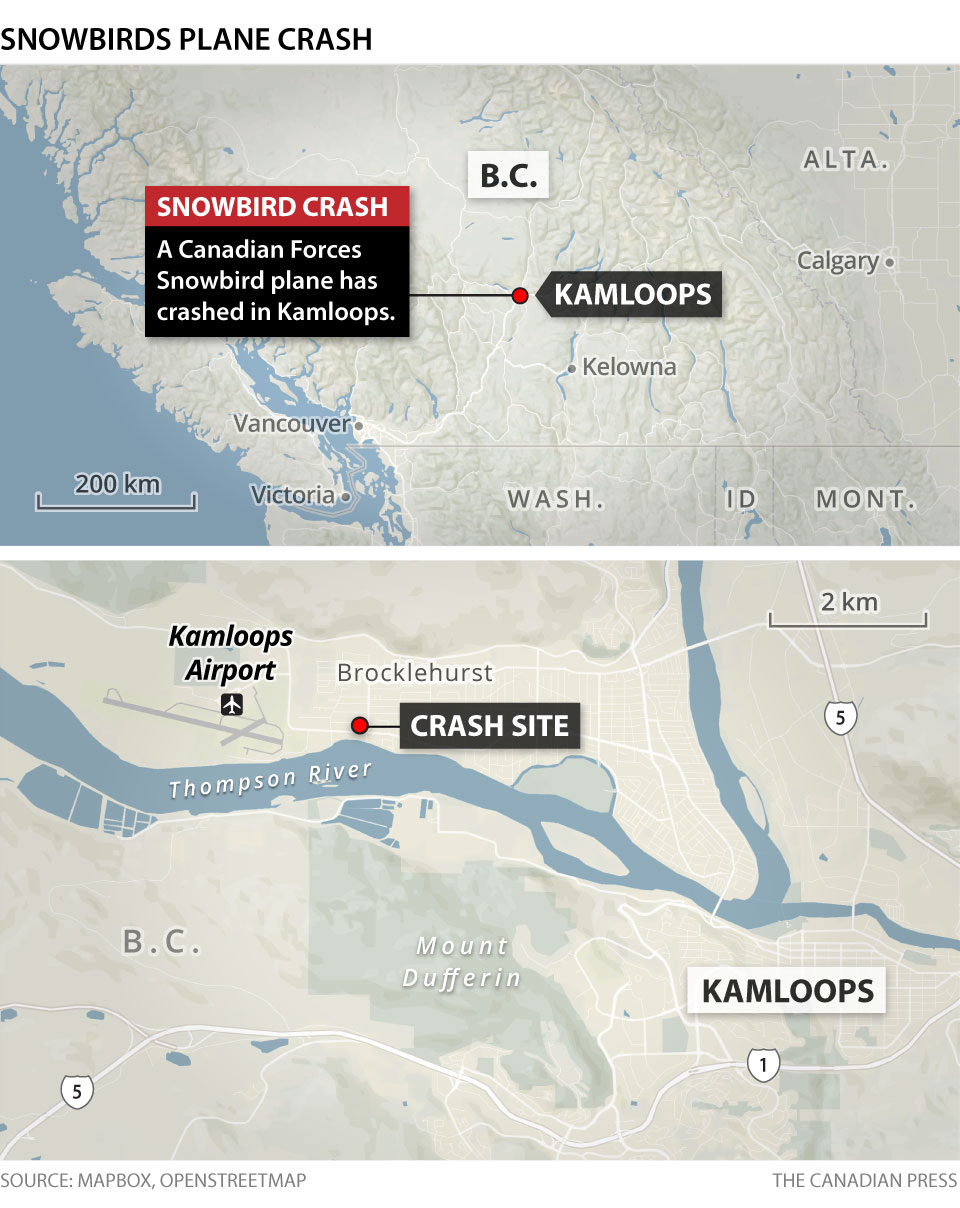 Expert says problem could have been engine-related
Retired Air Force Col. George Miller, a former Snowbirds team commander, called the crash "devastating."
"It seemed to be straightforward. Normal spacing, no problem evident whatsoever, and then I just see the one aircraft ease off," he said.
"It just completely nosed straight down into the residential area."
Having been in that exact formation "many times," Miller said, "my heart went in my throat."
Aviation consultant Alan Stephenson has spent 35 years in the Canadian Armed Forces. He is one of many pilots who has trained on the Canadair CT-114 Tutor before moving on to flying Starfighter 104s and F-18s.
Video shows CF Snowbird jet crashing shortly after takeoff in Kamloops, B.C.
While official word on the cause of the crash remains pending, he says video of the crash "has all the indicators that it was an engine-related problem."
"However, again, the investigation will prove whether it was a bird strike or an engine failure or some sort of other emergency," Stephenson said.
"But it's not normal for a pilot to do that, without some good cause."
Having watched the video, Stephenson says it appears the two aircraft took off in formation.
"Shortly after the end of the runway, it looks like the wingmaster had an engine problem or an emergency in fact and zoomed to leave the formation to deal with the emergency," he said. To him, it seemed like the pilot was trying to see if there was "enough altitude to make it back for a landing."
The Snowbirds were performing a flight across B.C.'s interior as a part of their cross-Canada tour dubbed Operation Inspiration, to raise spirits during the COVID-19 pandemic. They performed in Kamloops the day before the crash.
CF Snowbird jet crashes into house in B.C., killing one member of the team
Early Sunday morning and then again about an hour before the crash, the team posted on Twitter that its flight plans were being disrupted by rain and low visibility.
10 fatalities connected to Snowbirds demonstrations
In October 2019, a Snowbirds pilot was forced to eject from his plane at an airshow in the U.S. The plane fell in an unpopulated area, and there were no resulting injuries.
Prior to Sunday, eight Snowbird pilots and one passenger had died since 1972 while on duty, according to the Royal Canadian Air Force website, including one pilot killed in a car accident after an airshow in the U.S. in the 1980s.
First created in 1971, the Snowbirds have performed at airshows in Canada and the U.S. for decades, flying the Tutor.
The jet was first acquired in the 1960s to train student pilots — the version flown by the Snowbirds has been modified, including a "more highly-tuned engine to enhance performance during low-level aerobatic flying."
—With files from Emerald Bensadoun, Global News