More than 70 vehicles involved in collision on Hwy. 400 near Barrie, Ont.
Police say all of the vehicles involved in a 70-car pileup on Highway 400 near Barrie, Ont., have been removed from the roadway, and all lanes have now reopened to traffic.
At around 10:30 a.m. Monday, police received reports of a multi-vehicle collision blocking all of the southbound lanes of Highway 400, between Mapleview Drive and Innisfil Beach Road.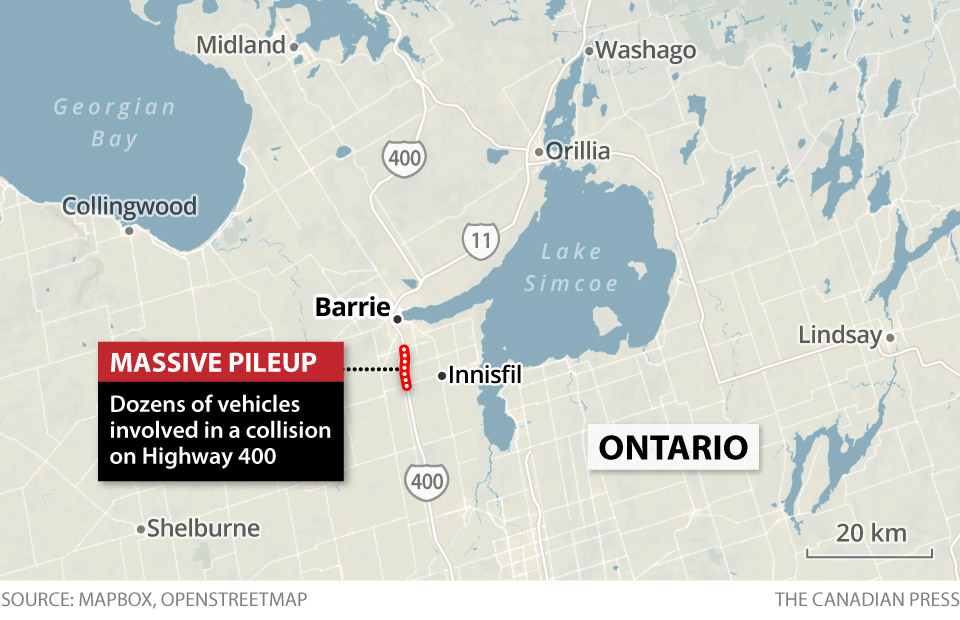 READ MORE: OPP report 20 collisions on Hwy. 115; 24 collisions on Hwy. 7
Initial reports suggested between 50 and 70 cars were involved, however, a tweet from Barrie Fire now says more than 70 vehicles, including several transport trucks, were involved in the collision.
WATCH: A scene of carnage involving dozens of vehicles unfolded on Highway 400, prompting a temporary closure
OPP say 10 people were transported to the Royal Victoria Regional Health Centre with minor injuries, however, no serious injuries were reported.
Barrie Fire says a 500-litre diesel spill is under control at the scene.
WATCH: OPP says a multi-vehicle collision was blocking all southbound lanes of Highway 400, between Mapleview Drive and Innisfil Beach Road.
According to Barrie Fire, a Barrie Transit bus was requested to shelter those involved, and stranded motorists were transported to Georgian Downs.
Police say a second multi-vehicle collision temporarily closed a portion of Highway 11, north of the collision near Barrie.
Officers say that both directions of Highway 11 at County Road 169 near Washago were closed but have reopened.
READ MORE: Blizzard, wind warnings in effect for Barrie, Midland, Collingwood areas: Environment Canada
WATCH: OPP say over 70 vehicles involved in pile-up on Hwy. 400 near Barrie

Watch: OPP Sgt. Kerry Schmidt discusses a pile-up involving dozens of vehicles and tractor-trailers along Hwy. 400 near Barrie that has closed the highway in both directions.
The poor weather conditions also temporarily forced the closure of Highway 26 between Collingwood and Barrie.
OPP Sgt. Kerry Schmidt says blowing snow is causing whiteout conditions and reduced visibility in the area.
Environment Canada issued a blizzard warning for the Barrie area early Monday, saying snow squalls, combined with strong, northwest winds gusting to 70 km/h, could produce dangerous whiteout conditions.
Watch: Global News Meteorologist Ross Hull updates the latest on weather conditions in southern Ontario where a crash involving dozens of vehicles near Barrie, Ont. has closed Hwy. 400 in both directions.
"The most dangerous part of these squalls is not necessarily the snowfall amounts but it's the combination of the fluffy snow with very strong winds – 70 to 90 km/h – making for treacherous road travel," Global News meteorologist, Ross Hull, explained.
Officials say the dangerous blizzard conditions are expected to slowly improve Monday afternoon as the winds weaken.
"Squalls will continue this afternoon into this evening but I'm expecting the intensity of the winds and the squalls to ease – allowing for improved visibility by tonight," Hull says.
The weather agency and police are urging the public to stay off the roads and postpone all non-essential travel in Simcoe County while the dangerous weather persists.
© 2019 Global News, a division of Corus Entertainment Inc.