Twenty-five-year-old Richmond Hill resident Alek Minassian has been identified as the driver of a white van that struck and killed 10 people and left 14 people injured in Toronto Monday.
Chief Mark Saunders made the announcement during a news conference Monday evening.
Police said they received the first call before 1:30 p.m. Officers received reports of a white rental van hitting a number of pedestrians while driving south on Yonge Street. The male driver was arrested by police minutes later.
READ MORE: Eyewitnesses describe panic as van hits Toronto pedestrians
Saunders said investigators are still trying to determine the suspect's motive, but as of Monday evening, the suspect's actions appeared to be "deliberate."
"At this particular point in time, there is nothing that does affect the national security footprint. We are looking very strongly to what the exact motive or motivation was for this particular incident to take place and at the end of the day, we will have a fulsome answer and a fulsome account as to what the conclusion of this is," Saunders said.
"Based on witness accounts, we have a vehicle that started north on Yonge Street from Finch and drove southbound at some points in time on sidewalks, at some points in time driving southbound in the northbound lanes. So it's very clear just from a general perspective to say that the actions definitely looked deliberate."
Police said in an update that Minassian is scheduled to appear in a Toronto court at 10 a.m. on Tuesday.
Information on charges will be released on Tuesday.
Saunders said the suspect wasn't known to police. He said since the investigation is still early, police aren't confirming if the incident was an act of terrorism.
"We don't rule out anything. What we have to do is we have to follow what we have," he said.
"It's very early in the investigation right now. You have to appreciate that there has to be forensic investigations, digital and otherwise. There has to be witnesses [to] not just what may have occurred but witnesses that may have information based on the person that we're alleging has done this."
Federal Public Safety Minister Ralph Goodale said as of Monday evening, there was no information to suggest the attack is an issue of national security.
"I've had the opportunity to consult with the senior officials of the security and police agencies of the Government of Canada and on the basis of all available information at the present time, there would appear to be no national security connection to this particular incident," he said while condolences on behalf of federal government and thanked first responders.
In a statement from Sunnybrook Health Sciences Centre, officials said 10 patients were brought to the hospital. Two of the victims died at hospital, five are in critical condition, two are in serious condition and one is listed in fair condition. Officials said the hospital's emergency room has been locked down as a precaution. North York General Hospital confirmed to Global News that four victims were taken to the hospital, one in critical condition and three in stable condition.
READ MORE: City of Toronto bands together after van strikes, kills 9, injures 16 pedestrians
A video posted on Twitter appears to show a standoff between the male suspect and police just before he was arrested.
The suspect appears to come out of the white van with an object in his hands pointed towards a police officer in the street. In the video, the officer could be heard shouting, "Get down on the ground now."
READ MORE: 'Vehicular attacks' a trend, Canadian intelligence report says
The officer walked toward the man, who dropped the object and turned around with his hands in the air. It is unclear what the object was that the suspect was holding. He was subsequently taken into custody.
When asked about the officer's ability to arrest the suspect without use of force, Saunders commended the officer and said it was due to "high-caliber training."
"The officers here are taught to use as little force as possible in any given situation and I believe that this was captured on video," he said, noting he hasn't received information the suspect was armed with a weapon.
READ MORE: 'This changes everything' — residents react to Toronto van attack, Farah Nasser says
"Through the training, the officer did a fantastic job with respect to utilizing his ability of understanding the circumstance and the environment and having a peaceful resolution at the end of the day."
Toronto police have established two telephone lines in response to the attack. For those who are missing a friend or family member, they are encouraged to call 416-808-8085. For those who witnessed the attack and haven't spoken with police, they are encouraged to call 416-808-8750 or file information through a dedicated web portal.
READ MORE: Toronto van attack doesn't change Canada's risk level, Ralph Goodale says
Police raided a home near Bayview and 16th avenues in Richmond Hill where Minassian is believed to live.
Global News showed a picture of the accused to area residents and many said it is the man who lives in the house police raided.
A LinkedIn profile that seems to belong to the suspect listed him as a Seneca College student.
Barry Mather, a delivery driver from Bolton, told Global News Radio 640 Toronto's Kelly Cutrara that he saw a "banged up" white van while he was making a delivery on Bogert Avenue, near Yonge and Sheppard.
"I was coming out of my van and I'd look and I'd hear this scraping and grinding noise and there's this white Ryder van coming towards me so I had to jump out of the way."
Nick Sanka told Global News he was studying in an area Starbucks when he saw a truck "just running through."
"I get up, and by the time I come here, I saw someone with blood trailing."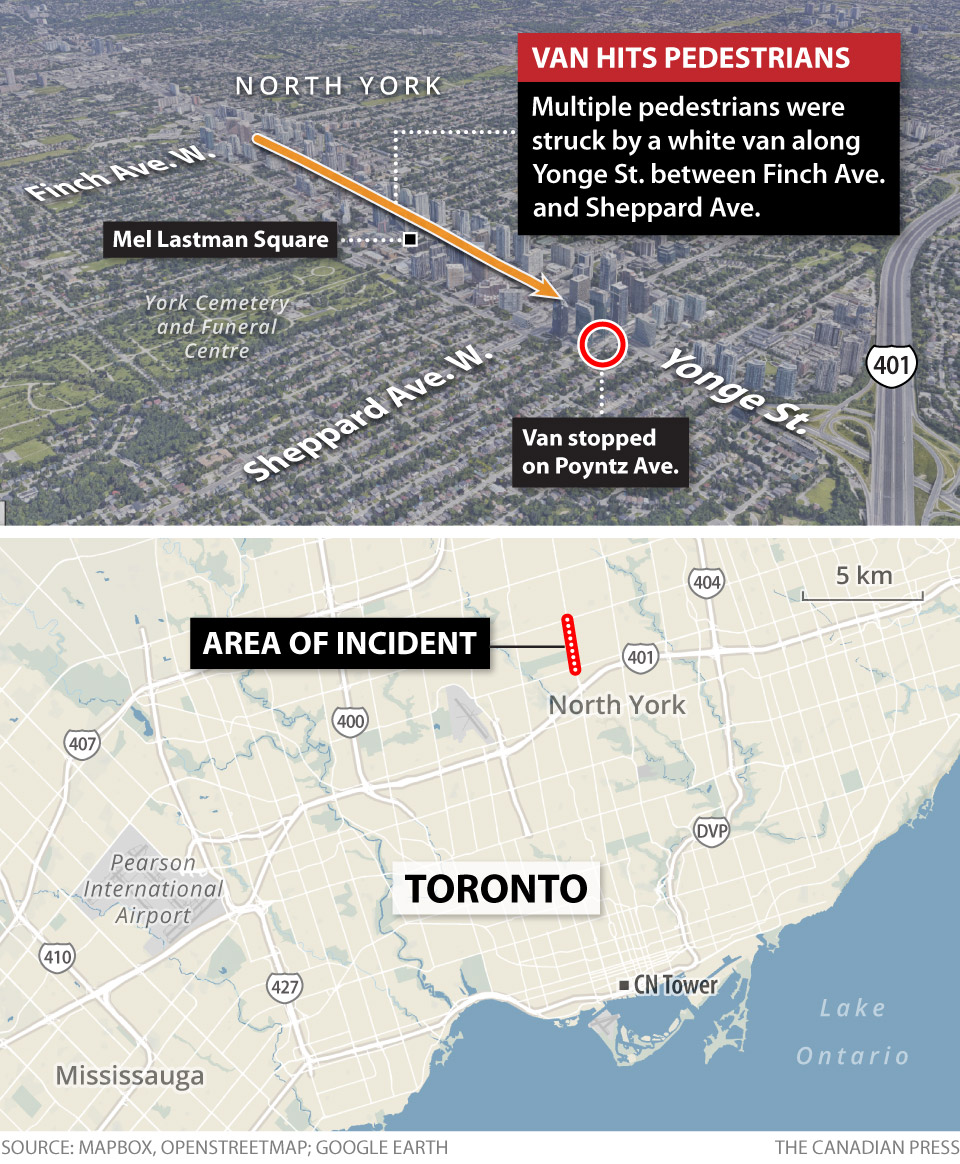 Sanka said the van was "definitely speeding" and that the driver appeared to be in control.
"He did seem to have control over what he was doing … so it wasn't some sort of impairment where he was swerving," he said.
"He just [drove] straight through – and he managed to make a perfect turn at that corner as well."
Mayor John Tory attended the scene on Monday afternoon and said the city is safe during a news conference.
"This is a time when this community should come together," he said.
READ MORE: Toronto mayor tells businesses to close, road and transit closures in effect following van crash
"These are not the kinds of things that we expect to happen in this city. We hope they don't happen anywhere in the world, but we especially don't expect them to happen in Toronto. But things are as they are."
He called on businesses on the affected area of Yonge Street to close down early for the day. Tory encouraged residents and visitors to use Doris Avenue and Beecroft Road to travel in the area.
WATCH: Trudeau, Scheer send thoughts to those injured in Toronto incident
Trudeau, Scheer send thoughts to those injured in Toronto incident
Premier Kathleen Wynne attended the news conference Monday evening. She said government and police agencies have been working together throughout the day. Wynne called the attack a "tragic, tragic situation."
This is a frightening thing that as Mayor tory said is not emblematic of who were are as a city or as a province but is a tragedy that we will work through. But there will be a lot of sadness and pain before that happens," she said.
"I just want to say how professional and comprehensive their response is and has been. We have as a province we have been working side by side with the municipality and the federal government. There's constant communication. We have offered any support, whether it is in regard to victim supports or other security supports."
READ MORE: Police officer commended for refusal to shoot suspect
Prime Minister Justin Trudeau issued a statement on Monday and offered condolences.
"It was with great sadness that I heard about the tragic and senseless attack that took place in Toronto this afternoon," he wrote.
"We should all feel safe walking in our cities and communities. We are monitoring this situation closely and will continue working with our law enforcement partners around the country to ensure the safety and security of all Canadians."
Global News confirmed Chief of Defence Staff Gen. Vance was briefed on the incident unfolding in Toronto. A strategic advisory alert has gone out to military commanders across the country.
READ MORE: Facebook safety alert activated for Toronto after van attack
Meanwhile, a spokesperson for the rental company of the van driven by the suspect said the company is aware of the incident.
"We are saddened by this tragic event, and our deepest sympathies go out to those impacted," Claudia Panfil, vice president of corporate communications for Ryder System, Inc., told Global News in a statement.
"We take the safety and security related to the use of our entire fleet very seriously and we are cooperating fully with authorities."
READ MORE: Maple Leafs hold moment of silence for victims of Toronto van attack
Maple Leafs Sports and Entertainment (MLSE) and Toronto police are putting extra security measures in place around the Air Canada Centre (ACC) for the Maple Leafs and Boston Bruins game Monday evening. A moment of silence was observed at the beginning of the game.
The Toronto Transit Commission shut down subway service between Sheppard and Finch stations for a few hours. Transit officials said Line 1 subway service resumed after 6 p.m. The TTC said trains were bypassing North York Centre station.
— With files from David Shum, Kerri Breen, Amanda Connolly, Maham Abedi, Stewart Bell, Kamil Karamali and Shallima Maharaj