Prime Minister Justin Trudeau announced on Monday that Canada will be closing its borders to most foreign travellers in an attempt to limit the spread of the novel coronavirus.
Speaking to reporters from Rideau Cottage in Ottawa, Trudeau said Canada is taking "increasingly aggressive steps" and will be closing its borders to people who are not Canadian citizens or permanent residents of Canada.
"I know that these measures are far-reaching," Trudeau said. "They are exceptional circumstances calling for exceptional measures."
Coronavirus outbreak: Trudeau closes Canadian borders to foreign travellers
READ MORE: Coronavirus — Trudeau announces economic aid package to help Canadians amid outbreak
Trudeau said the restrictions will come into effect Wednesday but that exceptions will be made for air crews, diplomats, immediate family members and U.S. citizens.
Trudeau said that second, air operators will ban anyone who is showing symptoms of the virus from getting on a plane.
"That means anyone who has symptoms will not be able to enter Canada," he said.
Trudeau said the government will set up a support program to assist asymptomatic Canadians seeking to return home.
Coronavirus outbreak: Trudeau warns 'window is closing' to slow spread of COVID-19
"Canadian travellers will be able to get financial assistance to help them with the costs of returning home or temporarily covering their basic needs while they wait to come back to Canada," Trudeau said.
A statement from Foreign Minister François-Philippe Champagne on Monday evening detailed the creation of a the COVID-19 Emergency Loan Program for Canadians Abroad.
According to the statement, the program was created specifically for Canadians abroad directly impacted by the COVID-19 outbreak and that those using it can apply for an emergency loan of up to $5,000 to secure their return to Canada, as well as to "cover their life-sustaining needs" during the process.
Champagne's statement also said that they will provide additional support to Canadians who are unable to immediately return home through both new "local and other organizational" partnerships and consular services.
Third, Trudeau said only four Canadian airports will receive international flights.
According to Trudeau, Pearson International Airport in Toronto, Vancouver International Airport, Montréal-Pierre Elliott Trudeau International Airport and Calgary International Airport will receive international flights.
[ Sign up for our Health IQ newsletter for the latest coronavirus updates ]
He said domestic flights and flights from the U.S., Mexico and the Caribbean will not be affected and that the measures do not apply to commerce or trade.
How countries have fared trying to flatten the curve
"We will continue to ensure the supply of important goods to Canada," Trudeau said.
Speaking at a press conference on Monday, Transport Minister Marc Garneau said certain kinds of workers who need to cross the Canada-U.S. border will be exempted from requirements to self-isolate.
Deputy prime minister Chrystia Freeland, who also spoke at the conference, was unable to specifically state why U.S. citizens were not barred from entering the country, but said that when it came to the Canada-U.S. border "we need to act with real care, with real delicacy and with real precision."
Coronavirus outbreak: Trudeau tells Canadians abroad it's 'time to come home'
"This is a situation we are reviewing constantly," she said, adding that forcing American tourists to self-isolate for 14 days was already a severe step.
During the conference, Minister of Public Safety Bill Blair said that there will be enhanced security at all airports receiving international flights and increased signage at all points of entry.
Canada Border Services Agency agents would also be keeping an eye out for anyone showing symptoms of the virus and distribute instructional handouts to travellers from abroad, he said.
READ MORE: Coronavirus — Asia urges vigilance as countries work to limit spread of COVID-19
"Ill passengers will be identified before they arrived, isolated and reported immediately to health officials," said Blair. "We will do what is necessary to keep Canadians safe."
Speaking in British Columbia, the province's Health Minister Adrian Dix voiced his concerns about Trudeau's announcement and asked Americans to stay away from Canada.
"It's our strong view and it's our strong message that visitors from the united states not come to B.C.," he said. "Don't come, because at this moment that is the wrong thing to do. We understand that people are being asked to self-isolate, but better than self-isolating for visitors is not to come."
According to Dix, the province confirmed a total of 103 cases and four deaths as of Monday.
Coronavirus outbreak: Trudeau says Canada still in strong position as global markets tumble
Trudeau also reiterated the government's recommendation that Canadians abroad return home via commercial means while they remain available.
"Let me be clear: if you are abroad, it's time for you to come home," he said. "If you have just arrived, you must self-isolate for 14 days.
"And finally, all Canadians, as much as possible, should stay home. By staying home, you can not only protect your health and that of those around you but ensure that our health-care professionals and our health-care systems can focus on those who need their help," he added.
When asked by reporters about the decision to close the borders, Trudeau said we have "now come to a point where the best advice from public health officials is that additional border measures on top of the social distancing measures that we are encouraging domestically is the right combination to move forward now."
Coronavirus outbreak: Trump not considering closing US / Canada border at this time
United States President Donald Trump told reporters Monday that he was not considering closing the Canada-U.S. border at this time, but also did not rule it out indefinitely.
"We think about it," he said. "If we don't have to do it, that'd be good."
"We have very strong emergency powers when it comes to something like this both on the southern and the northern borders and we are talking about different things, but we'll see. Right now we have not decided to do that."
As of 12 a.m. on Tuesday, there were 424 confirmed cases of COVID-19 in Canada and 16 probable cases.
The Public Health Agency of Canada reported that 13 per cent of those cases required hospitalization.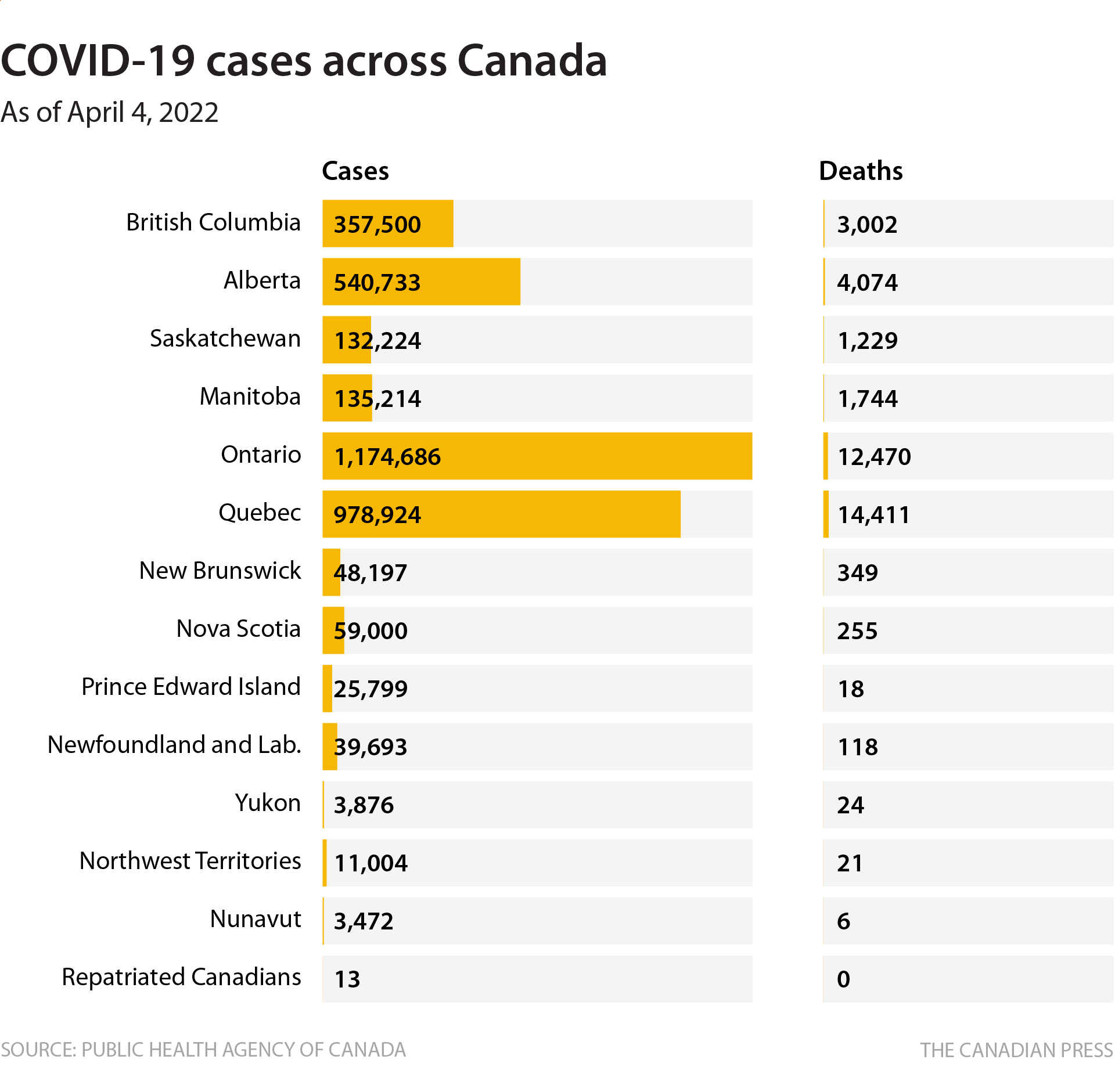 Almost three-quarters of the cases were people who travelled outside of Canada recently, but public health officials also stressed there is community transmission happening now more frequently.
Sunwing Airlines said in a statement Monday they were cancelling all southbound flights from March 17 until April 9 to focus on repatriating customers abroad. Customers who were scheduled to fly during that window period will receive either a full cash refund or a future travel credit.
They estimated their initial flights, which will be arriving from Honduras, Aruba, Panama and St. Maarten, will bring over 500 Canadians home from countries that have announced they will be closing their borders.
"Sunwing is working closely with the governments of all our destinations, in collaboration with Canadian government authorities, to continue repatriation flights in the coming days," the statement read.
— With files from the Canadian Press and Global News' David Lao