Suspicious packages found addressed to Sen. Cory Booker, James Clapper; suspect arrested
UPDATE: A man has been arrested in Florida in connection to the suspicious packages
A Florida man identified as Cesar Sayoc, 56, has been arrested in connection to the suspicious packages, many containing pipe bombs, sent to prominent Democrats in recent days.
Officials say they continue to investigate additional suspects in the case. The U.S. Department of Justice is slated to hold a press conference on the case at 2:30 pm ET.
What we know about the suspect
Court records show that Sayoc, who was born in Brooklyn, N.y., in 1962, has a history of arrests in Florida on various offences, the majority of which are theft-related.
The Aventura, Fla., residents van which was confiscated by police was covered in a number of pro-Trump and Republican images. A "CNN sucks" images could also be seen; CNN's N.Y.C. bureau was the co-target of two of the letter bombs that were addressed to James Clapper and John Brennan.
The van was covered with a large blue tuck and towed to a police facility.
Two witnesses told Reuters they heard a loud blast at the time of Sayoc's arrest, which occurred at an auto parts store in Plantation, Fla.
Pipe bomb targets all prominent Democrats
U.S. authorities announced Friday morning that two additional suspicious packages had been discovered, this time addressed to Democratic Sen. Cory Booker and former director of National Intelligence James Clapper. A third was found Friday afternoon addressed to Sen. Kamala Harris.
FBI confirmed the package addressed to Booker was similar in appearance to the others and was found in Florida.
NBC reported the package to Clapper was found in a New York postal facility; the NYPD has confirmed it appears to be a pipe bomb.
The package addressed to Booker was found at a postal facility near Opa-Locka, Fla., according to ABC7 News. CNN reports officials found the package Thursday night.
The FBI has been searching the postal facility because they believed some of the other packages originated there, an official told the Associated Press.
READ MORE: Pipe bombs may have originated from Florida; Biden, DeNiro latest targets
The latest packages come after other prominent Democrats — including former president Barack Obama, former secretary of state Hillary Clinton and former vice-president Joe Biden — received crude pipe bombs in the mail. None of the devices were detonated and no one was injured in the incidents.
The one addressed to Clapper was reportedly sent to the New York CNN Bureau, similar to the one found in the CNN mail room addressed to former CIA director John Brennan.
Clapper said in a phone interview on CNN shortly after the package was found that people should continue with their daily lives.
"This is not going to silence this administrations' critics," Clapper said.
Clapper stressed that he did not want to suggest any direct link between Trump's past rhetoric and the packages. But he said Trump should bear responsibility for the "coarseness and uncivility of the dialogue in this country."
WATCH: Suspicious package addressed to former Director of National Intelligence James Clapper found in NYC
Trump claimed on Friday he was being blamed for the mail bombs addressed to his critics, complaining in a tweet sent before dawn: "Funny how lowly rated CNN, and others, can criticize me at will, even blaming me for the current spate of Bombs and ridiculously comparing this to September 11th and the Oklahoma City bombing, yet when I criticize them they go wild and scream, 'it's just not Presidential!"'
WATCH: 'We are treating them as live devices': NYPD Commissioner
Following the arrest, Trump stated that those responsible will be prosecuted to the fullest extent of the law.
"These terrorizing acts are despicable and have no place in our country," Trump said Friday afternoon at the White House during an event for young black conservatives.
Manhunt for culprit
FBI and law enforcement officials from around the country have been working together to find the person or persons responsible for the devices.
"This coordinated effort will continue for as long as necessary until the investigation is concluded," officials wrote on Twitter.
The devices contained timers and batteries, but were not rigged like booby-trapped package bombs that would explode upon opening. Officials were uncertain whether the devices were poorly designed or never intended to cause physical harm.
Details suggested a pattern — that the items were packaged in manila envelopes, addressed to prominent Trump critics and carried U.S. postage stamps. The devices were being examined by technicians at the FBI's forensic lab in Quantico, Virginia.
List of those who were sent bombs or suspicious packages (in chronological order) 
Democratic donor and philanthropist George Soros (Oct. 22)
Former secretary of state, and former Democratic presidential candidate Hillary Clinton (Oct. 23)
Former president Barack Obama (Oct. 24)
Former CIA director John Brennan, via CNN (Oct. 24)
Former attorney general Eric Holder, found at Rep. Debbie Wasserman Schultz's office after being returned to sender (Oct. 24)
Congressperson Maxine Waters, two packages found (Oct. 24)
Actor Robert De Niro (Oct. 25)
Former vice president Joe Biden, two packages found (Oct. 25)
Sen. Cory Booker (Oct. 26)
Former national intelligence director James Clapper, via CNN (Oct. 26)
Sen. Kamala Harris (Oct. 26)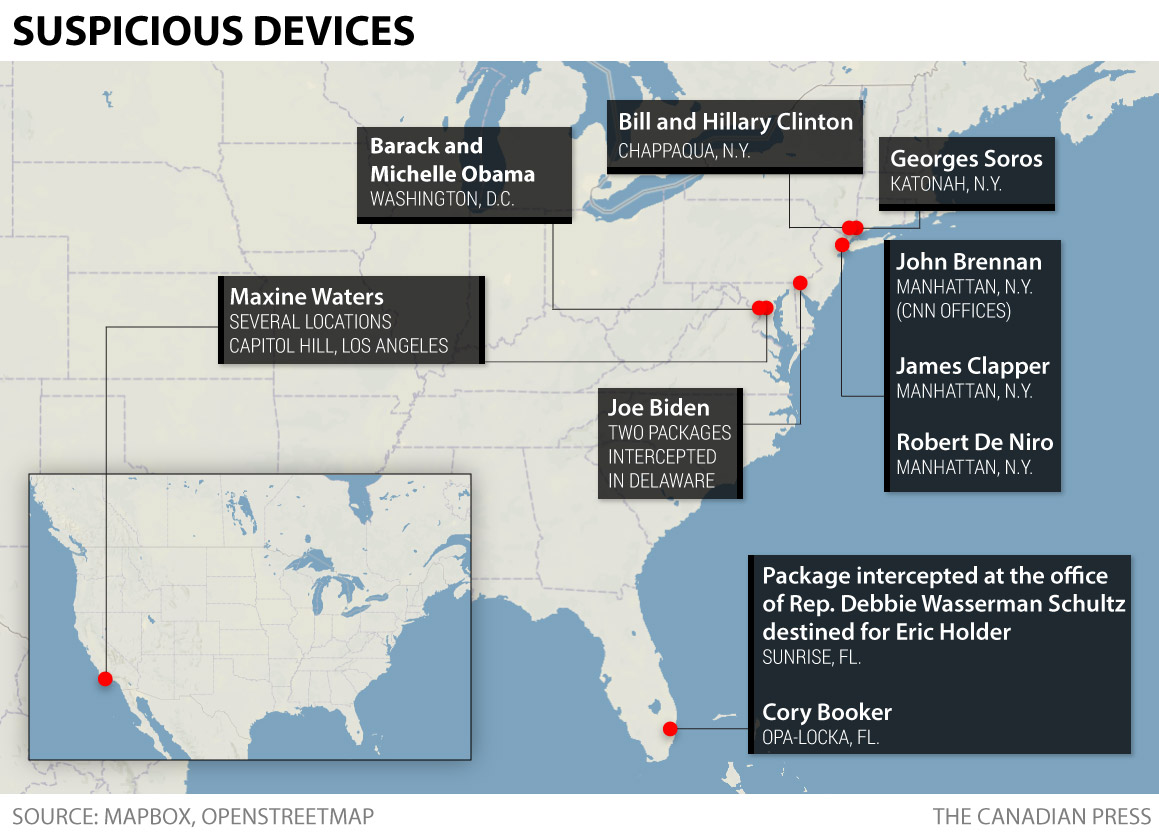 *with files from the Associated Press, Global News reporter Rahul Kalvapalle and Tania Kohut
© 2018 Global News, a division of Corus Entertainment Inc.