LATEST UPDATES: 
Cesar Sayoc has been charged with 5 federal crimes and faces up to 48 years in prison
Sayoc has an Aventura, Fla. residence believed to belong to his mother.
The only contact Sayoc has had with the Aventura police department has been minor traffic violations, according to Aventura police chief
13 IEDs discovered so far; more packages could still be in transit
FBI Director Christopher Wray said 'these are not hoax devices'
The suspect's fingerprint was found on at least one of the packages
On Friday, investigators also recovered additional suspicious packages sent to former Director of National Intelligence James Clapper, billionaire-philanthropist Tom Steyer and Sen. Kamala Harris.
U.S. federal law enforcement officials have arrested a person in connection with the explosive devices sent to prominent Democrats over the past week.
Florida man Cesar Sayoc, 56, who is known to police, was arrested Friday. DNA played a part in identifying Sayoc, and officials say his fingerprint was found on one of the packages.
Sayoc has been charged with five federal crimes and could face up to 58 years in prison. There is a possibility that there are more explosive devices "in transit," said FBI Director Christopher Wray Friday afternoon, who warned that the threat remains very real.
"These are not hoax devices," said Wray.
Sayoc had previous run-ins with the law, including an August 2002 incident for threatening to throw a bomb in a conversation with a Florida utility representative, Ronald Lowy, a Miami attorney who represented him, told the Associated Press. Dade County court records showed Sayoc served a year's probation after a judge signed a discharge certificate in November 2002.
Lowy said that Sayoc "made a verbal threat when he was frustrated at a lack of service." Lowy said Sayoc showed no ability at the time to back up his threat with bomb-making expertise.
WATCH: DOJ confirms a total of 13 pipe bombs were sent across the U.S.
DOJ confirms a total of 13 pipe bombs were sent across the U.S.
Other past convictions included grand theft auto and fraud.
The lawyer said Sayoc was a bodybuilder then, and displayed no political leanings except for plastering a vehicle he owned with Native American signs.
A law enforcement official told Reuters other suspects are still being considered.
WATCH: Pipe bomb suspect identified as Cesar Sayoc
Pipe bomb suspect identified as Cesar Sayoc
NBC reported the arrest took place in Florida.
Video showed federal agents and police officers examining a white van, which reportedly belongs to Sayoc, in the parking lot of a business in Plantation, Fla., in connection to the investigation.
The van, which had several stickers or decals on the windows, including American flags, pictures of President Donald Trump and Vice President Mike Pence and a sticker that said "CNN sucks", has since been towed away by officials. (CNN's New York bureau was the target of two of the mailed pipe bombs.) The stickers also show prominent Democrats or Trump critics with targets overlaid on them.
The FBI has been working with law enforcement officials across the country to find the culprit since the first package was found Monday night.
Trump praised the FBI and law enforcement for their quick response at an event at the White House Friday around noon.
"We will prosecute them, him, her, whoever it may be, to the fullest extent of the law," he said.
"We must never allow political violence to take root in America – cannot let it happen," he continued. "And I'm committed to doing everything in my power as president to stop it and to stop it now."
Since then, another 12 packages – all sent in a brown package and with six stamps, and all with the return address of Rep. Debbie Wasserman Shultz – were sent to frequent Trump critics including former president Barack Obama, Hillary Clinton, current elected Democrats and other former Obama administration officials.
The FBI has been searching a post office in Opa-locka, Fla. since Thursday night in connection with the incidents – and officials had found a package sent to Democratic Sen. Cory Booker at that facility.
Another package was found Friday morning at a New York postal facility addressed to former national intelligence director James Clapper courtesy of CNN's New York Bureau.
Clapper said people who have been critics of President Donald Trump should be "on extra alert" and called the incidents "domestic terrorism" in a phone interview on CNN shortly after the package was found.
But he also said that "This is not going to silence this administrations' critics."
Clapper stressed that he did not want to suggest any direct link between Trump's past rhetoric and the packages. But he said Trump should bear responsibility for the "coarseness and uncivility of the dialogue in this country."
Trump has taken exception to the perceived link between his rhetoric and the intent behind the packages, even though FBI officials have not given a motive for the incidents.
"Funny how lowly rated CNN, and others, can criticize me at will, even blaming me for the current spate of Bombs and ridiculously comparing this to September 11th and the Oklahoma City bombing, yet when I criticize them they go wild and scream, 'it's just not Presidential!'" he wrote on Twitter Friday morning.
Later Friday, Wasserman Schultz asked Americans to reduce the political rhetoric to a minimum, calling it "grossly irresponsible" for politicians to continue to stir the pot.
Bombs sent two weeks before midterms 
Trump said Friday morning that the bomb scare is distracting from attention on the upcoming midterm elections.
"Republicans are doing so well in early voting, and at the polls, and now this 'Bomb' stuff happens and the momentum greatly slows – news not talking politics," Trump tweeted, shortly before the news of an arrest was made public.
WATCH: Officials and politicians comment pipe bomb investigation 
"Very unfortunate, what is going on. Republicans, go out and vote!"
Trump's tone regarding the packages has shifted from initially calling for unity to later blaming the press for the divisive political climate.
In a statement released by his publicist on Friday, actor Robert De Niro, who also had a suspicious package addressed to him, called on people to vote after the scare.
"There's something more powerful than bombs, and that's your vote. People must vote!" he said.
The Oscar-winner has been one of Trump's most vocal critics, dropping an expletive insult at Trump at this year's Tony Awards and also apologizing to Canadians for the "idiotic behaviour of my president."
List of those who were sent bombs or suspicious packages (in chronological order) 
Democratic donor and philanthropist George Soros (Oct. 22)
Former secretary of state, and former Democratic presidential candidate Hillary Clinton (Oct. 23)
Former president Barack Obama (Oct. 24)
Former CIA director John Brennan, via CNN (Oct. 24)
Former attorney general Eric Holder, found at Rep. Debbie Wasserman Schultz's office after being returned to sender (Oct. 24)
Congressperson Maxine Waters, two packages found (Oct. 24)
Actor Robert De Niro (Oct. 25)
Former vice president Joe Biden, two packages found (Oct. 25)
Sen. Cory Booker (Oct. 26)
Former national intelligence director James Clapper, via CNN (Oct. 26)
California Sen. Kamala Harris (Oct. 26)
Billionaire-philanthropist Tom Steyer, via FBI (Oct. 26)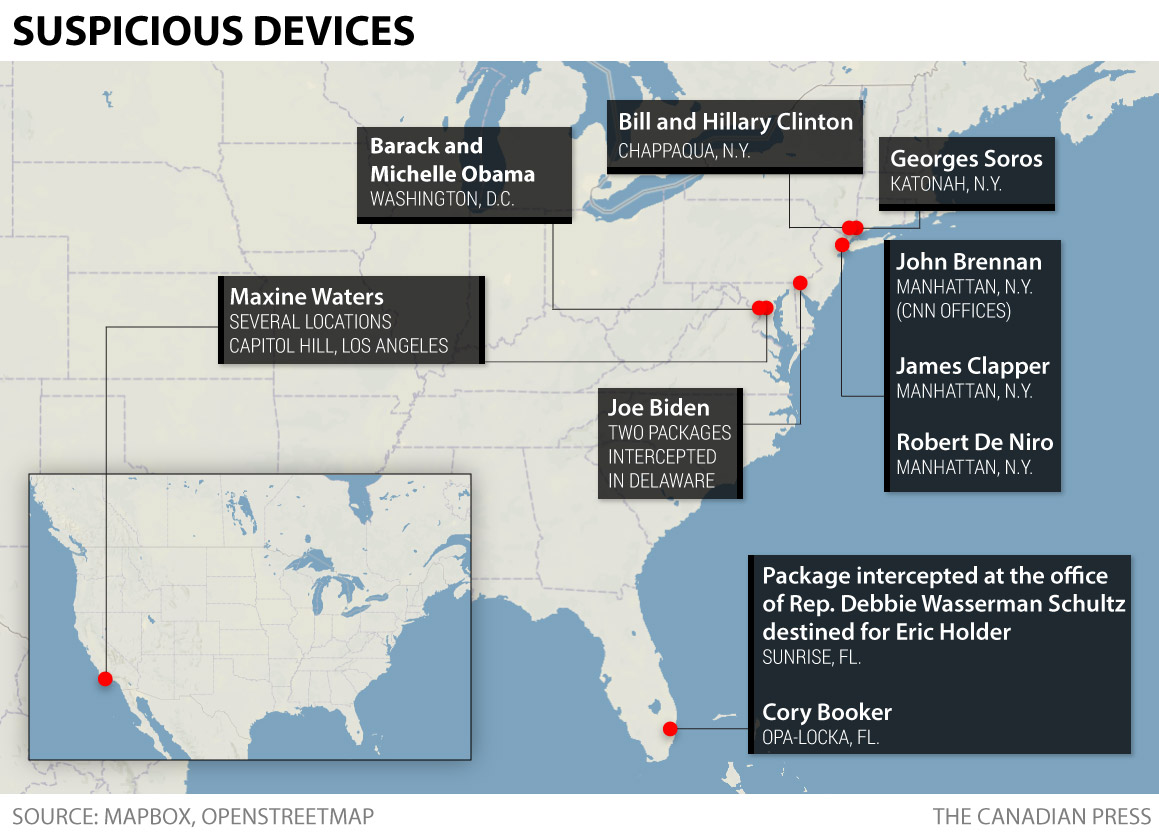 *With files from the Associated Press