A province already on edge after 22 people were killed this past weekend had to endure hours of anxiety as RCMP investigated weapons complaints throughout the Halifax Regional Municipality on Friday.
The province activated its emergency alert system as RCMP said they were responded to reports of shots fired in a wooded area between Haliburton Hills and the Highland Park Heights Suburb in Hammonds Plains as well as in the Omega Court area of Hubley, N.S.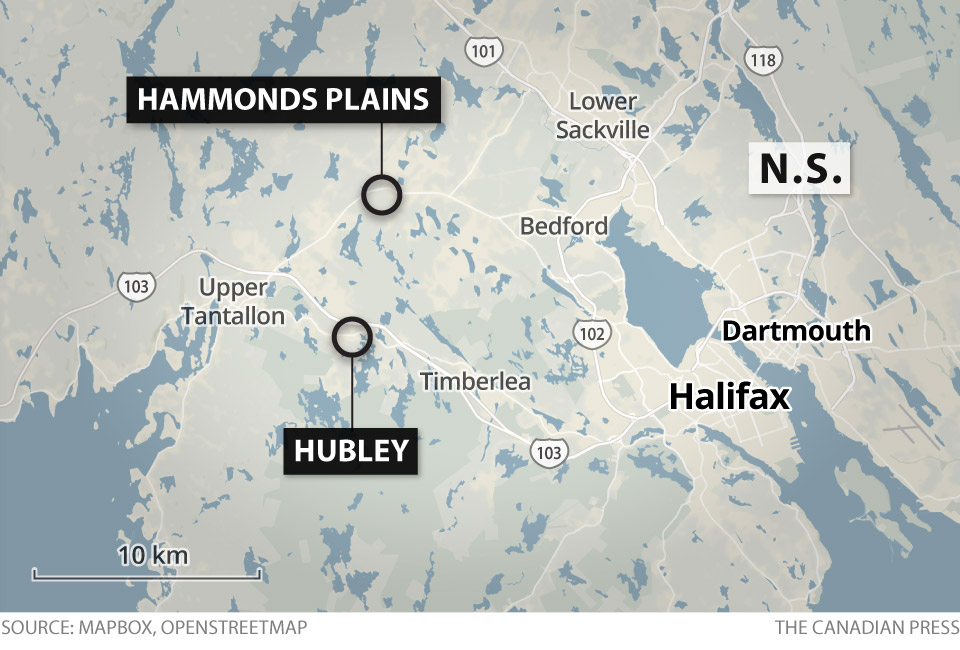 After a thorough search, RCMP say that there is no evidence of shots being in the area.
Police continue to patrol the area.
The Nova Scotia Health Authority placed all of its sites in its central zone on lockdown as a result of the investigation while the NSLC closed all of its locations.
Police respond to reports of shots fired in Halifax suburb
READ MORE: 6 former Nova Scotia premiers issue joint statement of support for province
Police say no 'shots fired' on Connaught Avenue
Halifax Regional Police have issued a statement debunking a rumour that they are investigating reports of "shots fired" near Connaught Avenue.
They say the incident has been investigated and was determined to be a result of public confusion over the province's public alert.
"There is no information regarding a weapons complaint on or near Connaught Avenue [in] Halifax at this time," Halifax police said in a statement.
2 arrested after weapons call in Dartmouth
Halifax police say they have arrested two people in response to a weapons call in Dartmouth.
Police say that at approximately 3:14 p.m., officers responded to reports of two men passing a firearm back and forth in the parking lot of 60 Lamont Terrace in Dartmouth, N.S.
Halifax police took a 26-year-old into custody, locating an "airsoft" weapon in the vehicle belonging to the first man.
A second man, who is 22 years old, had left the area before police arrived. He then returned to the parking lot in his vehicle and was arrested without incident.
Nova Scotia shooting: Trudeau says Ottawa must examine RCMP response
During the incident, when officers were looking for the second man, RCMP stopped a similar-looking vehicle on Dartmouth Road in Bedford. That vehicle was quickly determined to be uninvolved in the incident.
The initial investigation by Halifax police found that the men took the "airsoft" gun to the parking lot and passed it back and forth looking at it before entering the Canadian Tire located at the address in order to purchase airsoft ammunition and a Co2 canister.
Officers do not believe there was a threat to public safety but say it did cause significant alarm to witnesses.
The two men are facing charges for possession of a weapon dangerous to the public peace and will attend Dartmouth Court at a later date.
© 2020 Global News, a division of Corus Entertainment Inc.