EDITOR'S NOTE: A previous version this story stated that all of the passengers on the cruise ship will be tested for COVID-19. Princess Cruises says fewer than 100 people have been identified for testing. This has been corrected.
More than 200 Canadians are on board a cruise ship that is being held off the coast of San Francisco over coronavirus concerns.
Global Affairs Canada said Thursday that there are 235 Canadians on the manifest for the Grand Princess. No one on board will be allowed to disembark before testing for the new virus takes place.
"At this time, there are no confirmed cases," a spokesperson for Global Affairs said in a statement.
"We are in contact with the cruise line and local authorities and we are monitoring the situation closely."
Two passengers on a previous Grand Princess voyage to Mexico have fallen ill with COVID-19, the illness caused by the virus. One, a man in his 70s with previous health conditions, has died, according to California Gov. Gavin Newsom.
Officials say some of the passengers on board the current cruise, which was headed for Hawaii, would have been on the ship at the same time as those later diagnosed with COVID-19.
Several passengers also had symptoms that could be the new coronavirus, flu or the common cold, health officials said.
Both the ill passengers and crew, as well as those who were on board during the previous voyage, are being tested. Princess Cruises said in a statement that the number of people who will be tested is fewer than 100.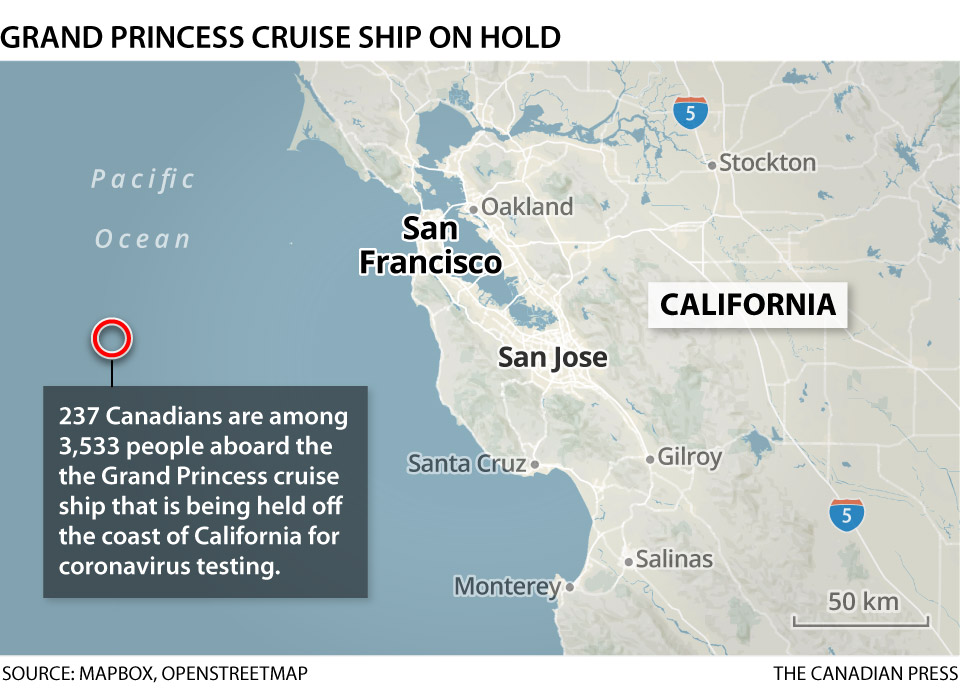 The state planned to fly COVID-19 testing kits out to the ship, Newsom said Wednesday.
"The ship will not come on shore until we appropriately assess the passengers," he said, adding that the test results could be available within hours.
Canadian officials say they are in contact with the cruise line and local authorities.
Ian Lancaster Graylish, a Toronto man who is on board the ship with a friend, told Global News all passengers were confined to their rooms early Thursday afternoon to await the test results.
U.S. Coast Guard helicopters arrived in the morning, he said, to drop off officials with the federal Centres for Disease Control and Prevention, who administered the tests. The helicopters left in the afternoon.
In the meantime, Graylish said all bars, restaurants and entertainment venues have been shut down on the ship, with passengers receiving room service meals.
"We haven't had a negative experience," he said. "There's no drama … The staff have been great and information has been very forthcoming."
The ship was originally set to dock in San Francisco on Saturday. Graylish said passengers had been told they may be allowed to leave Friday when test results are returned, but staff later said a Saturday departure is more likely.
Graylish, however, expects that could be delayed if officials wish to screen all passengers before they disembark.
B.C. Man trapped on Diamond Princess cruise returns home after being quarantined for COVID-19
More than 95,000 people have been infected with the new coronavirus since it emerged in China late last year, and nearly 3,330 people have succumbed to the illness.
In Canada, 46 people have been diagnosed with COVID-19.
On Thursday, health officials announced the first presumptive case in Alberta, while the other patients are located in Ontario, B.C. and Quebec.
The Alberta case, a woman in her 50s, is believed to have contracted the virus while aboard the Grand Princess. She returned home on Feb. 21.
One of three new Ontario cases announced Thursday, a Mississauga man in his 60s, was also aboard the same cruise ship between Feb. 11 and Feb. 21.
A group of Canadians who were previously on board the Diamond Princess, a cruise ship that was quarantined off Japan due to the virus, were flown home on a government-chartered flight last month.
They are expected to be released from quarantine in Cornwall, Ont., on Friday.
–With files from the Associated Press and Reuters
© 2020 Global News, a division of Corus Entertainment Inc.