Starting Sunday, people forced out of High Level and surrounding northern Alberta communities by a 9,925-square-kilometre wildfire will be able to apply for emergency financial aid from the province.
In an update Saturday morning, Alberta Wildfire officials said the Chuckegg Creek fire remains about about three kilometres southwest of High Level. It had grown to nearly 100,000 hectares — or 10,000 square kilometres — by Friday evening.
Officials said firefighters had successfully completed a controlled burn technique to create a containment boundary along Highway 35, south of High Level and Highway 58, west of High Level.
Lighter winds helped firefighters contain the fire perimeter southwest of High Level Friday.
"We are not out of the woods in High Level," Alberta Wildfire spokesperson Christie Tucker said.
Winds are expected to pick up and change direction Sunday. Officials said evacuees should prepare to be out of their homes until Tuesday at the earliest, and likely longer.
"Our current forecast is showing Sunday returning to hotter and drier and windier conditions with winds switching around to the west and southwest," wildfire incident commander Scott Elliot said. "That will again start giving the fire potential to start moving into the community once again."
Watch below: As of Sunday, May 26, people forced out of their homes due to the wildfire near High Level can apply for emergency financial support. Minister Kaycee Madu has the details.
Alberta government announces financial aid for wildfire evacuees
Minister of Municipal Affairs Kaycee Madu said he and a team of provincial staff would be speaking with evacuees this weekend, and helping start the application process for the financial assistance.
Starting on May 26, wildfire evacuees can apply for a one-time payment of $1,250 (for adults) and $500 for each dependent child by registering online at MyAlberta Digital ID.
"It can take up to 24 hours for you to see the money in your account," Madu said.
To receive the payments, evacuees must also have a personal email account. Those unable to register online can register in person at wildfire support or reception centres.
Debit cards will be available Monday starting at 10 a.m., he said.
People qualify for assistance if they were living, working or vacationing in the affected area; forced to leave due to an evacuation order; paid for most of their costs to evacuate.
Watch below: Minister of Agriculture and Forestry Devin Dreeshen said firefighters from across Canada are in Alberta to fight the out-of-control wildfire near High Level.
Alberta government thanks firefighters for efforts amid growing wildfire
"We know this is a stressful time for you," Madu added. "You have been away from your homes for several days now.
"Food and other essentials will continue to be available to you at reception centres."
"These one-time emergency payments will help defray the costs that residents have incurred because of the mandatory evacuation order," Rajan Sawhney, minister of Community and Social Services, said.
"We hope that sharing the costs of day-to-day, essential expenses will provide some peace of mind for residents during this stressful time."
Fire officials say it's currently moving away from the northwestern Alberta town but a shift in winds could move the fire towards High Level, Elliot said.
On Thursday, crews successfully completed a controlled burn near the town to reduce fuel for the fire.
"It's been a long week," High Level Fire Chief Rodney Schmidt said, "not only for our High Level fire crews but also for the 20 odd municipalities that have arrived here to give us a hand."
"I'm feeling a lot happier about the way the town is," Schmidt said Friday, after another successful controlled burn.
Watch below: Protection efforts are underway in High Level to keep the wildfire from the town 
Wildfire protection efforts underway in High Level
While the north winds are helping keep the fire south of the town of High Level, the wind is causing the smoke to travel to the south.
Environment Canada has issued a special air quality statement for much of northwest Alberta as two out-of-control wildfires continue to burn.
Watch below: Parts of Alberta were quite hazy on Friday because of smoke coming from the wildfires in the northern Alberta. As Emily Mertz explains, there's a new online tool that's tracking the smoke. 
New online tool tracks wildfire smoke
As of 10:30 Friday morning, Grande Prairie, Beaverlodge, Valleyview, High Level, Rainbow Lake, Fort Vermillion, Mackenzie Highway, Peace River, Fairview, High Prairie and Manning were all under the special statement.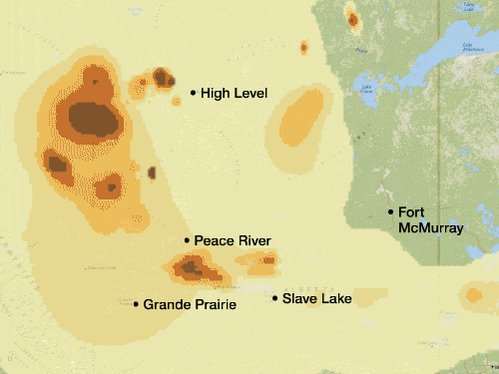 According to Environment Canada, the smoke is causing poor air quality and is reducing visibility.
"Individuals may experience symptoms such as increased coughing, throat irritation, headaches or shortness of breath," the government agency said.
"Children, seniors and those with cardiovascular or lung disease, such as asthma, are especially at risk."
Environment Canada warns that people with lung disease will experience more serious health effects.
WATCH: Alberta wildfire growing but not advancing toward High Level
Alberta wildfire growing but not advancing toward High Level
Anyone with breathing difficulties is urged to stay inside and find a cool place that is well ventilated. An air conditioner with a filter may help.
According to Environment Canada's Air Quality Health Index, northern Alberta will see values as high as eight, or high risk, through the day Friday.
Alberta Health Services evacuated 19 patients from the Manning Community Health Centre due to smoke from the wildfires.
There are 160 Alberta Wildfire firefighters and 154 structural (municipal) firefighters.
The province said Friday evening there was a total of nearly 400 firefighters, 28 helicopters, eight air tankers and over 60 trucks and other pieces of equipment working on the blaze. They include 261 wildland firefighters.
BELOW: An interactive map of the wildfires currently burning in Alberta
Approximately 5,000 residents of High Level and the surrounding area were evacuated over the long weekend.
Officials have not speculated when people may be able to return.
"The wildfire southwest of the town of High Level is still classified as out of control and the danger to the town of High Level and area is still very real," the town said in an update on Friday.
Meanwhile evacuated residents are reminded to register at an evacuation centre, if they haven't already. As of 2 p.m. on Friday, the province said about 3,700 evacuees had registered.
Registration centres have been set up at:
Slave Lake Legacy Centre
400 6 Ave NE, Slave Lake, AB
Phone: 780-843-5651.
Directions: Take Highway 88 south to Slave Lake, turn right on to Caribou Trail NW, follow Caribou Trail to 6 Ave NE, turn left and follow 6 Ave NE to the Wildfire Legacy Centre.
Gordon Buchanan Centre
5409-49 Street, High Prairie, AB T0G 1E0
Grande Prairie Regional College (GPRC)
10726-106 Ave (Signage is posted), Grande Prairie, AB
Misery Mountain Ski Resort
10408-89 Street, Peace River, AB
La Crete Heritage Centre
15411 Twp Rd 1060, south of La Crete
Fort Vermilion Community Cultural Complex
(5001-44 Ave. in Fort Vermilion)
If for any reason a resident is unable to make it to a registration centre, they can register by calling 780-502-0778.
© 2019 Global News, a division of Corus Entertainment Inc.