More Canadian soldiers are helping in the battle to sandbag homes against the still-rising floodwaters in central and eastern Canada than are deployed overseas, Defence Minister Harjit Sajjan says, though in a few places the water is slowly beginning to recede.
States of emergency have been declared in Quebec, Ontario, and New Brunswick as waters reach or surpass historic flood levels reached, in some cases, just two years ago.
Thousands of people have been forced from their homes, including 9,500 in Quebec — two-thirds of them in Ste-Marthe-sur-le-Lac, west of Montreal, after fleeing water from the Lake of Two Mountains that burst through a natural dike Saturday — and more are being urged to leave before water cuts them off from help.
The military has helped build one new dike in Ste-Marthe-sur-le-Lac and is almost finished a second, said Quebec Public Security Minister Genevieve Guilbault, though she had no answer about why the dike in the bedroom community failed.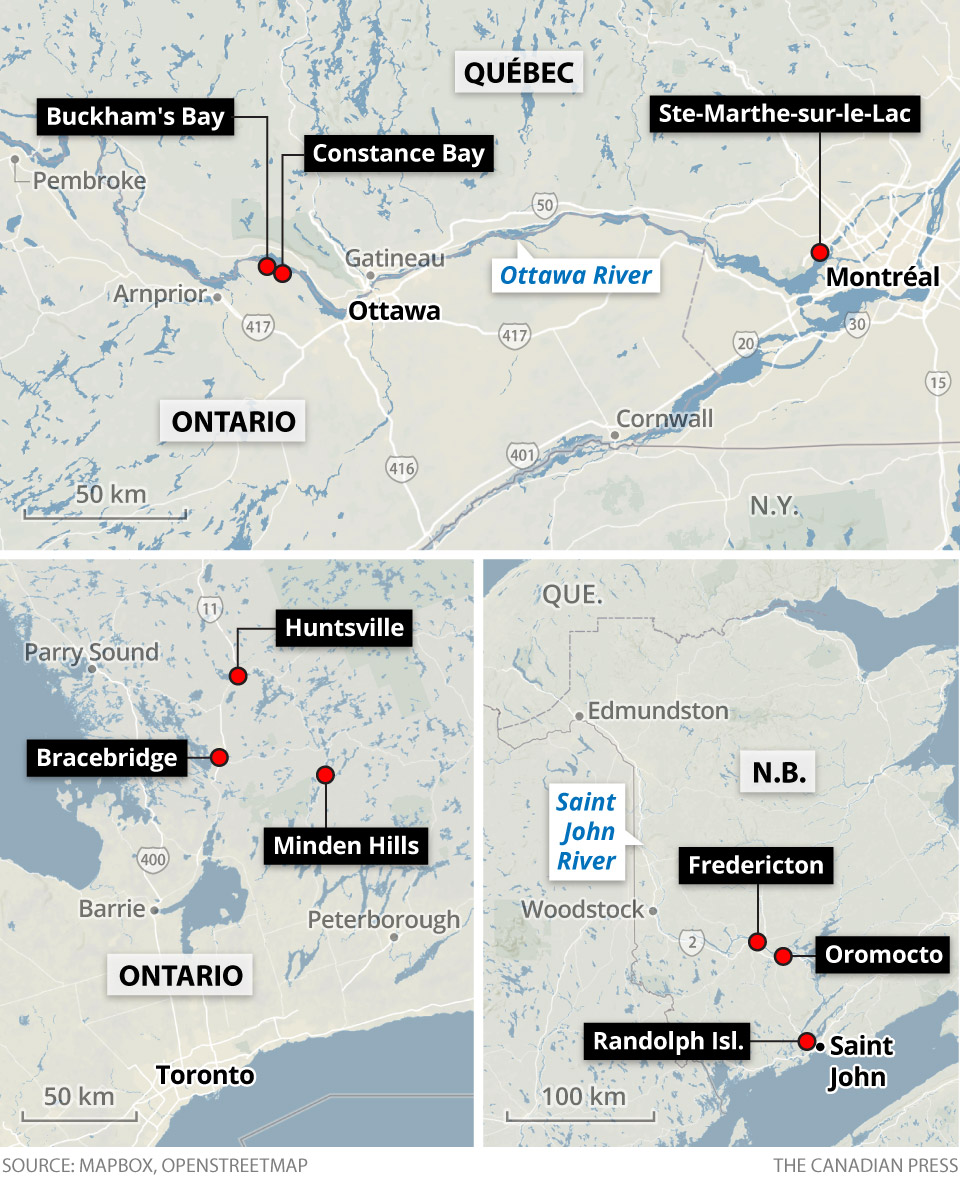 The mammoth military response now stands at 2,000 soldiers in flood-ravaged regions that have requested help, compared to about 1,600 deployed overseas. Sajjan said Monday that more could be sent if cities that have declared states of emergency ask for additional troops.
"We don't have any limit. It's all based on the situation. If more are needed, we will always make more troops available," Sajjan told reporters near Saint John, N.B.
The military's orders have been to protect property, but Quebec Premier Francois Legault said Monday afternoon that he wants the troops to stay in the province once the waters subside to help remove the sandbags, which have to be carefully disposed of after being exposed to potentially contaminated water.
"Someone needs to remove them and clean up," Legault told reporters on a visit to the flood zone in Maskinonge, about 100 kilometres northeast of Montreal. "It's not exactly in the job description of the army, but we are trying to insist to have the army there for clean-up operations and we are waiting for an answer from Ottawa."
A change in orders would require negotiations among the municipal, provincial and federal governments. Municipal officials in Ottawa didn't expect to be near clean-up mode until the Victoria Day long weekend, and planning for cleanup hasn't yet included talk about asking the military for more help.
"We're looking at this day-to-day," said Col. Jason Adair, whose brigade is spread from the east to west edges of the national capital. "Our mandate is crystal clear and that is to provide sandbagging, or sandbags at the right place and the right time … and anything beyond that, we're just not there right now."
An estimated million sandbags are standing between the bloated Ottawa River and residences and businesses in the capital. More are in place in Gatineau, Que., on the river's opposite bank. Even so, whole riverfront neighbourhoods are flooded.
The Ottawa River isn't expected to peak until mid-week, after rising by another 50 cm. What happens after that, as in other regions, depends on the weather. Forecasts call for between 35 and 50 mm of rain toward the end of the week and depending on where it falls — the Ottawa River drains about 140,000 square kilometres of eastern Ontario and western Quebec — and how long the river takes to recede, there could be a second flood peak.
Ontario's cottage country is also bracing for rain after flooding prompted states of emergency in Bracebridge, Muskoka Lakes, Huntsville and Minden Hills.
In New Brunswick, floodwaters along the Saint John River slowly receded Monday, though more than 80 roads cross the province remain underwater and closed, including a major section of the Trans-Canada Highway.
WATCH: Potential health hazards of floodwaters
Potential health hazards of floodwaters
Provincial officials urged patience from affected communities, warning it will take time before recovery and cleanup begin.
Quebec's short-term weather forecast has no serious rain expected across the province until Wednesday. But many parts of Quebec are likewise expected to remain flooded for some time.
The record flooding is expected to push losses for homeowners from extreme weather to more than $1 billion this year — in all of 2018 the figure was close to $2 billion _ which has led governments to look at "alternative solutions in order to shield the taxpayer from the continued bailouts," said Craig Stewart, vice-president of federal affairs with the Insurance Bureau of Canada.
Federal, provincial and territorial emergency-management ministers appear to be most interested in a British model that would see the people living in high-risk flood areas moved out of harm's way and a public insurance program for the remainder of homes.
Quebec is offering $200,000 to people with deep damage to their homes to move out of flood zones, an idea that the federal Liberals say they'll also consider, along with spending on infrastructure to mitigate the effects of floods and extreme weather from climate change.
Premier Legault reiterated his call for people to "seriously consider" the offer.
© 2019 The Canadian Press