UPDATE: TSB to share updates on B.C. train derailment at Tuesday news conference
The three Canadian Pacific Railway employees killed after their westbound train derailed and plunged into a river east of Field, B.C., early Monday were from Calgary, a union representative told Global News.
The major derailment happened around 1 a.m. on the CP Rail main line at the famous Upper and Lower Spiral Tunnels, which were built to accommodate a steep grade change east of Field at the continental divide.
The line is the main rail corridor between Calgary and Golden B.C. and an estimated 25 trains pass through the area each day.
The freight train fell more than 60 metres, or nearly 200 feet, from a bridge near the Alberta-British Columbia boundary, a union representative told The Canadian Press.
Greg Edwards with the Teamsters Canada Rail Conference said the workers had just taken over the train east of Field, B.C.
WATCH: Footage from Global's Nancy Hixt Monday shows the train derailment that killed three Canadian Pacific Railway employees near Field, B.C.
Footage of fatal train derailment near Field, B.C.
He said two of them were found near the locomotive, which landed in the Kicking Horse River, and the third was still inside.
The union said the three are believed to have been a locomotive engineer, a conductor and a conductor trainee based out of Calgary. Their names have not been released.
Edwards, who represents locomotive engineers in Western Canada, said he received the news in the middle of the night.
Teamsters Canada director of public affairs Christopher Monette said the union is "shocked and saddened by the loss."
Monette said since November 2017, eight railway employees have been killed on the job.
"Nobody should expect or accept eight deaths in a little over a year," he told Global News.
"It is, in fact, unacceptable and we're hoping now that the government and the rail industry is going to realize something is wrong and something needs to change, but that said, today the focus is going to be on this accident as well as the victims' families and loved ones."
WATCH: Several damaged train cars lay beside the highway near Field, B.C. after a fatal train derailment.
Train cars lay beside highway after fatal train derailment
Monette said the rail industry is "largely self-regulated" which is something the union would like to see addressed.
"We know that, for example, the government is already reviewing rules regarding crew fatigue and we're hoping to see regulations coming out shortly out of that process," he said.
"I don't want to suggest that any of that has anything to do with today's accident. Until we know more it's difficult for us to do anything but sound the alarm bell and say something is going on here and that eight deaths in a little over a year is just beyond belief and something that needs to be addressed and recognized for the painful tragedies that they are."
Canadian Pacific Railway confirmed the deaths in a statement.
"It is with great sadness that CP reports that three crew members on board were fatally injured in the incident," the rail company said.
"Our condolences and prayers go out to their families, friends and colleagues."
The Transportation Safety Board of Canada and the British Columbia Environment Ministry said about 30 to 40 grain hopper cars were involved in the crash, and one of the train's locomotives ended up in the river. No leaks or spills have been reported.
WATCH:Three crew members of a Canadian Pacific Railway train were killed Monday after a derailment in Yoho National Park. Nancy Hixt reports.
Officials investigate fatal train derailment in Yoho National Park
A TSB team has been sent to B.C. to investigate. The TSB said two investigators were deployed to the scene, and two more are working the case from the office in Calgary.
The TSB said they need to access to the site via a piece of equipment called a high rail — adding it is "tricky" to get to — but as of 9:15 a.m. PT, the two site investigators were expected to have arrived at the scene.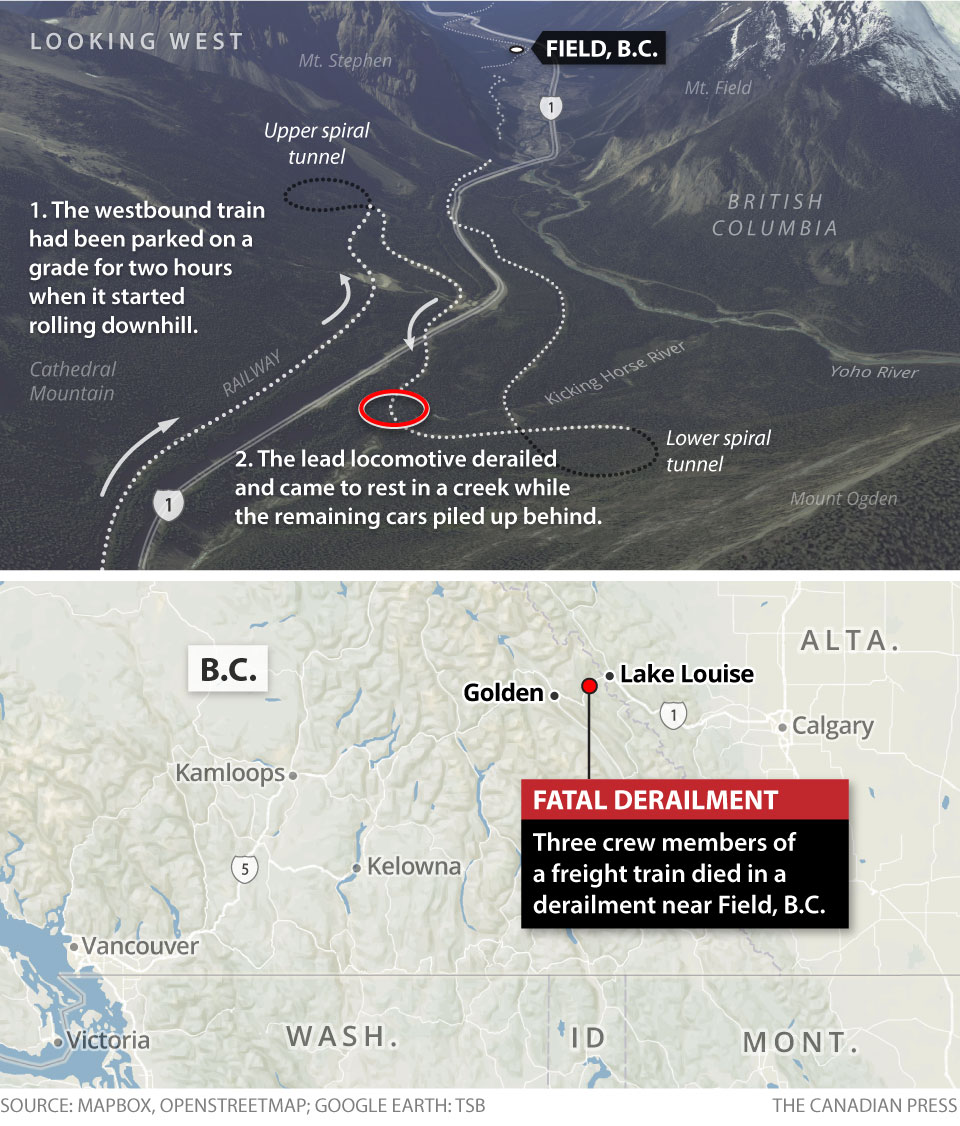 CP Rail said there was no threat to public safety and no dangerous goods were involved in the crash.
READ MORE: Canadian railways ration space as congestion problems worsen
Parks Canada said it is working with CP Rail to determine the extent of the cleanup involved in the derailment, as it happened within Yoho National Park.
"The extent of the environmental impact of the derailment is currently unknown," Parks Canada said in an emailed statement. "Based on initial assessment, there is no threat to public safety.
"Parks Canada's condolences go out to the families, friends and colleagues of the individuals fatally injured in the train derailment."
The government agency went on to say it will ensure the proper environmental and safety regulations are followed through the cleanup and investigation.
B.C. Emergency Health Services said it was called to the area shortly after midnight, but was stood down and the investigation was turned over to police. STARS air ambulance said it was dispatched to the area at 1:47 a.m. Monday, but wasn't able to go because of the weather.
The union said it will cooperate fully with the TSB and CP Rail in the investigation. Teamsters said eight railway workers have died in Canada since November 2017.
"Today, our focus is on this accident as well as the victims' friends and families," TCRC president Lyndon Isaack said. "But moving forward, the government and the rail industry will have to recognize that something is wrong and change is needed.
"Eight workplace fatalities in a little over a year is not something that should be expected or accepted."
Field is located about 225 kilometres west of Calgary, near the continental divide.
The spiral tunnels, built in 1909 to mitigate a steep 4.5 per cent grade between the Kicking Horse Pass and Field, are the only switchbacks of that kind in North America.
Sixteen cars of a CP Rail train derailed on Jan. 3 in the same area. No one was injured in that derailment.
READ MORE: Rail line reopens following 15-car train derailment in Yoho National Park
BELOW: Video showing a train going through one of the Spiral Tunnels near Field, B.C.
READ MORE: Former mayor revisits 'painful memories' as Lac-Mégantic marks 5 years since rail disaster
The TSB investigates marine, pipeline, railway and aviation transportation occurrences with the goal of advancing transportation safety.
— With files from Global's Jill Croteau and The Canadian Press