Racialized workers had an unemployment rate more than one-and-a-half times white workers last month, jobs data released Friday showed, as Statistics Canada for the first time put a figure on a widening inequality gap being exacerbated by the COVID-19 pandemic.
The unemployment rate for July was 16.2 per cent for racialized Canadians compared with 9.3 per cent for white Canadians. Neither was adjusted for seasonal variations in employment.
Figures were over 17 per cent for South Asian and Arab workers, while Black workers had a reading of 16.8 per cent. Unemployment rates within those groups were higher for women than men.
Statistics Canada said the higher rates could be connected to the prevalence of racialized workers in industries hardest hit by shutdowns, such as accommodation and food services where employment dropped by more than half over March and April.
A gap in the unemployment rate isn't surprising, but is now over three times larger than in the 2016 census, said Sheila Block, a senior economist with the Canadian Centre for Policy Alternatives.
"There has been a large impact on racialized Canadians," said Block, who co-authored a study last year on racial inequalities in the workforce.
"And we absolutely need to target policies and programs to make sure that the impact on racialized populations is well understood and the policies are designed to mitigate them."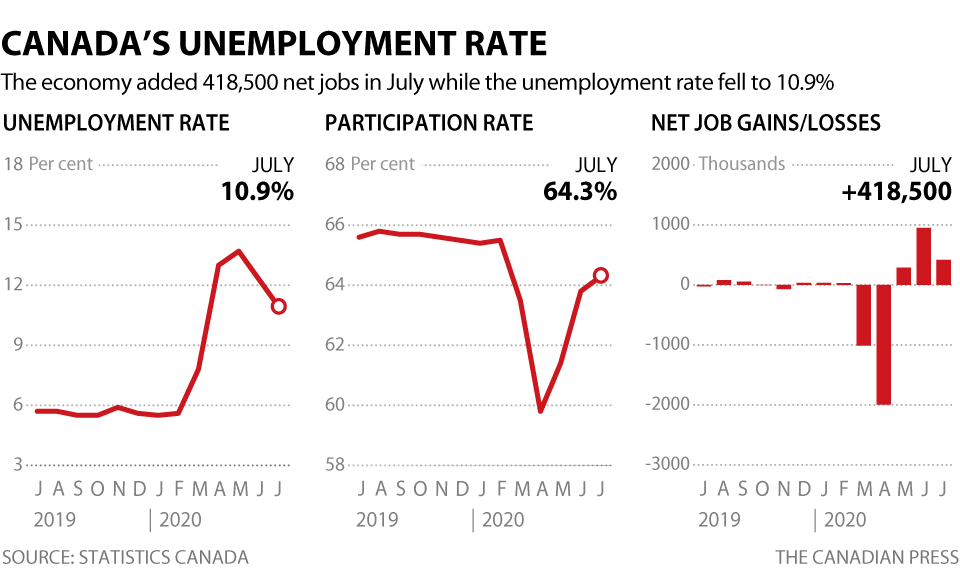 The details mark the first time the agency's monthly labour force survey has captured disaggregated data by race and visible minority status, putting numbers to the narrative about disproportionate impacts on women, youth, low-wage workers, and racialized communities.
A trio of federal cabinet ministers in a statement said the information is a "critical first step towards addressing inequity in our labour force."
Canadian women struggling to return to work
Nationally, Canada's labour market gained 418,500 jobs last month, moving past the halfway mark in recouping the three million losses at the onset of the COVID-19 pandemic. Combined with the 953,000 jobs gained in June and the 290,000 in May, the country was within 1.3 million jobs of pre-pandemic level.
The unemployment rate was 10.9 per cent in July, down from the 12.3 per cent recorded in June and sliding further away from the record-high 13.7 per cent in May.
Going forward, the country isn't likely to see another bump like June where large reopenings skewed the numbers, said Brendon Bernard, an economist with job-posting site Indeed Canada. The tail winds of ongoing reopenings in food and accommodation services, gyms, barbershops and hair salons helped again in July, he said.
Regionally, Manitoba, Saskatchewan, New Brunswick and Quebec recorded single-digit jobless rates. Ontario led the way in jobs gains, but its reopening has lagged other provinces and suggests a decent gain in August is possible, BMO chief economist Douglas Porter wrote in a note.
The Liberals estimate some four million people receiving the Canada Emergency Response Benefit will be moved onto employment insurance in the fall when the aid program begins winding down. The federal government has vowed changes to the decades-old EI system to ease access, and a new parallel benefit for those who don't qualify.
Parisa Mahboubi, a senior policy analyst with the C.D. Howe Institute, said whatever the Liberals do with EI needs to consider racialized workers, who are affected the most by the economic and health effects of the pandemic and often can't qualify for EI.
Part-time gains have outpaced full-time work in each of the past three months, Statistics Canada noted, with 345,000 more positions in July compared to an increase in full-time jobs of 73,000. Statistics Canada said nearly 30 per cent of people working less than 30 hours a week in July would have preferred full-time work, an increase from the 22.2 per cent recorded one year earlier.
Part-time work was within five per cent of its pre-COVID-19 levels last month compared with full-time work, which is still down 7.5 per cent from February before the pandemic struck.
Employment agencies say there's no shortage of jobs, but a shortage of willing workers
The pace at which women gained back jobs moved faster than men in July, with about 275,000 jobs compared with 144,000 for men, but women remain further behind since the start of the pandemic.
Similar effects could be seen for low-income workers, who were at 85.4 per cent of levels recorded in February compared to 97.4 per cent for all other paid employees. Youth employment was still 17.4 per cent below pre-pandemic levels even as jobs increased by 135,000 driven mainly by gains for young women.
Canadian women struggling to return to work
Nationally, about 266,0000 more people were looking for work in July as temporary layoffs declined, marking the third consecutive month of gains, but still down almost 300,000 from where it was in February.
Statistics Canada said the unemployment rate would have been 13.8 per cent in July if it had included in calculations those who wanted to work but didn't look for a job.