There are reports a Canadian NATO helicopter has crashed off the coast of Greece.
The Associated Press wire service has published a report saying that a military helicopter operating off of a Canadian frigate went missing while taking part in a NATO operation in the Mediterranean.
Global News has learned Canadian military leaders are in high level meetings trying to figure out what happened, following an initial lockdown on communication with media as the early reports emerged.
READ MORE: New Canadian military Cyclone helicopter lands in Kingston
A Twitter account run by the Canadian Forces said it had lost contact with a CH-148 Cyclone helicopter that had been deployed on the HMCS Frederiction for Operation Reassurance.
That's the mission to deter Russian aggression in Central and Eastern Europe.
While out on a NATO exercise, the tweets from the military say they lost contact with the helicopter and are now conducting search and rescue efforts.
A spokesperson for NATO confirmed that there has been an incident involving a helicopter from a ship under NATO command but did not identify the member military operating the helicopter.
A search and rescue mission is underway, the spokesperson added.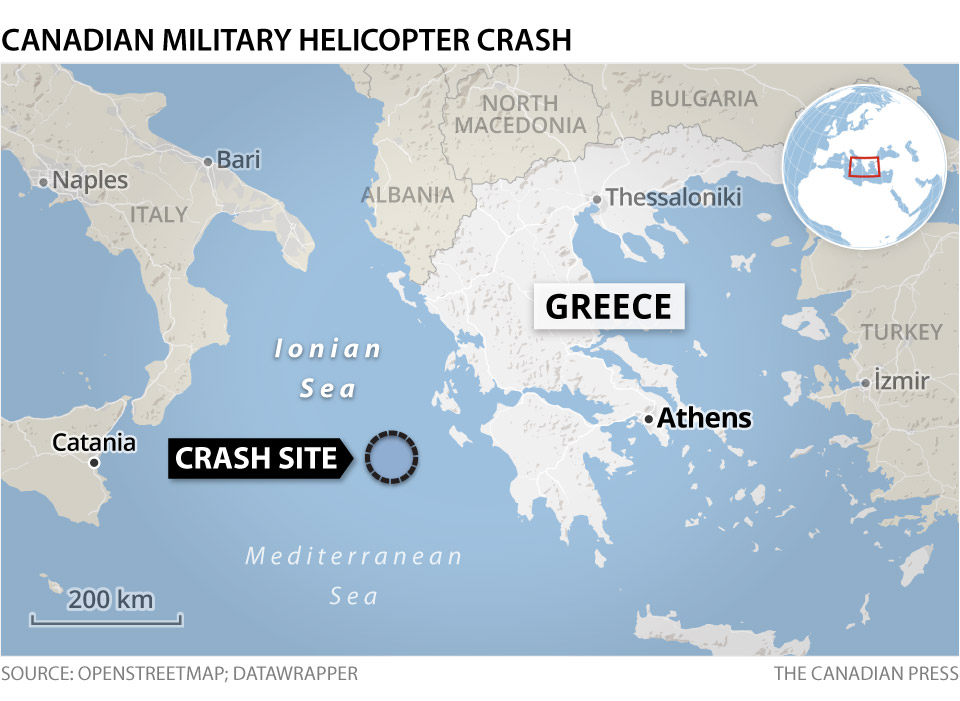 The wire service report cited Greek state TV as saying the helicopter went missing in the sea between Greece and Italy, and that other NATO allied frigates are conducting a search operation.
Greek authorities said they have not been asked to help as the area is far off the Greek mainland and outside the area where the country has responsibility for search and rescue operations.
A tweet late Wednesday night from Prime Minister Justin Trudeau further confirmed that rescue efforts were underway for the missing helicopter, but didn't provide any further details.
"A Canadian helicopter involved in Op REASSURANCE with NATO allies has gone missing off the coast of Greece," read Trudeau's tweet.
"I have spoken with Minister @HarjitSajjan, and search and rescue efforts are currently underway. Updates will be provided as soon as possible."
Canadian military Cyclone helicopter lands at Kingston Airport
READ MORE: HMCS Fredericton continues Mediterranean mission amid COVID-19
The Cyclone helicopters replaced Canada's aging fleet of Sea Kings in 2018.
They provide air support to navy operations and are described as "state of the art" by the military.
In terms of operations, the helicopters can be used for everything from conducting surveillance on and below the surface of the seas, search and rescue missions, and tactical transport.
New military helicopters join HMCS Toronto as it departs on six-month tour
With files from The Associated Press and The Canadian Press.
© 2020 Global News, a division of Corus Entertainment Inc.