UPDATE (Monday, April 20): For the latest on this story, click here. 
Seventeen people, including one member of the RCMP and the primary suspect, are dead after a shooting rampage across rural Nova Scotia on Sunday.
Gabriel Wortman, 51, is believed to be the primary suspect in the shooting spree that occurred in and around the area of Portapique, N.S.
At a press conference on Sunday evening, police confirmed that Wortman has died. A body matching the description of Wortman was seen at the Enfield Big Stop on Highway 102.
RCMP initially said at least 10 had been killed, including Wortman, but provided updates later on Sunday evening.
With 16 victims, the rampage was among the deadliest in Canadian history, surpassing the death toll of the 1989 École Polytechnique massacre in Montreal.
RCMP have identified the deceased RCMP officer as Const. Heidi Stevenson, a 23-year veteran of the force. Stevenson leaves behind a husband and two children.
Later, the Nova Scotia Teachers Union identified elementary school teacher Lisa McCully as one of the victims.
"9,300 NSTU hearts are broken along with those of her colleagues and students at Debert Elementary, as well as her family and friends who knew her not only as a passionate teacher but as a shining love in their lives," said a statement by union president Paul Wozney.
He added Const. Stevenson's husband is also a teacher.
"We send our love and care to them as they face this sudden news," Wozney wrote.
Details about the others who lost their lives have not been released at this time.
Another RCMP officer was shot and injured in the incident. Police say that the officer is receiving treatment for non-life-threatening injuries in hospital at this time.
The investigation has been turned over to Nova Scotia's independent police watchdog, the Serious Incident Response Team, or SiRT.
Police say the incident is not believed to be a random act, as indicated by the "mock-up" police vehicle that Wortman was driving at one point during the shooting spree.
They have confirmed that he was wearing at least "part of" what appeared to be a Mountie uniform during the incident.
RCMP Commissioner Brenda Lucki told Global News' Mercedes Stephenson that police don't know the suspect's motive, but she added that it may have shifted from the initial stages and "turned to something random."
Nova Scotia shooting: RCMP Commissioner calls Nova Scotia shooting spree a 'senseless type of event'
"A lot of work will be on the investigation, processing the scenes and getting a good idea of who this suspect was, because I think the families of the victims deserve that," she said.
She called it an "extremely dynamic situation" and said there were multiple scenes over a large area.
"My heart goes out to all the families of the victims. Of course, our RCMP family, who are part of that community, it's going to be a long road to recovery," she said.
Cpl. Lisa Croteau, public information officer with the RCMP Nova Scotia, told the Canadian Press that police received a call about "a person with firearms" at around 10:30 p.m. on Saturday and the investigation "evolved into an active shooting investigation."
Lisa and Laurie George, both residents of Portapique, told Global News that at approximately 11 p.m. on Saturday they saw flames nearby, eventually seeing three separate fires in the area.
The couple said that a large group of police quickly arrived in response, followed by gunshots before RCMP told them to go home.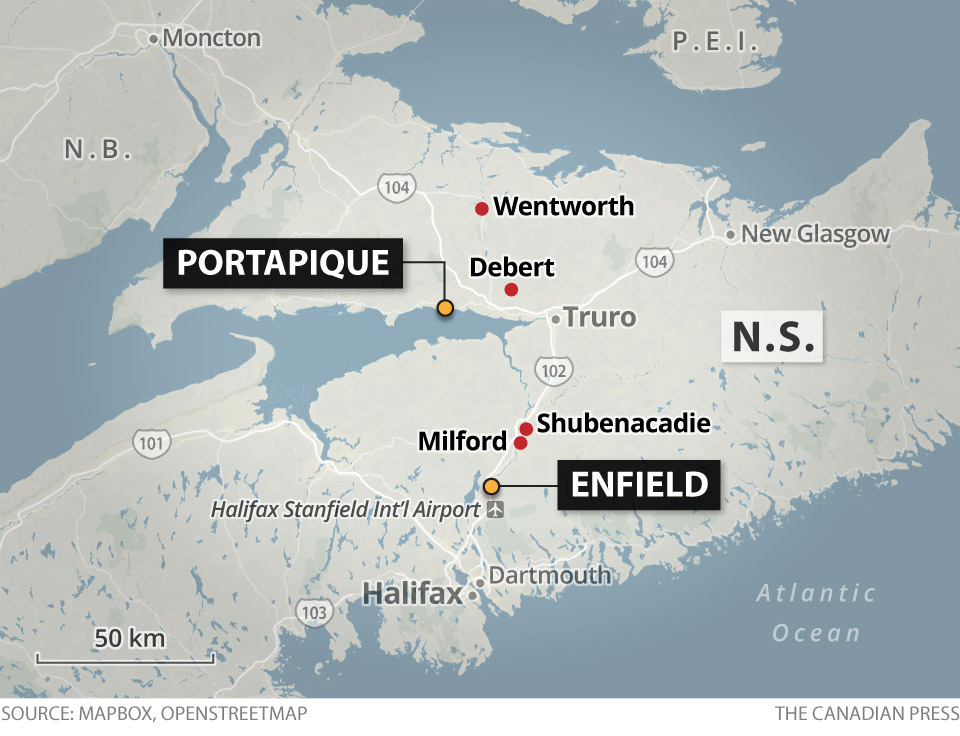 Police provided updates throughout Sunday morning as they attempted to track Wortman.
Officers stressed throughout their updates that the 51-year-old was considered armed and dangerous.
The final update provided by the RCMP before Wortman was shot and killed had the 51-year-old travelling southbound on Highway 102 in a silver Chevrolet Tracker.
The RCMP had previously asked residents to avoid Highway 4 near Hidden Hilltop Campground in Glenholme, N.S., as they believed Wortman was in the area.
'An absolute tragedy'
Tom Taggart, a councillor who represents the Portapique area on the Municipality of Colchester, said the quiet community has been shaken.
"This is just an absolutely wonderful, peaceful, quiet community and the idea that this could happen in our community is unbelievable," Taggart told The Canadian Press by phone from his home in Bass River, about three kilometres from the lockdown area.
"People live here because of the peace and quiet and it's just an absolute tragedy."
Scheer offers 'thoughts and prayers' to people affected by the active shooter situation in Nova Scotia
Taggart said he didn't know Wortman well, but spoke to him a few times when he telephoned about municipal issues.
A person with the name Gabriel Wortman is listed as a denturist in the Halifax area on the Denturist Society of Nova Scotia website.
According to Nova Scotia property records, the same man who owns the Atlantic Denture Clinic owns three properties in Portapique, N.S.
Taggart described knowing Wortman's "lovely big home" on Portapique Beach Road. He said Wortman owned a few other properties in the community and was believed to divide his time between Portapique and his business in Dartmouth.
He described Portapique as "cottage country," with about 100 year-round residents and 250 in the summer.
"You just don't even dream that this is going to happen," he said. "I can't fathom it."
Scott Agnew of Moncton, N.B., said he was stunned when he heard about the shooting, but his jaw dropped when he saw the name of the suspect.
Agnew said he knew Wortman during junior high and high school. They graduated from Riverview High School, located outside Moncton, in 1986.
They weren't good friends, but had classes together. He remembers Wortman as a friendly person who was known for riding his dirt bike.
"It's one of those stereotypical situations where they say, you know, the guy was just a quiet, friendly guy and it just goes to show you, I guess you don't know what's underneath everybody when you look at them," he said.
According to images provided to Global News from the school's yearbook, Wortman appeared to have an interest in becoming a Mountie.
"Gabe's future may include being an RCMP officer," the blurb next to Wortman's photo states.
Thoughts pour in from political leaders
At a press conference on Sunday, Nova Scotia Premier Stephen McNeil called the incident "one of the most senseless acts of violence" in the province's history.
"To the families of the victims and those that are feeling afraid, my heart goes out to you," said McNeil.
"To the RCMP I want to say 'thank you for apprehending the suspect and for doing your best to protect the citizens of our province.'"
Multiple people dead including suspect after shooting spree in Nova Scotia
Prime Minister Justin Trudeau also offered his condolences on Sunday.
"My heart goes out to everyone affected in what is a terrible situation. I want to thank the police for their hard work and people for cooperating with authorities," he said at a press conference in Ottawa.
New Brunswick Premier Blaine Higgs said residents of that province are sending their thoughts and prayers to Nova Scotians.
Nova Scotia Health Authority secures facilities
The Nova Scotia Health Authority (NSHA) says they put control measures at four of their facilities in response to the shootings in the area.
The NSHA says they implemented the procedures at Colchester East Hants Health Centre in Truro, N.S., at the South Cumberland Community Care Centre in Parrsboro, N.S., All Saint Springhill Hospital, N.S., and Cobequid Community Health Centre in Sackville.
All facilities remained open but the NSHA says they closed their COVID-19 drive-through assessment centres out of an abundance of caution.
The Mental Health Provincial Crisis Line is available 24/7 to anyone experiencing a mental health or addictions crisis, or someone concerned about them, by calling 1-888-429-8167 (toll free).
Kids Help Phone is available 24/7, by calling 1-800-668-6868 (toll-free).
Morneau Shepell has also opened its 24/7 bilingual crisis support line to help anyone in need of emotional support as a result of these tragic events. The number is: 1-844-751-2133
— With files from The Canadian Press and Kerri Breen, Global News