Four occupants of a downed float plane remained missing Tuesday after the aircraft crashed into a Labrador lake, killing three others on board.
Jean Tremblay, president of the small Quebec airline that owns the plane, said he was informed by search and rescue officials that three of those aboard were killed, while the condition of the other four people remains unknown.
The identities of those on the flight weren't immediately made public.
Tremblay, president of Air Saguenay, said the de Havilland DHC-2 Beaver was carrying four fishermen, two guides and the pilot. It left Three Rivers Lodge on Crossroads Lake, east of Schefferville, Que., Monday morning headed to a remote fishing camp on Mistastin Lake.
But the plane didn't return as planned that evening.
"After one hour, the plane was still missing, and there was no news, so we engaged the emergency plan," Tremblay said from the company's Saguenay, Que.-based headquarters.
Crew on a Hercules aircraft dispatched from Greenwood, N.S., spotted the wreckage at about 5 a.m. local time Tuesday at Mistastin Lake, about 120 kilometres southwest of Nain, N.L.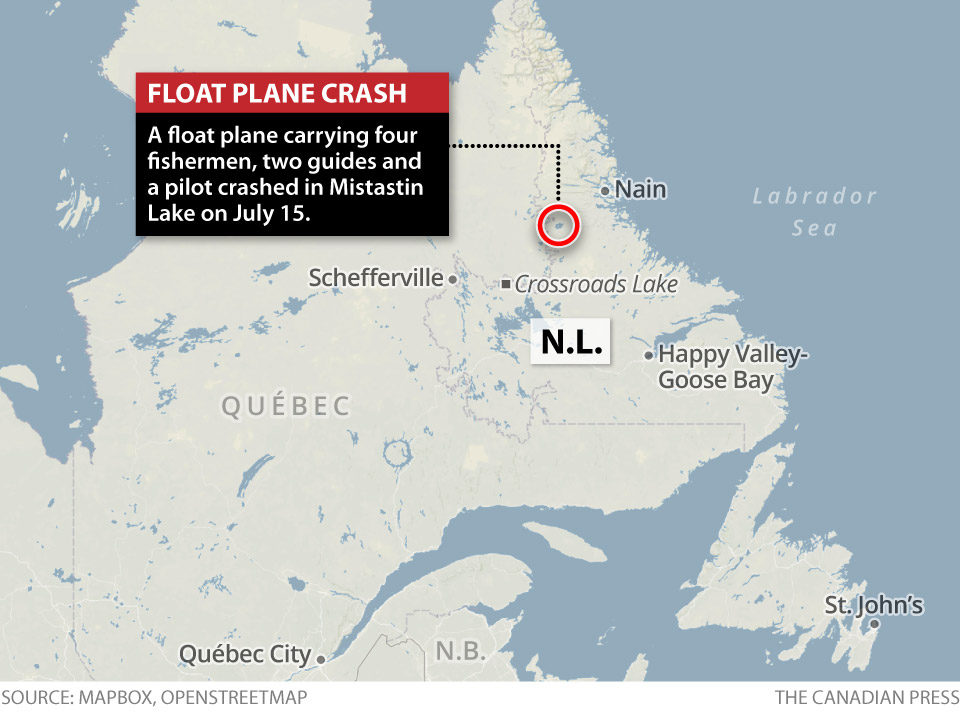 Maj. Mark Gough of Maritime Forces Atlantic, which is co-ordinating the rescue effort, said it's still unknown what time the plane when down. It was spotted in the southeast end of the lake, approximately one kilometre from shore, identified by the visible tail and other wreckage in the water.
"If someone was to have survived the crash they would have had a bit of a swim to get to land," Gough said.
The cause of the crash remains unclear but Gough said "the weather was fair, sunny with cloudy periods and light winds" Monday and continued much the same Tuesday.
Tremblay said the pilot has been an employee of Air Saguenay since 2011. "He's 61 years old with more than 20,000 hours (flying experience)," he said. "He has been assigned to this specific contract with the outfitter for many years."
Tremblay said the plane had been in good working order. "There was an inspection this spring, and there were many hours (of flight) left before it was due for another inspection," he said.
He also noted the fine weather conditions Monday. "The Labrador coast has a bit of micro-climate, I would say, but as far as we know, the conditions were excellent everywhere," he said.
Attempts to contact Three Rivers Lodge were unsuccessful on Tuesday. On its website, the lodge describes itself as a "wilderness fly-fishing camp located in the Labrador bush." It says that guests can be flown out to remote fishing spots twice as part of a weeklong package.
"We keep a de Havilland Beaver float plane down at the camp's dock and use it every day to move our guests about our expansive river system," the website says.
Rescue officials said two search helicopters, a Cormorant and a Griffon, were sent to the site, and a second float plane was also dispatched to assist in search efforts.
Late Tuesday, Gough confirmed the three deaths and said military rescuers will continue to search for those missing until nightfall.
"At that point the search for the remaining four individuals will be handed over to the RCMP as a missing persons case, as per our normal procedures for these types of unfortunate incidents," Gough said.
"The primary next of kin of the seven people involved in the crash have been notified, however, in order to respect their privacy we are not releasing the names/nationalities of those onboard the float plane."
Gough noted this is not the first disaster the search and rescue team has had to respond to. "It's always a very difficult situation," he said in an interview. "We do our best to get to the site of where there's an incident as quickly as possible and do what we can to increase the chances of survival."
The Canadian Transport Safety Board said it would deploy a team of investigators to gather information about the crash.
According to a listing of TSB reports online, the crash is the fourth recorded incident involving an Air Saguenay-owned plane.
In July 2010, a DHC-2 Beaver crashed into a mountain near Lake Peribonka, Que. in poor weather, killing four of the six people aboard.
In August 2015, another DHC-2 Beaver struck a mountainside near Les Bergeronnes, Que., not long after taking off from Long Lake near Tadoussac on a sightseeing trip. All seven people on board were killed.
Last July, another DHC-2 Beaver was getting ready to take off from Jules Lake with a pilot and three passengers on board when he aborted takeoff. The plane struck some trees causing damage to the aircraft but no one was injured.
© 2019 The Canadian Press