An explosive device detonated in a crowded Indian restaurant — while two children's birthday parties were taking place — in Mississauga Thursday evening, injuring 15 people.
READ MORE: 2 suspects wanted after IED detonated inside Mississauga restaurant, 15 injured
The two suspects, who are still at large, walked into the Bombay Bhel restaurant around 10:30 p.m. ET, detonated the explosive device and then fled. They are still at large.
Here's what we know so far.
WATCH: 15 injured after explosion in Mississauga restaurant, police searching for 2 suspects
15 injured after explosion in Mississauga restaurant, police searching for 2 suspects
Who was injured?
Fifteen people were injured in the blast, ranging in age from 23 to 69.
Twelve people were treated for injuries and released from the hospital by Friday morning. Three others, a 35-year-old Brampton man, a 48-year-old Mississauga woman, and a 62-year-old Mississauga woman, were released later in the day.
Police say about 40 people were inside the restaurant when the incident took place.
What happened?
The two suspects walked into the restaurant with their faces covered and detonated an improvised explosive device (IED). They then fled the scene and are still at large. One witness told Global News that the suspects may have used paint cans for the bomb.
The explosion caused a "considerable amount of damage," police said, as there were two birthday parties at the time, with children under 10 in attendance.
Rafael Concaceicao said he was at a nearby restaurant when he heard the explosion.
"When we reached the place, there was lots of blood on the floor. Many people were hurt at the time — women, [children] and families," he said, adding he saw many balloons and cakes inside the restaurant.
Concaceicao said he rushed over and tried to help out people before emergency crews arrived on scene. "There was a guy with glass inside his eyes. Many people were bleeding," he said.
Where did it happen?
Bombay Bhel is a popular family restaurant in southern Ontario. The restaurant where the explosion happened is in a plaza near Hurontario Street and Eglinton Avenue in Mississauga.
There are three more locations; another in Mississauga, one in Oakville, Ont., and one more in Kitchener, Ont.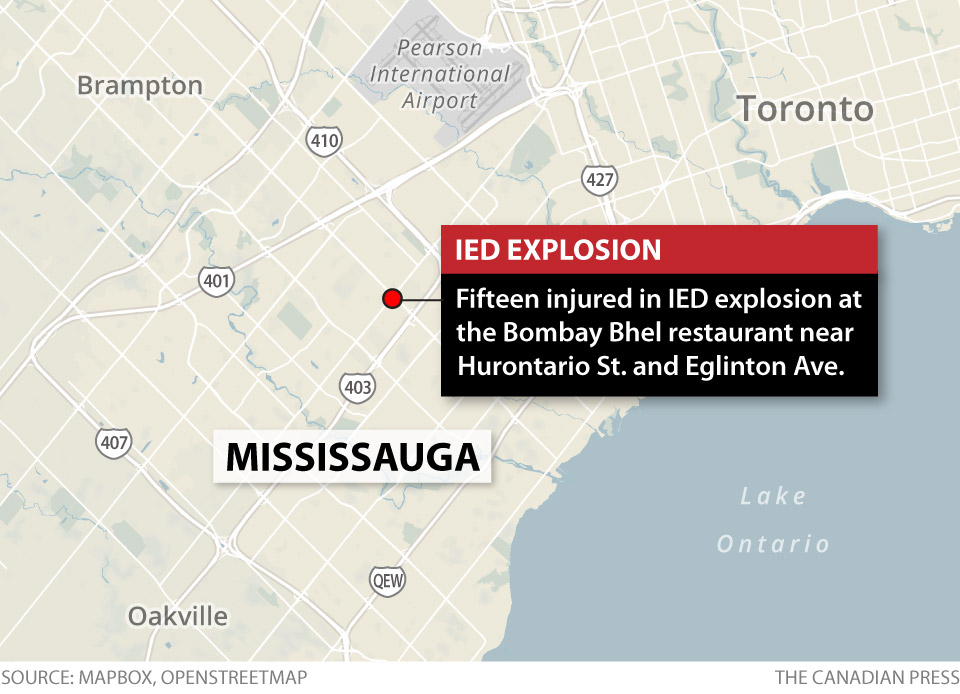 On Friday morning, the restaurant issued a statement on Facebook about the explosion.
"It was an extremely horrific and sad incident that happened at our Hwy 10 location yesterday evening. We want to thank you for all of your support and well wishes, especially to the families that were affected. At this time, the police are undergoing a full investigation to ensure the individuals are apprehended."
Mississauga is part of the Greater Toronto Area and located more than 20 kilometres west of Toronto.
Who are the suspects?
Police have released a photo of the two men entering the restaurant.
READ MORE: What we know about suspects of the Toronto-area restaurant bombing
Investigators described the first man as being five-foot-10-inches to six-feet tall, mid-20s and having a stocky build. He was last seen wearing dark blue jeans, a dark zip-up hoodie pulled over his head, a light grey baseball hat and black cloth covering his face.
The second man is described by police as being between five-feet-nine-inches and five-feet-10-inches tall and having a thin build. He was last seen wearing faded blue jeans, a dark zip-up hoodie pulled over his head, a grey T-shirt, dark-coloured skate shoes. His face was also covered.
What is the motive?
The motive is still unclear.
On Friday, Peel Regional Police said the investigation is still in its early stages but said the incident is not currently believed to be either a hate crime or an act of terrorism.
"This is a really serious investigation," police said "We want to take our time, make sure we're very methodical in it. So we're putting a lot of resources into this right now."
Police said there was no information to suggest there was a threat to public safety, noting that they believed the blast was an isolated incident.
How to help
The  Consulate General of India in Toronto said on Twitter that it opened a phone line for anyone who has questions about the explosion. Anyone concerned can call 647-668-4108.
Anyone with information is asked to call 12 Division Criminal Investigations Bureau at 905-453-2121 ext. 1233.
Reaction to the explosion
Mississauga Mayor Bonnie Crombie said the brazenness of the incident resonated with her as a mother.
"It is a heinous, reprehensible act, committed by cowards who would come into a restaurant where people are vulnerable, celebrating with their families, where children are present," Crombie said, visibly shaking as she spoke. "Whoever has committed this heinous act needs to answer for their crimes and be brought to justice."
WATCH: Mississauga mayor vows to bring culprits to justice
'Not the Mississauga I know': Mayor vows to bring culprits to justice
Prime Minister Justin Trudeau took to Twitter Friday morning about the explosion.
"We're in solidarity with the victims of this violence, and wish a swift recovery to the injured. We're working closely with police and officials in Mississauga on this," he wrote.
The leaders of Ontario's three main political parties, all in the midst of an election campaign, issued statements of sympathy and solidarity for those affected by the blast.
"We are all shocked and saddened by the news out of Mississauga," Premier Kathleen Wynne wrote on Twitter, adding she expected a briefing on the incident later in the day.
WATCH: Wynne, Horwath call Mississauga restaurant blast 'shocking', 'troublesome'
Wynne, Horwath call Mississauga restaurant blast 'shocking', 'troublesome'
"Our thoughts are with the victims and their families, and our thanks go out to the first responders."
— With files from Reuters and the Associated Press
© 2018 Global News, a division of Corus Entertainment Inc.