Alberta's 2018 budget includes more spending, an $8.8-billion deficit and a five-year plan to balance the books that's tied to the ups and downs of oil prices and the vagaries of pipeline politics.
"This budget continues to support the vital programs and services Albertans need," Finance Minister Joe Ceci said Thursday.
"It continues to work on the diversification of our economy and we need that vitally because of the wild swings in our revenues."
READ MORE: Highlights from Alberta Budget 2018 
The budget, as in past years, increases funding for core programs in education, health and community services.
There is also money for previously announced incentive programs to diversify the energy-based economy and deliver more high-tech spots in post-secondary schools.
READ MORE: Alberta spends $50 million to boost enrolment in technical education
The downside is a debtload of $54.2 billion this year in a province that was effectively debt free 14 years ago. The debt is expected to hit $96 billion by 2024.
"That's what it will take to make sure we don't do without the important services and programs Albertans have come to rely on," Ceci said.
Interest payments on the debt will be $1.9 billion this year, more than all royalty payments expected from bitumen.
Watch below: Alberta Finance Minister Joe Ceci predicts a $1.5-billion reduction from last year's deficit forecast.
Alberta to see a $1.5B reduction in deficit forecast: Ceci
This is expected to be the last full budget cycle before the spring election in 2019.
When Premier Rachel Notley's NDP won power in 2015, she inherited an economy that was bottoming out as oil prices crashed and erased billions from Alberta's coffers.
READ MORE: What's in Alberta Budget 2018 for Edmonton?
Rather than ratchet back spending, the NDP poured money into infrastructure and avoided cuts to front-line services.
The numbers show jobs are coming back — including 38,000 in the last three months of 2017 — and the GDP is on the rise. But Notley's government has been hit with multiple credit downgrades and warnings over the years.
Watch below: Finance Minister Joe Ceci talks about health care, education and transit spending in 2018 Alberta Budget speech
The plan to get back to balance relies on revenue from two pipeline projects approved by the federal government: improvements to Enbridge's Line 3 into Wisconsin and an expansion of Kinder Morgan's Trans Mountain line to the West Coast.
READ MORE: Alberta factoring in Trans Mountain pipeline in budget forecasts
While construction on Line 3 has begun in Alberta, Trans Mountain has faced delays in British Columbia.
Premier John Horgan is going to court to see if his province has authority to stop any increased oil shipments from Alberta while B.C. reviews oil-spill safety and cleanup.
READ MORE: What's in the budget for Calgary and Lethbridge? 
That move has put the economic future of Trans Mountain up in the air, and Notley is threatening to reduce oil flows to B.C. in retaliation.
"The pipelines will get built," said Ceci. "They are federally approved. They are in the interest of national infrastructure."
Non-renewable resource revenue, which includes oil and gas, bitumen and conventional oil royalties, is expected to fetch $3.8 billion this year. But $10.4 billion is expected when the two pipelines kick in and the budget is balanced in 2024.
Watch below: Tom Vernon has everything you need to know about the budget in one minute
Ceci has said steps are being taken to keep the debt and deficit figures manageable.
Alberta has negotiated wage freezes with nurses and teachers, and is keeping the size of the civil service flat.
It will take in $47.9 billion in total revenue this year against $56.2 billion in expenses. There is also a $500-million contingency fund to cover unexpected shortfalls.
Watch below: All of the spending announced in Alberta's budget on Thursday comes with a long-term impact on the province's bottom line. That has some wondering if we need to find new sources of revenue. Tom Vernon filed this report on March 23, 2018.
Alberta's 2018 budget has some wondering about potential need for a provincial sales tax
Health remains the big ticket department. Its budget rises three per cent to $22.1 billion, representing 40 per cent of total expenses.
The government plans to spend $30 billion over four years on roads and schools, the Calgary Cancer Centre and a new hospital in Edmonton.
For the first time, cannabis revenue is being factored in. Recreational marijuana use becomes legal this year and Alberta expects to take in $26 million in taxes.
Watch below: Cannabis revenue factored in to Alberta Budget 2018 
Cannabis revenue factored in to Alberta Budget 2018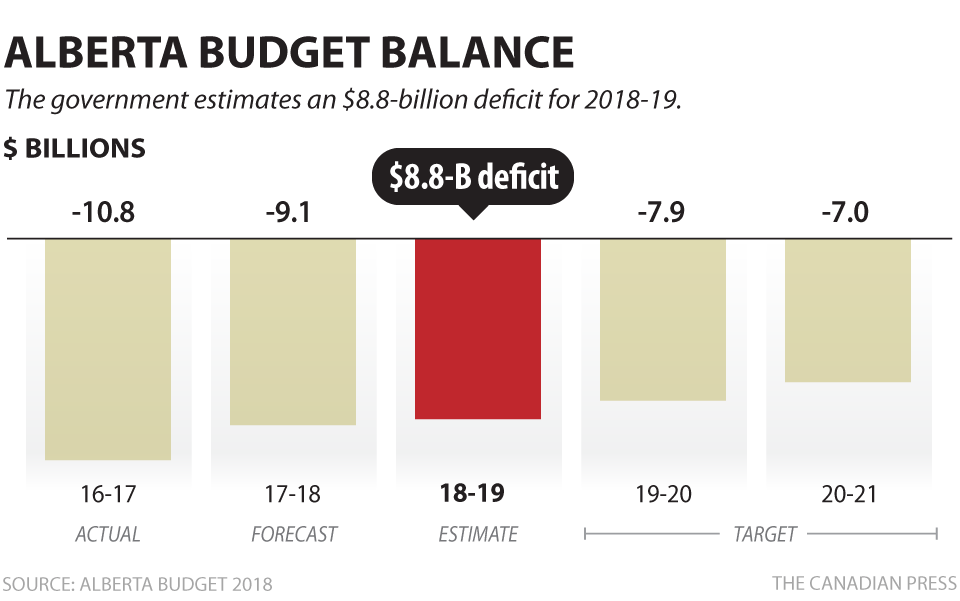 © 2018 The Canadian Press