The season of gift-giving is officially here and we're ready to help you shop (or, you know, compile a comprehensive list to send out to all your family and friends). For many people, the key to holiday gifting is sticking to a budget, which is why we've pulled together some of the best items to give (or receive) this holiday all under $50.
Got your eye on something from 2017's hottest gift guide list or looking for a little something special for a co-worker? We can help you find the perfect gift at the perfect price point for your wallet.
READ MORE: The most popular holiday gifts of 2017: the Instant Pot, Google Home and many toys
Whether you're shopping for a man, woman or child, the Global News Smart Living team's guide to the best gifts under $50 will make you a bona fide holiday hero this year.
Sleep mask
This Canadian-made sleep mask by Ohhh Lulu is made from five layers of fabric and 100 per cent cotton. The unisex masks, which are available in a variety of patterns, also feature a black satin elastic strap. You can even customize the type of lining you want.
Price: $22
Available at Etsy
Leather Wallet
Everyone could use a new wallet heading into the new year, and this classic billfold is made from genuine leather. It features slots for your cards, bills, receipts and additional junk people like to keep in their pockets.
Price: $49.50
Available at Frank And Oak
Pie Plate
Impress a party host this season by gifting them this pie plate and server by Mud Pie. The vintage-inspired collection features a "pie fixes everything" tagline (because it does), and a silver-plated metal server. Mud Pie also has similar designs for dip sets, mugs and server bowls.
Price: $34
Available at Indigo
Bluetooth Speaker
This portable Bluetooth speaker allows you to take your music anywhere this holiday season, whether it's the chalet, the holiday dinner table or your New Year's Eve party. And because its design is so chic, it'll just look like another objet d'art in your home.
Price: $24.99
Available at Winners
Cork Globe
If you have someone on your list who loves to travel (or really wants to travel one day), this cork desk globe can be their inspiration for wanderlust. Each globe comes with pins to mark your next adventure.
Price: $24.99
Available at HomeSense
Cinema Light Box
Light up any space with this miniature cinema marquee sign, complete with 72 letters and additional symbols and punctuation.
Price: $49
Available at Urban Outfitters
Book of Poetry
The Canadian bestselling author is back with her second collection of poetry. Kaur goes on a journey of growth and healing in The Sun and Her Flowers, and takes readers back to her roots.
Price: $11
Available at Amazon
Google Mini
Expected to be one of the hottest gifts of the year, the Google Mini is your own personal assistant. It has the power to calculate and translate on the spot and can give you real-time updates on the weather, traffic, sports and more.
Price: $39.99
Available at Best Buy
PAW Patrol Play Set
Delight any child on your list with this PAW Patrol look-out play set that'll keep them occupied throughout the holiday season. Let their imagination run free as they sound the alarm and watch Chase go down the slide.
Price: $49.94
Available at Walmart
Glass French Press
Coffee connoisseurs on your list will appreciate a brand new glass press, equipped with a stainless-steel filter and heat-resistant glass. Heat water and pour it over your favourite blend, steep and sip away.
Price: $49.95
Available at Williams-Sonoma
Faux Fur Headband
This faux fur headband in an arctic leopard print is for that style-minded person on your list who cares more about aesthetic than warmth. The only thing is, this Canadian-made headband will accomplish both. Plus it comes in 10 different colours and patterns for their every stylish inclination.
Price: $25.99
Available at Hudson's Bay
Photo Magnets
Make this the ultimate curated holiday with a set of nine photo magnets. Choose the most picture-perfect images from your recipient's social media pages or opt for a memorable photo from your own archive. It's the most personalized way to brighten up a refrigerator door.
Price: $40
Available at Canvas Pop
Lip Care Kit
If you've got a beauty junkie in your life, this is the gift for them. From the brand that's synonymous with supple puckers, this lip care kit includes an exfoliant, serum and three treatments (two of which are tinted). The sugar on top? Two coloured pencils and a love note that your recipient can fill out and send to you as thanks.
Price: $47
Available at Sephora
Beard Grooming Kit
Got a guy who's persnickety about his facial hair? This Proraso gift set is sure to keep him happy and his beard healthy. It includes a bottle of Wood & Spice shaving oil to soften and smooth his beard, a shampoo to keep it lustrous and two combs for grooming.
Price: $34.99
Available at Shoppers Drug Mart
Streaming Stick
Great for inspiring weekend-long binge-watching, the Roku streaming stick delivers powerful performance thanks to a quad-core processor and dual-band wireless. The Hotel & Dorm Connect allows you to connect to wireless networks that require browser log-in, and the point-anywhere remote means you don't even have to get up to switch to the next show.
Price: $49.99 (currently on sale for $39.99)
Available at Roku
Tablet Stand
For the person who loves to be hands-free at all times, this universal mount for a tablet or  smartphone is ideal. Musicians can easily read digital sheet music while playing, and Netflix watchers can lounge (or sleep) as they take in their favourite shows. Bonus: a ball joint provides 360-degree tilt and rotation.
Price: $39.99
Available at Best Buy
Potted Succulents
We all know that a little greenery goes a long way to upping your home decor game. Unfortunately, not everyone is blessed with a green thumb. This vibrant succulent combo is housed in a modernist cement pot and is as close to the real thing as you can get. Suitable for indoor or outdoor use.
Price: $19.99
Available at Canadian Tire
Growth Chart
Know someone who's got some littles they want to keep track of? This adorable growth chart allows parents to monitor how quickly their kids are growing without having to mark up any walls or door frames. Best of all, if the family moves homes, they can take it with them and won't leave behind any valuable memories.
Price: $45
Available at Simons
Wooly Scarf
Perfect for a guy or gal, this cozy merino wool-nylon blend scarf will keep your gift recipient warm and stylish. Its multicoloured stripes compliment nearly any colour coat and its vibrant hues are sure to brighten up even the dreariest winter day.
Price: $44.95
Available at Gap
Beauty Travel Set
For the jet setting beauty aficionado, there's nothing as appreciated or convenient as a beauty travel set of their favourite products. This Luxury Travel Treasures set from L'Occitane includes some of the brand's most beloved products in handy travel sizes, including shampoo, conditioner, shower gel and their renowned Shea Butter Hand Cream.
Price: $44
Available at L'Occitane
Tie clip
Know a gent who's ready to take his style to the next level? This moustache tie clip ought to do the trick. Made from brass and finished with rhodium plating, this Canadian-made fashion accessory will be sure to make him the talk of the town (or at least of the office).
Price: $35
Available at Cuffwear
Lotus Hydrating Mist
Verdura Natural Alternatives is a Canadian-born luxury vegan beauty brand with products for both men and women. The Lotus Hydrating Mist is said to have high amounts of skin restoring benefits that help promote a youthful glow by keeping skin hydrated and refreshed, and leaving you smelling like a bouquet of jasmine flowers.
Price: $48
Available at Verdura Natural Alternatives
Tea Press Travel Kit
The tea press travel kit by David's Tea is great for the world traveller on your holiday list this year. It comes with a tea press and three seasonal teas in ready-to-steep portions.
Price: $45
Available at David's Tea
Infini Ring
Fashionistas will appreciate this versatile and fashionable ring by Les Georgettes by Altesse. The coloured band is reversible and the frame comes in rose gold, silver, yellow gold, and ruthenium finishes.
Price: US$39
Available at Les Georgettes by Altesse
If you have a foodie or aspiring chef on your list, Jamie Oliver's book comes with over 130 quick and easy recipes and has chapters on chicken, beef, pork, salads, pasta, sweet things and more.
Price: $39.99
Available at Indigo
Yonanas Healthy Dessert Maker
Get creative in the kitchen with this kitchen gadget that converts frozen fruits into soft-serve textured treats. No need to add any sugar, dairy or artificial ingredients, let Yonanas do all the work.
Price: $39.97
Available at Wal Mart
Chevron Faux Leather iPhone Case
Keep your iPhone and credit cards safe and together with this eye-catching case. It is colourful and isn't bulky unlike other similar iPhone cases that promise to do the same thing. It's available for iPhones 6, 6s, 7 and 8, as well as 6, 6s, 7, 8 plus.
Price: $47.28
Available at Nordstrom
Leather Journal
If you've got a writer in the family, think about getting them this soft leather journal by Natalizia. It's perfect for journalling, jotting or drawing and is compact enough to take anywhere.
Price: $45
Available at Indigo
KIKKERLAND Wood Multifunctional Hammer Tool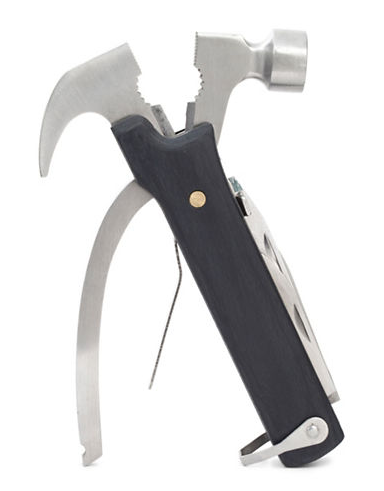 This is a nice change from the typical Swiss Army knife. This multifunction hammer tool has a hammer, screwdrivers, a bottle opener, reamer, blades, pliers and wire cutters, and is ideal for that handy man or woman in your life.
Price: $26
Available at Hudson's Bay
arti.patel@globalnews.ca

© 2017 Global News, a division of Corus Entertainment Inc.