Opioid medications are being prescribed with greater discretion and in smaller quantities, but many patients' daily consumption rates still exceed limits set by national guidelines, according to a report by the Ontario Drug Policy Research Network.
The number of people prescribed opioids over the past five years has remained stable, while the total quantity of drugs dispensed actually went down. These trends were labelled "encouraging" by the report, the most comprehensive investigation into opioid prescription and use in Ontario
But there's still plenty of cause for concern.
Nearly 40 per cent of long-acting opioid prescriptions doled out to people already using opioid painkillers contained daily doses that exceed 2017 Canadian guidelines.
WATCH: Opioid prescriptions jump in Ontario to 9.2 million
Opioid prescriptions jump in Ontario to 9.2 million
Long-term opioid users are often prescribed a combination of quick-release and long-acting drugs, making them susceptible to exceeding daily dose thresholds.
"We know that those thresholds are associated with fatal overdoses," warns Tara Gomes, lead investigator of the study and a scientist at St. Michael's Hospital in Toronto.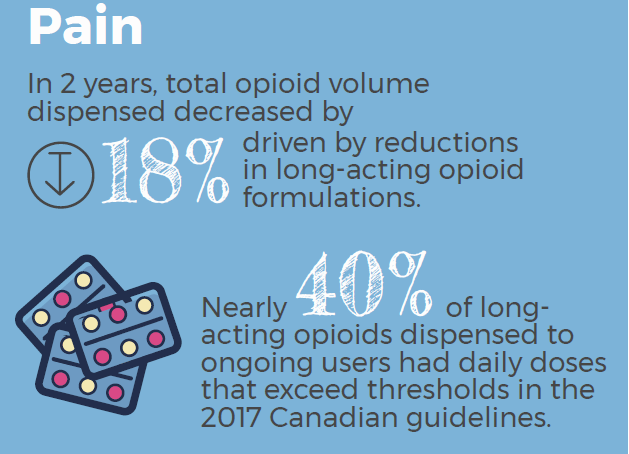 READ MORE: Drugs to help treat opioid addiction cleared by Health Canada
Nowhere is the prescription of opioid painkillers more rampant than in the Haliburton, Kawartha, Pine Ridge (HKPR) and North Bay Parry Sound health districts. Over 17 per cent of people living in these areas received opioids for pain in 2016, compared to the provincial average of 11.9 per cent.
Only 0.4 per cent of Ontarians were prescribed opioids like methadone or naloxone for addiction treatment, and 2.3 per cent for cough suppression.
Gomes told Global News that a wide array of factors could be responsible for higher rates of opioid painkiller prescription in some areas, ranging from the kinds of occupations people in those areas are likely to be involved in to different prescribing behaviours on the part of clinicians.
"We certainly know that there are differences in the way that prescribers provide patients with these drugs, and how cautious they are in prescribing them," Gomes said.
She added that people in certain areas might have limited access to treatments like rehabilitation and physiotherapy, prompting them to turn to painkillers earlier than people in parts of the province with better health infrastructure.
READ MORE: Should physicians in Canada be held more accountable for the opioid epidemic?
However, while Gomes admits that over-prescription of opioids is a long-running concern across the province, she says there are signs of progress.
For one, while the number of prescriptions for opioids is higher than it used to be, the actual amount of drug being dispensed into the community is dropping.
"It might seem a little counter-intuitive, but it suggests that perhaps people are getting less drug in more prescriptions. So each time they go to the pharmacy, they're getting less drug for a shorter duration," Gomes said.
"And that certainly aligns with what the clinical guidelines are suggesting around appropriate opioid prescribing in the province."
WATCH: Ask the Doctor: chronic pain and the opioid crisis
Ask the Doctor: chronic pain and the opioid crisis
While judicious prescribing of opioids is important, Gomes cautions physicians against overcompensating the other way and cutting their patients off opioids abruptly.
"Once people have developed an addiction or dependence to these drugs, it's a very long, difficult process for them to withdraw from them, and it has to be done very safely and with a lot of clinical monitoring," Gomes said.
"Another piece of this puzzle really needs to be the safe tapering of people's doses on opioids, and not simply rush to discontinue them entirely from treatment on opioids."
WATCH: Chronic pain patients fear being collateral damage of new opioid guidelines
Chronic pain patients fear being collateral damage of new opioid guidelines
The study also reveals differences across age groups and genders. Older people were found to be most likely to be using opioid painkillers.
"About one in four people over the age of 65 are being prescribed an opioid to treat pain," Gomes revealed.
Meanwhile, younger men in urban settings were most likely to be prescribed opioids for addiction.
READ MORE: Opioid addiction may be factor in growing number of donor organs in Canada
Overall, opioid-related deaths and addiction problems remain disproportionately concentrated among the poor.
Gomes says the next step is to investigate the relationship between prescription opioids and illicit street opioids like fentanyl and heroin, and "really understanding that interplay between the prescribed environment and the illicit environment, so we can make sure that the policies and programs that are developed are really addressing the right populations and the right gaps."
© 2017 Global News, a division of Corus Entertainment Inc.