Front-line police officers in Ontario allowed to carry Tasers
Watch: Police officers in Ontario will be allowed to carry stun guns — a move that comes after the fatal shooting of Sammy Yatim on an empty Toronto streetcar. Mike Drolet reports.
TORONTO – Ontario will let front-line police officers carry Tasers.
The announcement Tuesday comes one month after the shooting death of 18-year-old Sammy Yatim aboard a streetcar in Toronto. Yatim was shot multiple times by police, then hit with a Taser.
Community Safety Minister Madeleine Meilleur says the government will not mandate the use of "conducted energy weapons," more commonly known by the brand name Taser, but will permit police forces to equip their officers if they choose. Previously, only supervisors and tactical officers were allowed to carry Tasers.
"It's up to Ontario's police services, with their communities. They will make their own decisions on their local use," she said at a press conference Tuesday morning. "It will increase community safety by preventing injury and death."
The minister said it's up to local police forces to pay for the Tasers – approximately $1,500 each – and subsequent training for officers. With close to 2,800 police officers in Toronto, that could put a significant pressure on the municipal budget. Toronto Police said they will be purchasing more Tasers but would not say when or how many.
Police chiefs and unions across Ontario, including the Toronto Police Services Association, have long pushed for the expanded deployment of Tasers. Twelve coronor's inquests have also recommended the province allow frontline officers access to Tasers. Many of those cases, according to documents provided to Global News, involved violent or "irrational" people that died following confrontations with police officers. In the majority of those cases, the person died as a result of gunshot wounds.
"We're very happy with that decision," Toronto Police Association President Mike McCormack told Global News in an interview Tuesday.
But the decision to expand Taser use was also met by criticism. The weapons, which are supposed to be "non-lethal," have been under special scrutiny in Canada after the 2007 death of Robert Dziekanski after being shot with a Taser at Vancouver's airport.
Marcus Firman's son Aron died in June 2010 after a confrontation with police at a London group home. In July 2013 the inquest into Aron's death determined that the taser was a contributing factor in the 27-year-old's death.
"We are extremely disappointed by this precipitous decision made by the government. The jury in my son's inquest heard all the evidence about the Taser, and how it contributed to my son's death," Firman said in a press release issued by his lawyer Tuesday. "The jury worked very hard on this case, and my family is grateful for their work. Just one month ago, they decided that there was no basis to expand the use of Tasers to all frontline police officers."
The weapons "have been misused in the past," Sukanya Pillay, counsel for the Canadian Civil Liberties Association, said in a media release.
"Government focus should be on police receiving improved training and building skill sets to de-escalate crises, rather than expanding weapons deployment."
The province says it will amend use-of-force guidelines in the comings weeks to include specific training and review processes for the weapon.
WATCH: In a press conference Tuesday morning, Community Safety Minister Madeleine Meilleur announced that the Ontario government will allow front-line police officers to carry conducted energy weapons.

Meilleur launched a review into those guidelines after Yatim was shot multiple times and hit with a Taser by Toronto police on July 27.
Yatim's death has sparked three separate investigations into police conduct, including from the Special Investigations Unit, the Toronto Police Service and the Ontario Ombudsman's office.
Constable James Forcillo, the officer who allegedly shot the teenager, has been charged with second-degree murder.
McCormack told Global News that when Forcillo confronted Yatim, he first requested a Taser.
"A lot of people have been talking that: Could this have made a difference in Sammy Yatim shooting? It's hard to say. Nobody can say for sure whether or not it would have made a difference in that instance," McCormack said. "However, officer Forcillo, one of the first things he did when he arrived on scene was request a Taser – asked for one to be brought to the scene. It gives us that extra tool, extra option when dealing with these situations."
After being shot multiple times, Yatim was also shot with a Taser. It isn't clear whether Yatim was dead when he was hit with the Taser.
Police forces in Quebec, British Columbia, Alberta, Nova Scotia and New Brunswick, along with the RCMP, already permit front-line officers to use stun guns.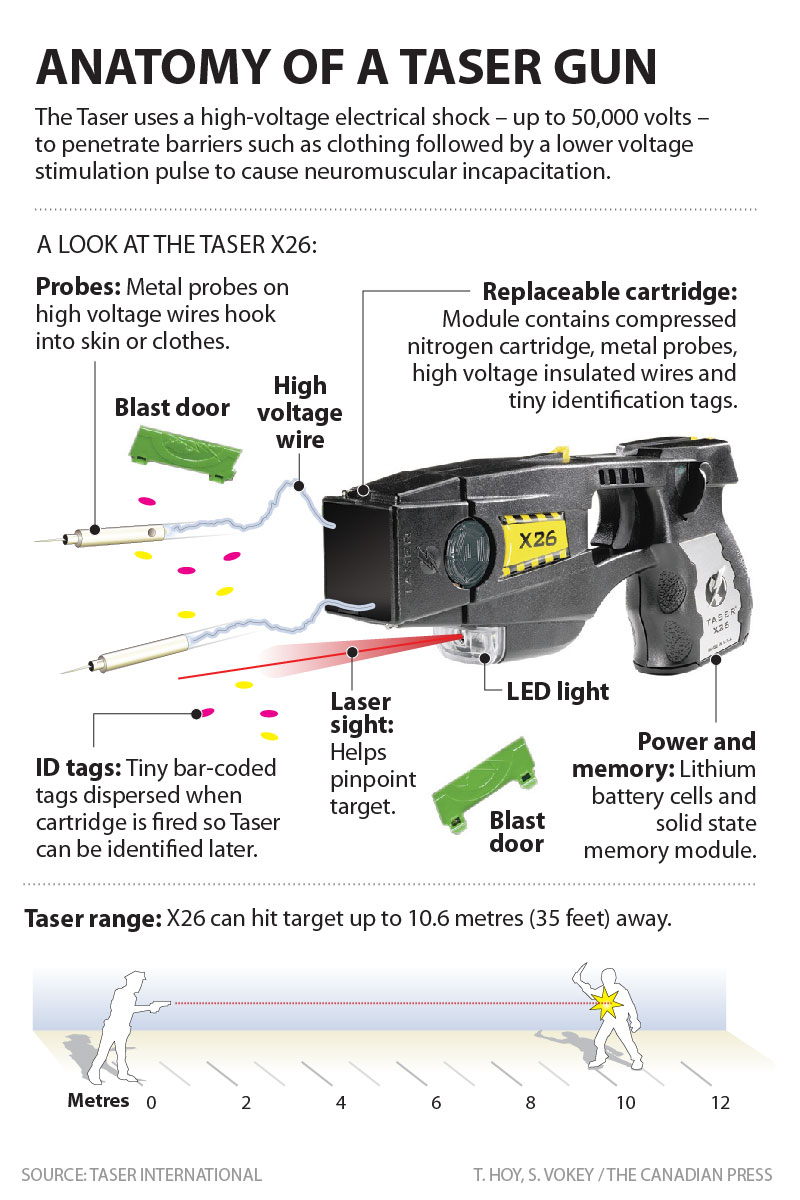 © 2013 Shaw Media