Video: Camera at Fukushima nuclear plant shaking during moment of earthquake.
TORONTO – A magnitude 7.1 earthquake was reported off the coast of Fukushima, Japan around 3:10 p.m. EST Friday.
The Japan Meteorological Agency had also issued a tsunami advisory for the Fukushima Prefecture, as well as Iwate, Miyagi, Ibaraki and Chiba.
"Marine threat is in place. Get out of the water and leave the coast immediately. As the strong current will continue, do not get in the sea or approach coasts until the advisory is cleared," the advisory read.
Japan's Meteorological Agency raised the tsunami advisory for the area of Honshu. But the U.S. Pacific Tsunami Warning Center did not post warnings for the rest of the Pacific.
The meteorological agency lifted the alert at 4:05 Japan time. It stated that there may be slight sea-level change, but that no tsunami damage was expected.
The quake hit at 2:10 a.m. Saturday Tokyo time, the United States Geological Survey said.
The tremor was felt in Tokyo, some 480 km away.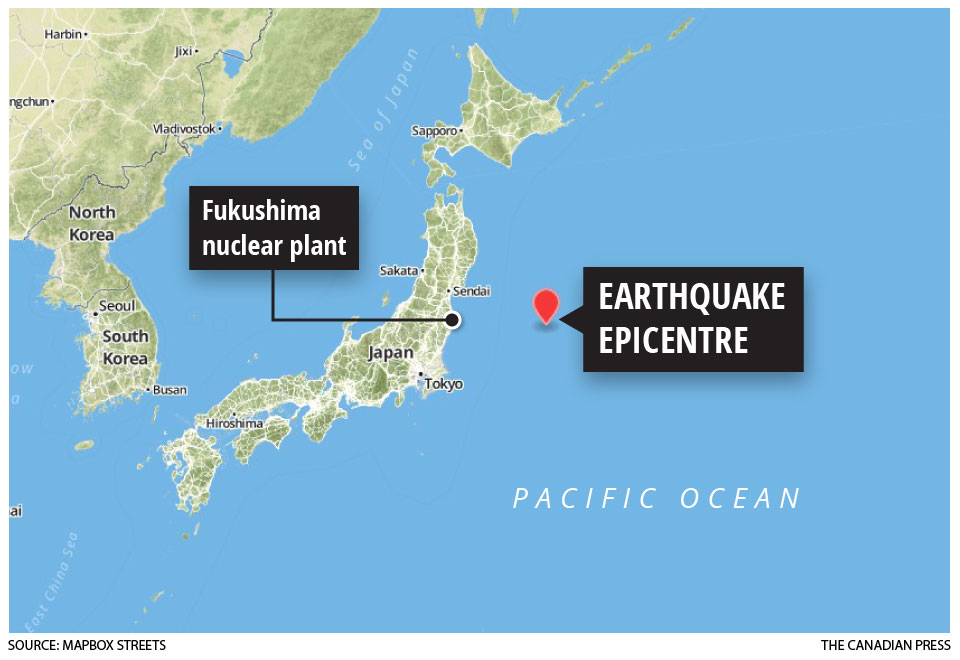 Just two of Japan's 50 nuclear reactors are operational following the magnitude 9.0 earthquake in March 2011. The earthquake triggered several meltdowns and massive radiation leaks at the Fukushima Dai-ichi nuclear plant 250 km northeast of Tokyo.
NHK World reported that workers at the plant had reported no abnormalities following Saturday's quake. However, workers were evacuated.
The news agency also said that residents in Iwate Prefecture Ofunato City were advised to evacuate coastal areas. Ofunato had opened 20 shelters within the city. Coastal residents in Kamaishi were also urged to move to higher ground.
The March 2011 earthquake killed 19,000 people.
— with files from The Canadian Press