A group of protesters set up a blockade along a rail line on the western edge of Edmonton Wednesday morning, as Wet'suwet'en solidarity blockades continue in communities across Canada.
At around 4 a.m., the blockade was set up in the Winterburn Industrial Area near Acheson, Alta., south of Highway 16 along 231 Street. The area is on the very western edge of the Edmonton city limits.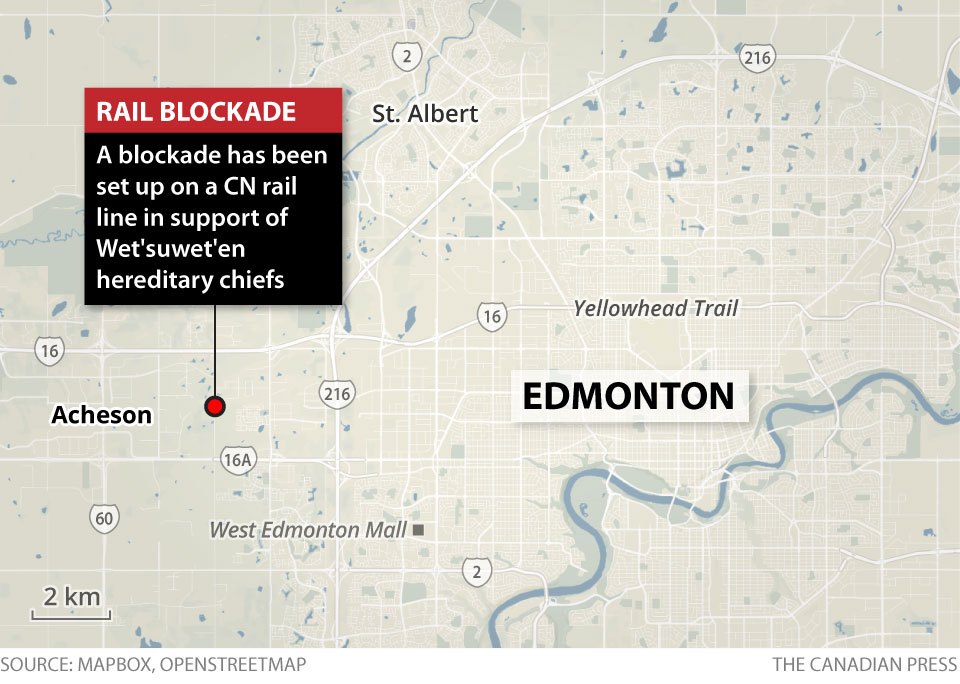 A car and several pallets were used to block the rail line as about 30 protesters gathered. They put up signs which read "Wet'suwet'en strong," "reconciliation is dead" and "we protect us."
The blockade is in support of Wet'suwet'en hereditary chiefs who oppose a national gas pipeline in British Columbia.
Mounting pressure on Trudeau to end railway blockades
Coastal GasLink signed agreements with 20 elected band councils along the pipeline route, including the Wet'suwet'en First Nation's council.
But Wet'suwet'en's hereditary chiefs are opposed to the project and say the council does not have authority over the relevant land.
On Wednesday afternoon, an Alberta judge signed an injunction CN had filed because of the blockade on the rail line.
Court heard that as of 12:30 p.m., 14 trains had been blocked and $135 million worth of freight was affected. By the end of the day, an additional 16 would have been blocked, court heard. Lawyers argued products being transported on the railcars are important for the Canadian economy.
The judge signed the order as presented, granting an injunction for 30 days.
A spokesperson for CN told Global News it will "follow the legal process of serving the injunction to the protesters and continue to discuss and collaborate with local authorities for the enforcement of this injunction."
LISTEN BELOW: Edmonton Chamber of Commerce president Janet Riopel joins 630 CHED Afternoons to discuss the implications the blockade may have on Edmonton businesses
At around 2 p.m., several counter-protesters were seen removing items from the blockade.
Tensions rise at blockade protest on CN rail line on Edmonton's edge
Shortly after 3 p.m., the CN track was clear.
In a post on Facebook, United We Roll For Canada — whose members describe themselves as supporters of Alberta oil and gas — said it was planning a "peaceful" counter protest at the blockade. The group planned on gathering in Red Deer at 2:30 p.m. Wednesday to make its way to Edmonton.
"UWR will not stand idle for one day while our country is being taken over," the post read.
Those involved in the Edmonton blockade said they called CN Rail at around 3:30 a.m. Wednesday to give the company warning that they were setting up.
Demonstrators said a train came down the line just after they arrived. The train did stop and ended up backing up, the demonstrators told Global News.
Those involved in the blockade said they do not want to be called protesters, but rather protectors or defenders of the land.
The protest was organized by the group Cuzzins for Wet'suwet'en.
CN officers were on scene Wednesday morning. Vehicle traffic was being allowed through the area.
In a statement, CN Rail said train movements were stopped Wednesday morning.
"We will be taking the necessary legal actions under the circumstances," the statement read.
Alberta Justice Minister Doug Schweitzer took to Twitter Wednesday morning to say "the blocking of economically critical infrastructure such as rail lines is an offence and will not be tolerated.
"It is my understanding that CN Rail is seeking an emergency injunction this morning – which the Government of Alberta fully supports," he said.
"It is my expectation that law enforcement will take all appropriate action to enforce the law.
"We will continue to monitor the situation and work with all relevant stakeholders to ensure the law is upheld and that rail service is maintained.
"Albertans will not be economic hostages to law-breaking extremists."
Premier Jason Kenney was asked about the blockade while at a health funding announcement in Calgary on Wednesday morning.
He deferred to the justice minister's statement, but added policing of the "illegal blockade" would fall under the jurisdiction of the Edmonton Police Service.
"My understanding is that CN Rail has or will be applying this morning for an emergency injunction with respect to that illegal blockade," Kenney said.
"It is our expectation that police services will respect and enforce the orders of our courts. We have a highly respected and independent judiciary and in cases where judges issue injunctions to stop illegal blockades, then it's the job of the police to enforce those injunctions and that would be our expectation."
Kenney also said that he was "perplexed" about the lack of national leadership on the issue.
"I will be joining a conference call with all 13 Canadian premiers this afternoon to discuss that. What is happening here is anarchy — extended illegal protests contrary to the orders of the courts, that are shutting down large parts of the Canadian economy and ultimately will imperil public safety and health.
"I understand that police have their protocols and in some cases, immediate enforcement of a court order might not be the prudent thing. But to allow things like this to go along for weeks, I think, creates a licence for illegal protests and only emboldens those who are thumbing their nose at the rule of law, at the democratic decisions made by Canada, by First Nations and the legal decisions made by our courts."
More than half of Canadians disagree with railway blockades, want police involvement: Ipsos poll
CN Rail said Tuesday it is laying off about 450 workers in its operations in Eastern Canada after cancelling more than 400 trains in the past week. The union fears the number of laid-off employees will grow by the end of the week.
An Ipsos poll conducted exclusively for Global News about the demonstrations suggests two-thirds of Canadians disagree with the ongoing blockades. The poll also suggests three-quarters of Canadians think the federal government needs to act immediately to address quality of life issues affecting the country's Indigenous people.
Conservative Leader Andrew Scheer said the protests by "radical activists" are a warm-up act in the next battles against the Trans Mountain expansion project and the proposed Teck Frontier oilsands mine in northeastern Alberta.
Scheer told Parliament that Prime Minister Justin Trudeau has encouraged these types of protests by cancelling other projects based on political considerations.
Aerial footage of rail blockade in west Edmonton
On Tuesday, Trudeau called for patience, recognizing the crisis as "a critical moment for our country and for our future." The prime minister acknowledged that people on all sides are frustrated.
In a statement Wednesday, the grand chief of the Confederacy of Treaty Six First Nations said he is "calling on law enforcement officials to ensure the safety of peaceful land protectors and the railway workers."
"We call upon the RCMP to honour the request of the Wet'suwet'en people by immediately removing the RCMP's mobile command unit from Wet'suwet'en territory," Billy Morin said.
"Following this, we call upon Prime Minister Trudeau and (BC) Premier (John) Horgan to immediately meet with the Wet'suwet'en people to resolve this in peaceful manner for all Indigenous Peoples and Canadians.
"Canadians like Andrew Scheer and anyone else who believes that this should be resolved through force should check their privilege."
Protesters at the Edmonton site said they plan on staying put until RCMP and Coastal GasLine leave Wet'suwet'en territory.
With files from The Canadian Press and Global's Emily Mertz