More than three quarters of Canada's domestic homicide victims were women, according to a new report released Thursday that said belonging to some specific demographic groups elevates the risk of a violent death even more.
The report from the Canadian Domestic Homicide Prevention Initiative, a multi-year project studying domestic homicides with a focus on vulnerable groups, tracked data from across the country and analyzed relevant deaths between 2010 and 2015.
Of the 476 people slain in a domestic homicide during that time, the report found 76 per cent of them were women or girls.
The study focused particularly on four vulnerable groups — those of Indigenous heritage, immigrants and refugees, people living in remote or rural areas, and children. Taken together, people belonging to those four groups comprised 53 per cent of homicide victims killed during that time period, the report found.
The report was based on work from a Social Science and Humanities Research Council grant developed by Myrna Dawson, University of Guelph professor of public policy and criminal justice, and Peter Jaffe, director of Western University's Centre for Research and Education on Violence against Women and Children (CREVAWC).
Dawson said the numbers should serve as a wakeup call to a society that may have been lulled into a false sense of security about the safety of women in general and vulnerable populations in particular.
"There is much talk about the need for improved resources for women and children experiencing violence, but I think sometimes that the general public feels that we have addressed this issue," Dawson said.
WATCH: Advocates call domestic abuse in Alberta a crisis
Advocates call domestic abuse in Alberta a crisis
"These numbers are a stark reminder that, while we may have tried to improve our responses to domestic homicide for which women are clearly the primary victims, our efforts have fallen short somewhere along the line, particularly for some groups."
Some of those shortcomings emerge when looking at the vulnerable groups highlighted in the study, she said, adding anyone hoping to address gender-based violence needs to examine the unique challenges those populations face rather than trying to devise a one-size-fits-all solution.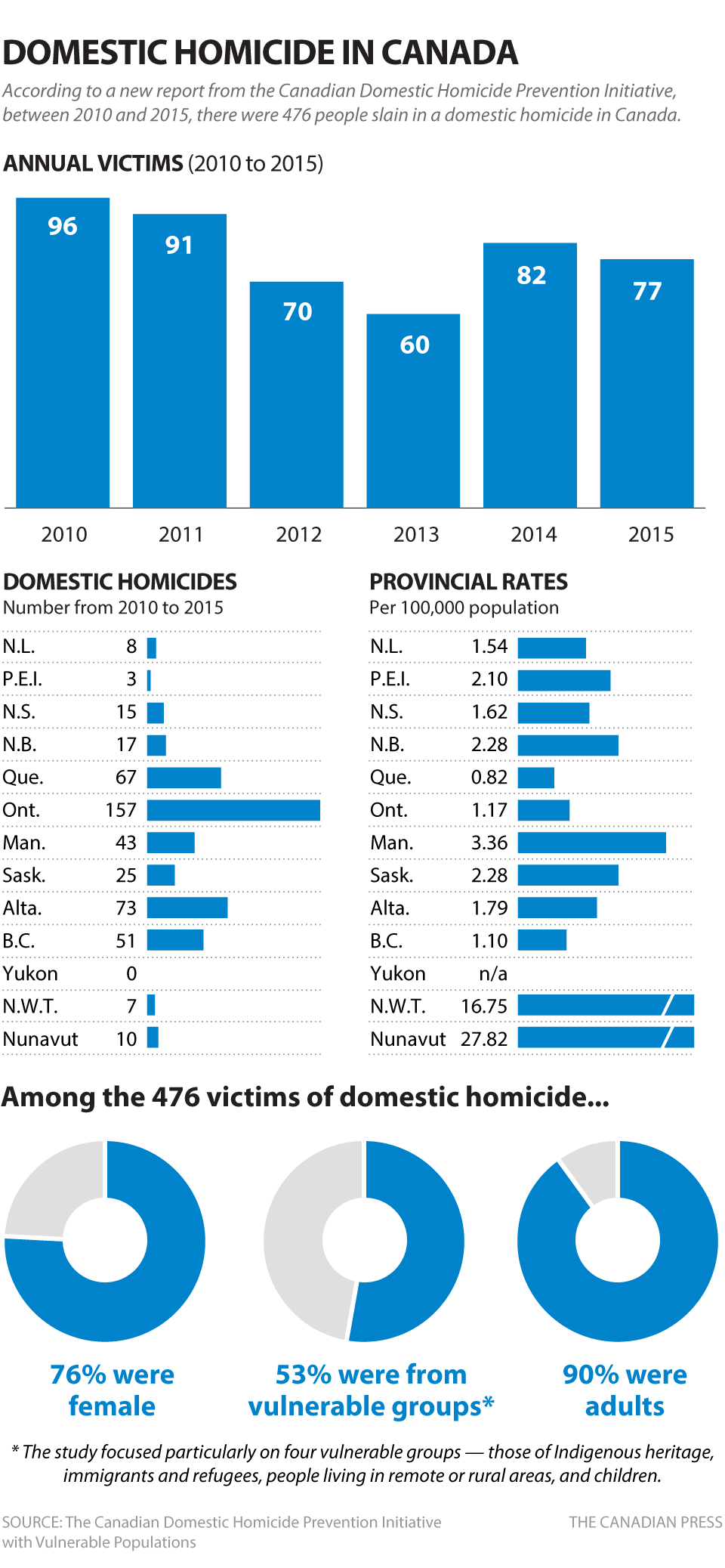 The data on homicide victims in rural and remote areas, for instance, suggests a need to rethink government responses to firearms.
Domestic slayings in such communities accounted for 22 per cent or nearly a quarter of the homicides in the study, she said. Females were targeted in 78 per cent of those cases, the research found, but unlike in the rest of Canada where stabbings were the most common cause of death, killers in remote communities resorted to firearms most often.
Governments funnelling money to combat guns and gangs in urban environments should take note of the data, Dawson said, adding the numbers suggest a need to direct some of those funds to limit violence in rural areas as well.
Other barriers for those in remote areas include limited employment opportunities and lack of resources to help people leave abusive relationships, the report said.
Similar risk factors were identified for immigrant and refugee populations, who may be isolated due to language barriers or lack appropriate or culturally relevant community supports.
For Indigenous women, for whom the rate of domestic homicide was twice as high as the non-Indigenous population during the report's time frame, the research found poor socioeconomic conditions and systemic racism play a role in keeping people in violent circumstances.
In order to provide meaningful help for people at risk of domestic violence, Dawson said everyone from researchers to service providers need to start looking at broader societal forces and not just individual circumstances.
"We need to recognize that our efforts to address risk and safety for those experiencing violence are not working well," she said. "We need to examine more nuanced and targeted ways to better respond so that we capture the lived realities of those experiencing violence the most."
The report also found that 13 per cent of cases surveyed involved the death of so-called collateral domestic homicide victims, typically family members, new partners, friends or neighbours of the intended target. The children of the intended victim made up the bulk of those deaths, the report said.
Dawson said the risks faced by Canadian women are generally in line with global figures released last month by the United Nations Office on Drugs and Crime.
WATCH: Feds announce $50M for programs across Canada to support survivors of gender-based violence
Feds announce $50M for programs across Canada to support survivors of gender-based violence
That study found that 58 per cent of global homicides involving female victims in 2017 were domestic slayings. Dawson said the Canadian Domestic Homicide Prevention Initiative intends to continue surveying data until at least 2021.
One vulnerable population not factored into the report's analysis was disabled women, a demographic that both Dawson and Statistics Canada have identified as being at particular risk of violence in the home.
A report released earlier this year found disabled people were twice as likely to experience domestic violence as non-disabled counterparts. It also noted that disabled women were more than twice as likely to report spousal violence than non-disabled women, though homicide rates were not specifically explored.
Bonnie Brayton, National Executive Director of the Disabled Women's Network, said omitting this demographic from a discussion of vulnerable populations is a "common and problematic practice."
But she said a burgeoning interest in research on disabled women and girls will hopefully address this shortcoming while helping to broaden the conversation about gender-based domestic violence.
"This report absolutely has gaps, but the implication that should stand out is that intersectional feminist research is the way forward if we are going to see a shift in female homicides," Brayton said.