Latest updates: 
Police say gunman specifically targeted the newsroom
Reports say suspect identified as Jarrod Ramos, who has previous lawsuit against Capital Gazette
5 dead, two others with superficial injuries
The newspaper the Capital will still be publishing Friday
Police named the victims – all were employees of the paper
A gunman specifically targeted Annapolis's Capital Gazette newsroom and opened fire Thursday afternoon, killing five people and injuring two others, police say.
"This person was prepared today, he was prepared to shoot people, his intent was to cause harm," acting police chief Bill Krampf said Thursday night.
WATCH: Threats sent over social media to Annapolis newspaper, police trying to confirm who sent them
Threats sent over social media to Annapolis newspaper, police trying to confirm who sent them
The suspect is in custody and has been identified by police, though his name was not given. Police are currently working to secure his Maryland residence,  Krampf said Thursday night.
He was identified as Jarrod W. Ramos by multiple news outlets, including CNN, NBC and CBS. Ramos brought a lawsuit against the paper in 2012, according to reports. The Baltimore Sun says the suit — which was regarding story written by a then-columnist about a criminal harassment charge Ramos plead guilty to — was thrown out in 2015.
WATCH: Shooting at Capital Gazette office was targeted, police say
Shooting at Capital Gazette office was targeted, police say
Ramos is described as a white male, and isn't cooperating with officers.
Police said he used a shotgun during the incident.
The victims were identified late Thursday night as: Wendi Winters, Rebecca Smith, Rob Hiaasen, Gerald Fischman and John McNamara.
All were employees of the paper, police said. Four were identified as journalists, while the other was a salesperson.
WATCH: Suspect in Capital Gazette shooting seen on camera escorted out by police in handcuffs
Suspect in Capital Gazette shooting seen on camera escorted out by police in handcuffs
The Capital Gazette had received multiple threats indicating violence on social media in the past, but police couldn't say if the suspect was behind the threats.
Police say they are not looking for other suspects, and said the building was "clear" from a tactical standpoint.
Acting police chief Bill Krampf told reporters they did find "what we thought was an explosive device" in the building, and the bomb squad was on scene. County executive Steve Schuh clarified that the device contained a flammable liquid that was found on the ground.
There was no motive given for the shooting.
"It looks like it was amateur hour. But even amateurs can cause a lot of damage in the absence of excellence response by law enforcement. We fortunately had that in this instance," he told CNN.
While police didn't confirm the exact location of the shooting within the building, The Baltimore Sun, which owns the Gazette, reported that multiple people were shot at the newspaper's office.
The editor of Capital Gazette News said he was "devastated and heartbroken" and said his reporters give all they have every day. Reporters said there were about 20 people who worked in the newsroom and it was like a tight-knit family.
Police said there were two people injured, and the injuries were superficial. CBS News reports that one person was already released from hospital, and another was expected to be released later Thursday.
WATCH: Police respond to a shooting at the Capital Gazette offices in Annapolis, Maryland
Police respond to active shooter at Annapolis newspaper
"The city sends its love and thoughts to all the families affected by this horrible event," Annapolis mayor Gavin Buckley said at a press conference.
He also thanked first responders on scene. Officials said police were on scene within minutes of receiving the first call at 2:35 p.m. local time.
"They went immediately into that building without hesitation," Schuh said, noting the bravery of the officers.
Maryland Governor Larry Horgan commended the "brave people who came in and stopped [the situation] from getting worse."
Anne Arundel County police spokesperson Lt. Ryan Frashure said that officers were focused on getting people out safe. There were about 170 people in the building at the time.
Video from the scene showed people leaving the building with their hands up.
A massive police presence was seen in the area.
Gazette reporter Phil Davis shared his experience on Twitter as he waited to be interviewed by police about the incident,
"A single shooter shot multiple people at my office, some of whom are dead," Davis wrote on Twitter.
He said the suspect shot through the glass door and fired at his co-workers.
"There is nothing more terrifying than hearing multiple people get shot while you're under your desk, and then hear the gunman reload."
WATCH: Witness in shooting at office of Capital Gazette describes aftermath, escape from Annapolis building
Witness in shooting at office of Capital Gazette describes aftermath, escape from Annapolis building
In an interview with the Baltimore Sun, Davis said he and others were hiding under their desks when the shooter stopped firing for an unknown reason. That's when police arrived and surrounded the shooter.
"I'm a police reporter. I write about this stuff — not necessarily to this extent, but shootings and death — all the time," he told the Sun.
"But as much as I'm going to try to articulate how traumatizing it is to be hiding under your desk, you don't know until you're there and you feel helpless."
Police are present at other newspaper offices in Maryland after the incident.
According to a Twitter post from a reporter at the Baltimore Sun, police entered the office for a "precautionary sweep" around 3 p.m. local time.
The New York Police Department also told reporters they were deploying officers to major newsrooms out of caution following the shooting.
WATCH:  Police were seen guarding the New York Times offices in New York City after a shooting in Annapolis, Maryland on Thursday that left five people dead.
Police guard news outlets in New York after Maryland shooting
The Capital Gazette's office is located on Bestgate Road, just outside Annapolis in Anne Arundel County. As such, the Anne Arundel County police are in charge of the investigation.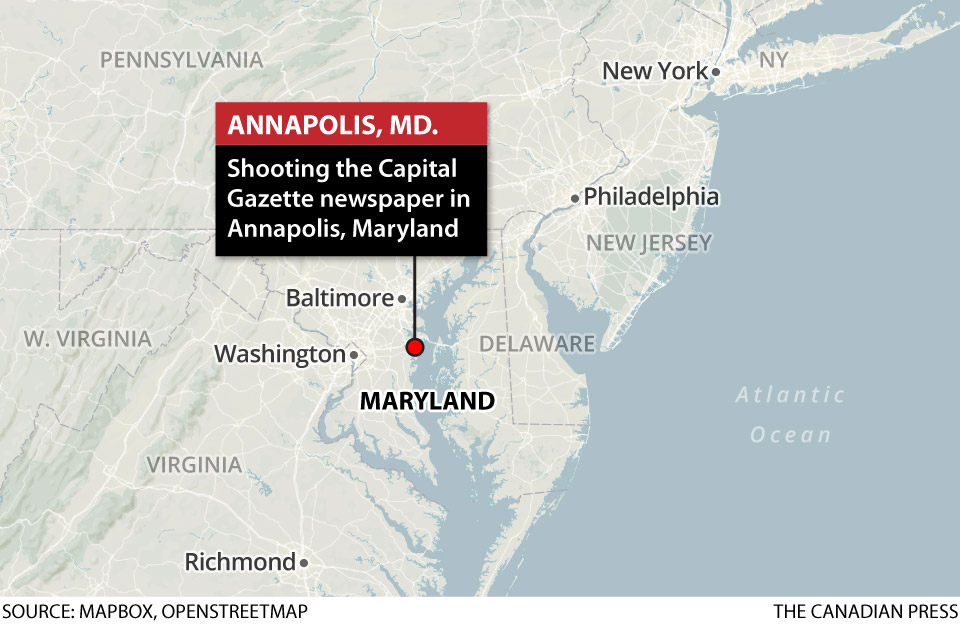 Maryland Governor Larry Hogan offered his prayers to those affected by the shooting on Twitter.
"Absolutely devastated to learn of this tragedy in Annapolis," he wrote. "Please, heed all warnings and stay away from the area. Praying for those at the scene and for our community."
U.S. President Donald Trump has been briefed on the situation, according to a White House spokesperson. He also wrote about the shooting on Twitter.
Former Congressperson Gabby Giffords — who was injured during a shooting while she was in office — offered a statement on the shooting.
"Reporters shouldn't have to hide from gunfire while doing their jobs. A summer intern in the newsroom shouldn't have to tweet for help. We shouldn't have to live in a country where our lawmakers refuse to take any action to address this uniquely American crisis that's causing so much horror and heartbreak on what feels like a daily basis," she wrote in a press release.
"This is not normal. Since the year began, there've been 179 days and already 154 mass shootings. Every day, more than 90 people are killed by a gun, from classrooms to newsrooms and neighborhoods across the country. We are facing a problem and we have to do something about it."
U.S. whistleblower Edward Snowden, who leaked secret documents to journalists in 2013, also commented on the attack against the newspaper.
"To fight words with weapons is more than violence, it is a crime against the Constitution. Those who justify such attacks are no patriots," Snowden wrote on Twitter.
The Chicago-based publishing company for The Capital Gazette says it is "deeply saddened" by the attack on its Maryland newspaper.
Justin Dearborn, chairman and CEO of Tronc, Inc., says in a statement, "Our thoughts and prayers are with the victims and their families." Dearborn says the company is focused on providing its newspaper employees and their families with support during what it called a "tragic time."
The Society of Professional Journalists said they were deeply saddened by the shooting.
"SPJ is deeply saddened by the reports from Annapolis, Maryland, that a shooter entered the Annapolis Capital Gazette building and shot several people," SPJ national president Rebecca Baker wrote in a release.
"Our hearts go out to the victims and their family, friends and colleagues. We are ready to help in any way we can."
— With files from The Associated Press