A 36-year-old mother who died in a multi-vehicle crash in Brampton along with her three young children has been identified as an elementary school teacher.
"The [Dufferin Peel Catholic District School Board] community was saddened to learn of the tragic loss of life of Karolina Ciasullo, a Grade 4 teacher at St. Isaac Jogues Catholic Elementary School, and her three children," a statement issued by the board on Friday said, adding the flags at the school were lowered
"Our deepest condolences go out to her husband, other members of the family, friends and colleagues."
Natalie Grossi said she worked with Ciasullo, calling her a devoted teacher. She said she was on her way to work when she stopped at the scene on Friday to leave a note and flowers.
"This is very devastating. The world seems definitely less light today. Some shining stars have been taken way too soon – it's very devastating," Grossi said.
The identification of Ciasullo comes amid ongoing investigations by Peel Regional Police and Ontario's police watchdog, the Special Investigations Unit (SIU), into the circumstances leading up to her death and the deaths of her children, who friends identified as Klara, Lilianna and Mila. The SIU said the children were one, four and six years old.
Just after 12:15 p.m. on Thursday emergency crews were called to the intersection of Torbram Road and Countryside Drive in Brampton's north end.
SIU spokesperson Monica Hudon told reporters Thursday evening that a Peel Regional Police officer travelling westbound on Countryside Drive "observed" an Infiniti car travelling eastbound. The Infiniti car subsequently collided with an Atlas SUV travelling north on Torbram Road.
She said Ciasullo and her children, who live in the Caledon area, were inside the SUV. Hudon said the six-year-old died at the scene and the rest of the family members died in hospital.
Hudon said the driver of the Infiniti, a 20-year-old man, was taken to hospital in serious condition. His name wasn't released by authorities.
When asked about how police were involved after the initial observation, Hudon did not elaborate and said that is part of an ongoing investigation.
On Friday, the SIU said in a statement that a dozen witnesses were interviewed and videos were secured. The agency said investigators gathered evidence at the scene and were set to examine a Peel Regional Police cruiser.
The SIU is an independent agency that investigates the conduct of officers involved in incidents where death or serious injury has occurred. Under Ontario law, Peel Regional Police aren't allowed to discuss the involvement of police after the SIU invokes its mandate.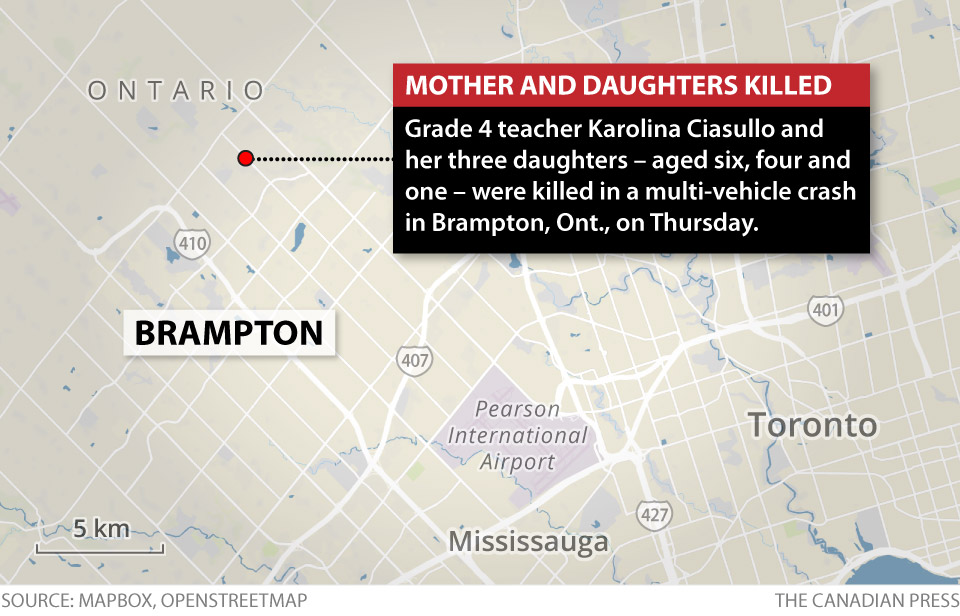 Peel Regional Police Chief Nishan Duraiappah issued a statement Friday afternoon and encouraged people with video or information to contact the SIU through the agency's website.
"Given the overwhelming amount of information coming forward, I encourage the Special Investigations Unit to complete this investigation in an expedited manner," he wrote, praising the life-saving efforts of emergency crews who attended the scene.
"As time progresses, be reassured that our organization will remain transparent and forthcoming as the parallel investigation continues with the Special Investigations Unit. In addition, Peel Regional Police is responsible for conducting the investigation into this motor vehicle collision and pending further investigation, we expect that charges will be laid."
Brampton Mayor Patrick Brown and Ontario Premier Doug Ford both reflected on the crash and offered their condolences.
"There's no word that can do justice to the magnitude of the loss," Brown said.
"I can't even imagine. It's Father's Day this weekend, for that poor father who's lost his lovely wife, his six-year-old daughter, his four-year-old daughter, his nine-month-old daughter. It makes your stomach churn."
Premier Ford offers condolences to family of mother, 3 children killed in Brampton crash
Ford called the situation "absolutely heart-wrenching."
"Our prayers, our thoughts, are with you and your entire family. Justice will be served," he said.
Meanwhile, a GoFundMe crowdfunding campaign launched to support the family received approximately $215,000 as of Friday night.
— With files from The Canadian Press