Emergency crews have descended in force on the north end of Gabriola Island, B.C., where a small plane crashed Tuesday evening.
RCMP members who travelled to the scene confirmed multiple fatalities on the island near Nanaimo.
BC Emergency Health Services said no one was taken to hospital, and that both the size of the plane and the number of passengers on board was still unclear.
Few details were immediately available about the type of plane, where it took off or the number of people on board.
According to Flightradar24, a flight tracking website, the plane was a six-person Piper Aerostar aircraft that was heading north from the U.S.
Witnesses on the ground say it's a shock for something like this to happen on quiet Gabriola Island.
Several residents described a plane that appeared to be flying low and say they felt their houses shake when it went down.
"I heard a really loud roar of an engine," said Bette Lou Hagen, who lives near Decourcy Drive where the aircraft went down around 6 p.m.
"It was really, really loud, like it was almost shaking my house. And then I heard it crash, like it was the loudest crash I've ever heard."
Hagen said she heard an explosion after the crash, but was unable to see the actual crash site through the trees.
Three people survive another float plane crash
"And people were yelling, 'Are you OK?' And there was lot of lights," she said.
BC Emergency Health Services (BCEHS) said multiple units had been mobilized, some from Gabriola and some from Vancouver Island, which arrived by ferry.
The BC Coroners Service was notified later in the evening.
BC RCMP have taken conduct of the file, and said officers from the Gabriola detachment were on scene.
BC Hydro says it received a call around 7:30 p.m. from a customer reporting a plane crashed on their property. The impact knocked out power to a home after taking down a pole and service line, which have since been repaired.
The Transportation Safety Board said it had been notified of the crash and was gathering information. Three TSB investigators from Vancouver will be arriving on Gabriola Island at around noon on Wednesday.
The BC Coroners Service is in the preliminary stages of its fact-finding investigation to determine who died, and how, where, when and by what means they perished.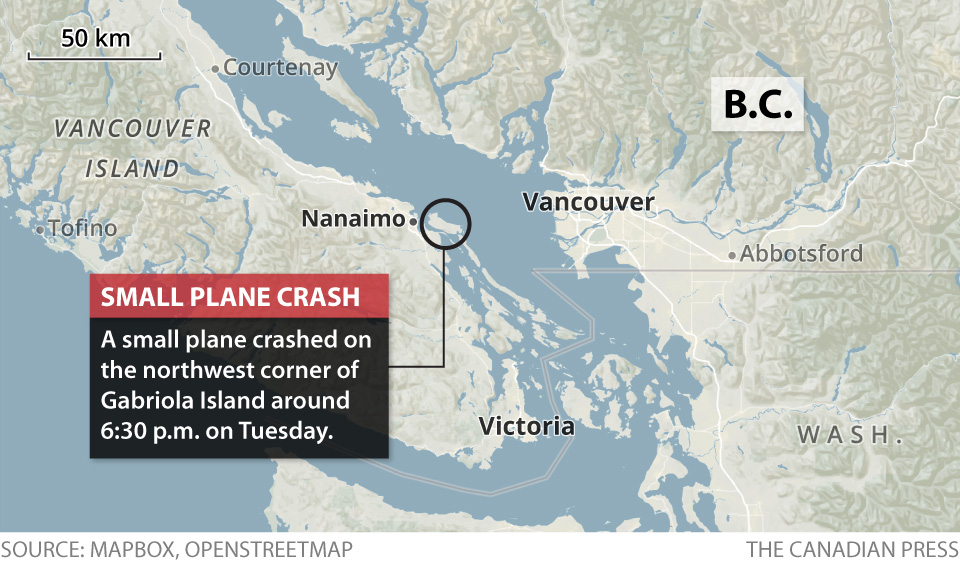 — With files from Neetu Garcha and The Canadian Press
© 2019 Global News, a division of Corus Entertainment Inc.