TORONTO — Is what you're wearing endangering your health? Doctors have expressed concerns over a number of our wardrobe choices. Most recently, though, a warning has been issued over skinny jeans after they landed a 35-year-old Australian woman in hospital for four days.
"Unable to get up, she spent several hours lying on the ground before she was found," the researchers explained in a press release. Doctors had to cut the too-tight denim off the woman once she made it to the emergency room.
That's because the jeans had reduced the blood supply to her leg muscles, which caused muscle swelling and compression of her nerves. The day before she had spent several hours squatting in the jeans while helping a relative move, which is thought to have caused the problem.
READ MORE: Why doctors are warning about the health risks of too-tight skinny jeans
But you don't have to be squatting in your skinnies for them to be potentially hazardous. Doctors have previously warned that the tight-fitting pants could cause "twisted testicles," bladder weakness and even urinary tract infections.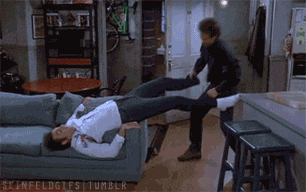 They're not the only piece of clothing that can be problematic.
Underwear
Much like tight pants, tight underwear has been linked to health problems. For men, it reportedly doesn't help your swimmers. It can also be uncomfortable. Just ask NDP MP Pat Martin, who blamed his tight undies for nearly missing a vote after he was forced to leave his seat in the House of Commons.
"I bought a bunch that was clearly too small for me. I find it difficult to sit for any length of time, Mr. Speaker," he confessed in February.
For women, while thongs can help eliminate panty lines they've been compared by one gynecologist to "a subway car transporting bacteria" from the back end to the front.
Experts say the best fabric to wear below the belt is cotton, which is more breathable than synthetic materials. To avoid irritation, both men and women should change out of sweaty underwear after a work-out.
As for up top, women should make sure they're properly fitted for a bra. Otherwise, they run the risk of breast pain and back strain.
Ties
Here's one reason to loosen that tie: wearing it too tight could put you at increased risk of blindness, doctors in New York said in a 2003 study.
It measured the pressure of the fluid in the eyeball in a small group of men before and after they attached their tie. Researchers found a significant rise in pressure and warned that long-term pressure rises have been linked to glaucoma, which is the most common cause of irreversible blindness in the world.
Bags
"Wearing a bag that's too heavy or improperly distributed over the body can cause imbalances in posture resulting in strain of the neck, back, surrounding muscles and nerves," said chiropractor Dr. Debbie Wright.
"Irritation of these structures will result in symptoms such as pain, numbness and weakness of the neck, back and arms. Over time this will lead to wear and tear in the joints and postural imbalances that become much more difficult to address, resulting in chronic pain."
To spare yourself the pain, Wright offered the following tips:
Try to keep the weight of your purse below three pounds. Be sure to weed out the non-essential items on a regular basis.
Look for bags that are small and light, with wide padded straps.
Avoid carrying your purse in the crook of your elbow.
Don't carry your purse only on one side all the time. Switch sides and do so frequently.
If your bag has a long strap, put it on the opposite shoulder and wear it diagonally across your body to better distribute the weight.
Maintain good posture using tools such as the Straighten Up Canada.
Shapewear
Some say shapewear (like Spanx) can work miracles. But doctors have argued it isn't safe and can even be life-threatening.
Dr. Faraneh Sabi of Kaiser Permanente has previously warned women about wearing multiple shapers or ones that are too tight, saying they can cause infections and even blood clots.
"When women wear really tightly configured clothing, sometimes it can decrease the blood flow or what we call circulation to the body and what that can do is that it can actually lead to blood clots and those blood clots can travel to the lungs, to the heart and parts of the brain and that can lead to even death."
Other complications can include nerve damage and bacterial infections.
Sabi encourages women not to wear body shapers that are too small and to also be accepting of their bodies.
Not too mention, they can also be uncomfortable.
WATCH: Octavia Spencer tells Ellen about her triple-Spanxing experience
Shoes
Two of the worst offenders when it comes to footwear: heels and flip flops.
The latter offer no support, according to Joseph Stern, president of the Canadian Podiatric Medical Association.
"And then you tend to walk differently a bit," he said. "You're tending to grip a little bit more with your toes…putting more pressure on the ball of your feet."
That can lead to ball of foot pain, heel pain (plantar fasciitis) and ankle sprains, just to name a few.
As for heels, Stern cited research that claims there is seven times more pressure on your foot when you go from a one-inch to a three-inch heel.
READ MORE: 'I don't think the girls thought they could question it': high heels policy study author
"Probably like 90 per cent of the pressure goes to the ball of the feet," he added.
Since the toes are often squished together, that can also cause corns, bunions and a pinched nerve. Hammertoes are another possibility.
And just how long does it take for the pain to kick in? On average: one hour, six minutes and 48 seconds, according to a British study. For 20 per cent of women, though, the pain starts after just 10 minutes.
With files from Carmen Chai and Lisa Geddes, Global News