ABOVE: The throne speech laid out what the Harper government intends to do for Canadian, with a focus on consumers. Jacques Bourbeau reports.
OTTAWA – We heard a lot about the Conservative government's consumer-first speech from the throne. But what else is in?
Turns out, a lot.
Called "Seizing Canada's Moment: Prosperity and Opportunity in an Uncertain World," the document focuses on Conservative stalwart issues such as the economy, jobs and crime.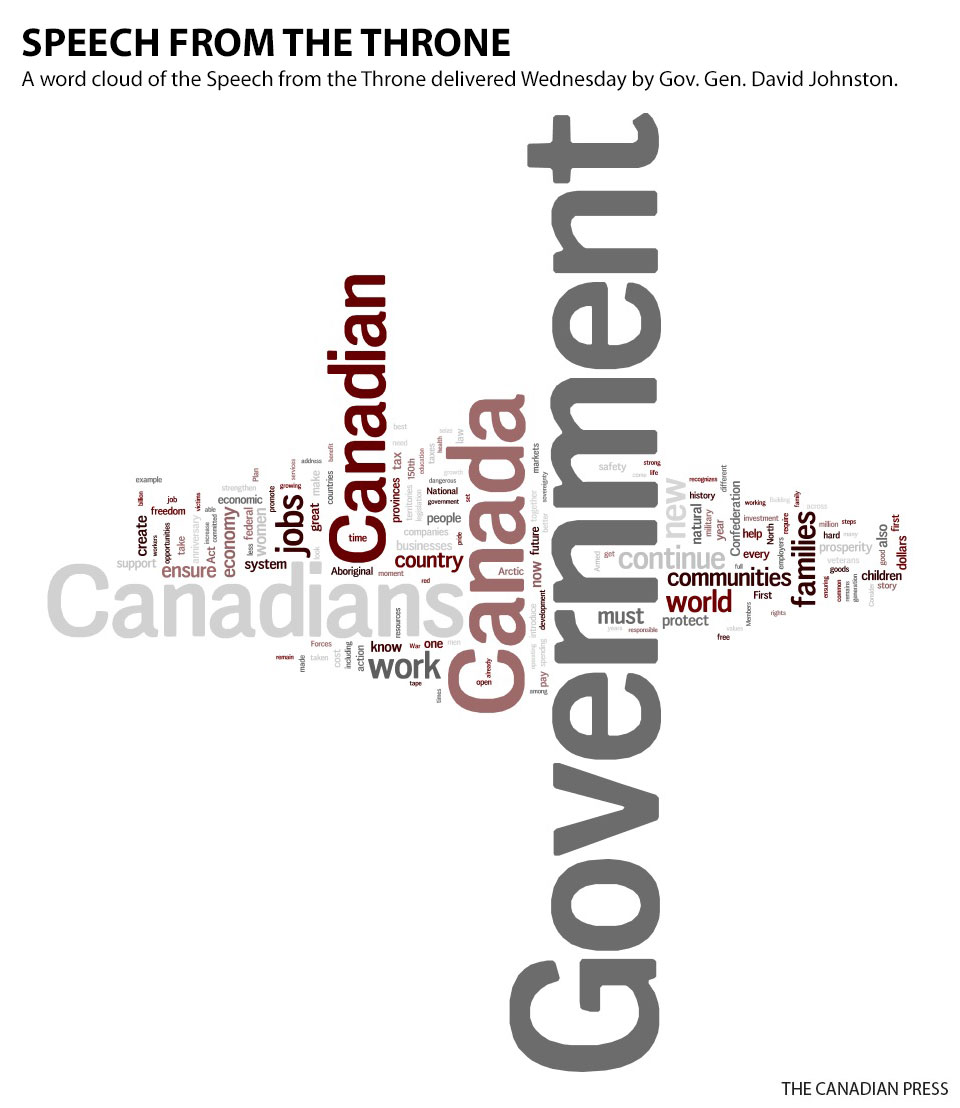 Video: Mike Le Couteur recaps the highlights from the Speech from the Throne
It points to some populist measures already announced in advance, such as reducing roaming costs on Canadian networks and pay and pick TV services, as well as signals that negotiations will soon be completed on a Canada-EU trade deal.
The other consumer measures in the speech: enhancing high-speed broadband networks for rural Canadians, ending "pay to pay" policies that make customers pay extra for paper bills, expanding no-cost basic banking services, and working with the provinces and territories to crack down on "predatory" payday lenders.
Conspicuously absent are mentions of the NDP's idea for airline bill of rights, or caps on merchant fees for premium credit cards.
The speech also includes a nod to this year's major events: a moment of silent reflection for the devastated town and lives lost in Lac-Megantic, and an ode to our littlest royal, Prince George.
Live coverage: Throne speech 2013
Here are five standout promises in this year's throne speech:
1. Balanced budget by 2015
The government will introduce legislation that requires balanced budgets "during normal economic times" and timelines for returning to balance in the event of an economic crisis.
2. Government spending cuts
Departments can expect more internal government spending cuts, the selling off of federal assets, and public service accountability measures. Oh – and they're moving from 63 email systems, to one.
3. Youth unemployment
The government will tackle the issue by redirecting federal investments to provide work experience in high-demand fields.
4. Tough-on-crime
In the speech, the government references three young bullying victims – Amanda Todd, Rehtaeh Parsons and Todd Loik – and says it will introduce cyberbullying legislation. It also plans on changing the law to ensure a "life sentence means a sentence for life."
5. Oil and gas regulations
The government vows to work with provinces to reduce oil and gas emissions, "while ensuring Canadian companies remain competitive."
6. Bonus promise: Booze
The government plans to amend the law to allow Canadians to take beer and spirits across provincial boundaries for their own use. No, you couldn't do that before.
View a replay of our commentary and analysis below, including insight from Bruce Hicks, a Bell Chair Fellow and Social Sciences and Humanities Research Council post-doc currently at Carleton University.