Statistics Canada says the economy added 62,000 jobs in November compared with an addition of 84,000 in October, as the labour market recovery from the impacts of the novel coronavirus pandemic slowed down. The unemployment rate fell to 8.5 per cent compared with 8.9 per cent in October.
READ MORE: Fiscal update would boost child benefit and wage subsidy, calls for airline refunds
Employment rose by 0.3 per cent for the month, compared with 0.5 per cent in October. That contrasts with the period between May and September, when employment grew by an average of 2.7 per cent per month.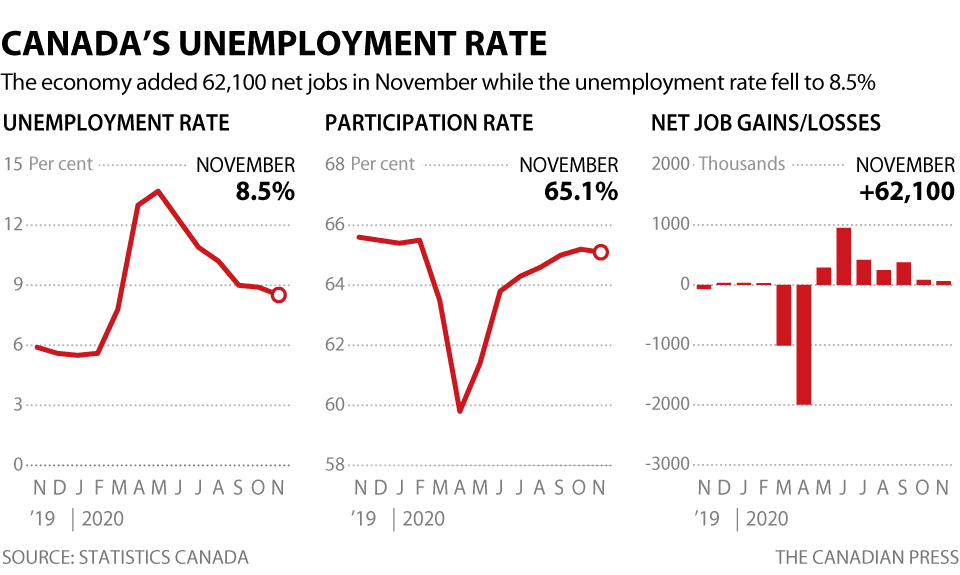 The average economist estimate had been for a gain of 20,000 jobs and the unemployment rate to remain unchanged, according to financial data firm Refinitiv.
READ MORE: Canada hints at 'major' coronavirus recovery plan but still no brakes on spending
The gains in November left the country 574,000 jobs short of recouping the approximately three million jobs lost from lockdowns in March and April that sent the unemployment rate skyrocketing to 13.7 per cent in May.
The unemployment rate would have been 10.9 per cent in November, StatCan said, had it included in calculations Canadians who wanted to work last month but didn't search for a job.