Update: The U.K.'s Metropolitan Police Service has identified the dead suspect as Usman Khan, 28, a convicted terrorist released from prison in 2018. Our latest story is here.
British police say officers shot and killed a man near London Bridge on Friday after multiple people were stabbed in what's been declared a "terrorist incident."
Police Commissioner Cressida Dick said two members of the public have died in the stabbing attack. Three others are currently in hospital.
It happened just before 2 p.m. local time on the bridge in central London.
Video showed members of the public pinning the suspect to the ground, before police entered the scene.
"A male suspect was shot by specialist armed officers," the U.K.'s top counter-terrorism officer, Neil Basu, said during a news conference. "I can confirm that this suspect died at the scene."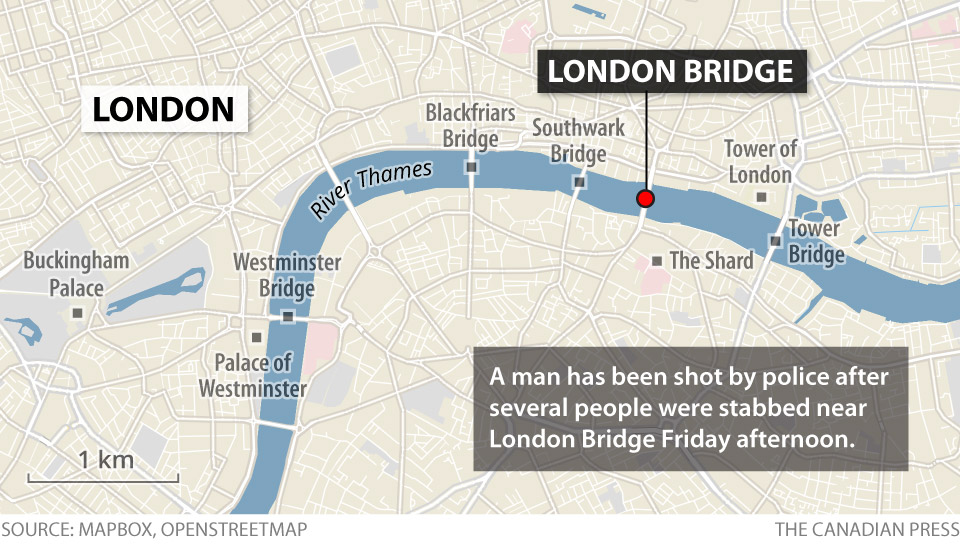 Basu said police received reports that the suspect was armed with an explosive, but investigators determined the item strapped to his body was "a hoax explosive device."
The incident has been declared a terrorist act.
"I must stress, however, that we retain an open mind as to any motive," Basu said. "It would not be appropriate to speculate further at this time."
The suspect was a convicted terrorist, according to reports in The Times, BBC News, and ITV News.
The Times was the first to report that the man was a convicted terrorist, who was released from prison last year after agreeing to wear an electronic tag normally used for curfew enforcement or for restricting movements.
UK PM Johnson calls death of 2 in London Bridge incident 'heartbreaking'
U.K. Prime Minister Boris Johnson said there would be a sitting of Cobra, the government's emergency committee, at 9:30 p.m. local time.
He said sentences should be served.
"It is a mistake to allow serious and violent criminals to come out of prison early, and it is very important that we get out of that habit and that we enforce the appropriate sentences for dangerous criminals, especially for terrorists," he said.
Multiple people were injured in the stabbing, though it was not immediately clear how many. The severity of their injuries are also not known.
"As soon as we can provide further updates on their condition, we will," Johnson said.
Dick thanked the public, including those that helped at the scene, and those that sent videos or photos of the scene.
"This support from the public assists us more than you can know," she said at a press conference Monday night.
She also said officials will be working around the clock to support victims and families — and extra patrols will be on the streets of London in the wake of the attack.
Videos and photographs on Twitter showed several police cars on the bridge. A white cargo truck was pictured jackknifed across several traffic lanes on the bridge.
In one video, three officers appear on the bridge with guns drawn.
A nurse walking in the area at the time said she heard at least five gunshots.
"I've treated a lot of gunshot wounds but I've never been that close to them," Jackie Bensfield told Reuters.
"I'd save five or six gunshots. It was a quick succession… I just ran like hell, to get off that bridge as fast as I could."
British authorities declare London Bridge stabbing a 'terrorist incident'
The London Ambulance Service declared the attack a "major incident." They sent a number of crews to the scene.
London's Metropolitan Police Service urged people to follow the orders of officers patrolling the area.
London Bridge Station was closed as a result of the incident.
London Mayor Sadiq Khan commended members of the public who demonstrated "breath-taking heroism" in attempting to disarm the suspect.
Man shot dead after multiple people stabbed in 'terrorist incident' at London Bridge in U.K.
Video circulating on social media show people in a struggle with the suspected attacker.
"What's remarkable about the images we've seen is the breath-taking heroism of members of the public who literally ran towards danger not knowing what confronted them," Khan told reporters.
"Members of the public didn't realize at the time that was a hoax device, and they really are the best of us."
He tweeted that he remains in "close contact" with Metropolitan Police as the investigation unfolds and thanked emergency services for their response.
Prime Minister Boris Johnson called the incident "appalling."
"To the best of our knowledge, the incident has been contained," Johnson told reporters.
"I urge everybody to of course be vigilant. One cannot help to think back to what happened in 2017, in the same part of the city, and I hope very much that people will be able as fast as possible to go about their normal business.
In 2017, three attackers in a van rammed into pedestrians and stabbed people at nearby bars, leaving eight dead and at least 48 injured. A Canadian woman was among the victims. The Islamic State claimed responsibility.
Basu said there is no further danger to the public but "extensive cordons" will be in place for "a considerable time."
Police are calling on witnesses to send them photos of videos they may have taken at the scene.
The U.K. is less than two weeks away from a general election. Johnson said he paused campaign plans for the remainder of Friday and will consider overnight whether it should resume Saturday.
Knife Attack in The Hague
Hours after the attack, Dutch police reported a stabbing incident in The Hague, saying several people were injured. There is no apparent connection between the two attacks.
Global Affairs Canada said it is "closely monitoring" the situation in both London and The Hague.
"At this time, there are no reports of any Canadian citizens being affected," said a spokesperson in an email Friday evening.
Canadians in the U.K. who might need emergency consular assistance can contact the High Commission of Canada in the U.K.
— With files from Reuters
© 2019 Global News, a division of Corus Entertainment Inc.