A magnitude 7.0 earthquake struck near the southern Alaska city of Anchorage on Friday, followed by "many" aftershocks.
"There have been many aftershocks already, and there will be many more," the Alaska Earthquake Center said in a tweet. "Largest so far was a M5.7, 6 minutes after the mainshock and 3 miles north of Anchorage."
An online map of power outages shows reports of thousand without power in numerous service areas in and around Anchorage.
Alaska Gov. Bill Walker has issued a declaration of disaster and says he has been in direct contact with the White House.
WATCH: Powerful earthquake rocks Alaska near Anchorage
Images and video on social media show roadways split open, grocery stores with items spilled into the aisles and people hiding under desks and tables as light fixtures swing above them.
U.S. President Donald Trump said in a tweet that the federal government "will spare no expense" in assisting Alaskans following the "big one."
State offices in Anchorage closed for the day on Friday, while local police urged residents to use 911 for emergencies only.
"There is major infrastructure damage across Anchorage," the Anchorage Police Department said in a statement.

"Many homes and buildings are damaged. Many roads and bridges are closed. Stay off the roads if you don't need to drive. Seek a safe shelter. Check on your surroundings and loved ones."
Anchorage police Chief Justin Doll told reporters Friday that he had not been made aware of any serious injuries or deaths due to the earthquake.
A team from the Federal Emergency Management Agency was on its way to the quake zone, and damage assessments were under way, Sen. Lisa Murkowski of Alaska said on Fox News Channel.
"But we know that a tragedy of this magnitude is going to require outside resources," she said.
The flight tower at Ted Stevens Anchorage International Airport was evacuated amid the quake, and all flights were temporarily grounded in the area but have since resumed.
WATCH: Officials, witnesses speak about Alaska earthquake
The Alaska Railroad has suspended all operations amid "severe" damage at its Anchorage Operations Center and unknown track conditions throughout the state.
The Trans-Alaska Pipeline System — one of the world's largest crude oil pipeline systems — was shut down after the earthquake as a precaution, with crews dispatched to assess for any possible damage.
Long lineups began forming at gas stations by Friday afternoon.
WATCH: Earthquake leaves groceries strewn across Anchorage store 
Earthquake leaves groceries strewn across Anchorage store
The U.S. Tsunami Warning Service had issued a tsunami warning for Cook Inlet in the Gulf of Alaska along the southwest coastline of the state. Areas of northern B.C. were not expected to be affected.
Residents of the Kodiak Island community, located about 320 kilometres south of Anchorage, were told to get to higher ground.
The alert was cancelled about two hours later.
WATCH: Officials say tsunami warning only in effect in Alaska's coastal areas after 7.0 Anchorage earthquake 
Officials say tsunami warning only in effect in Alaska's coastal areas after 7.0 Anchorage earthquake
The quake hit at a depth of 40 kilometres, according to the United States Geological Survey (USGS), "as the result of normal faulting." It struck roughly 12 kilometres north of Anchorage, the state's largest city with a population of about 300,000.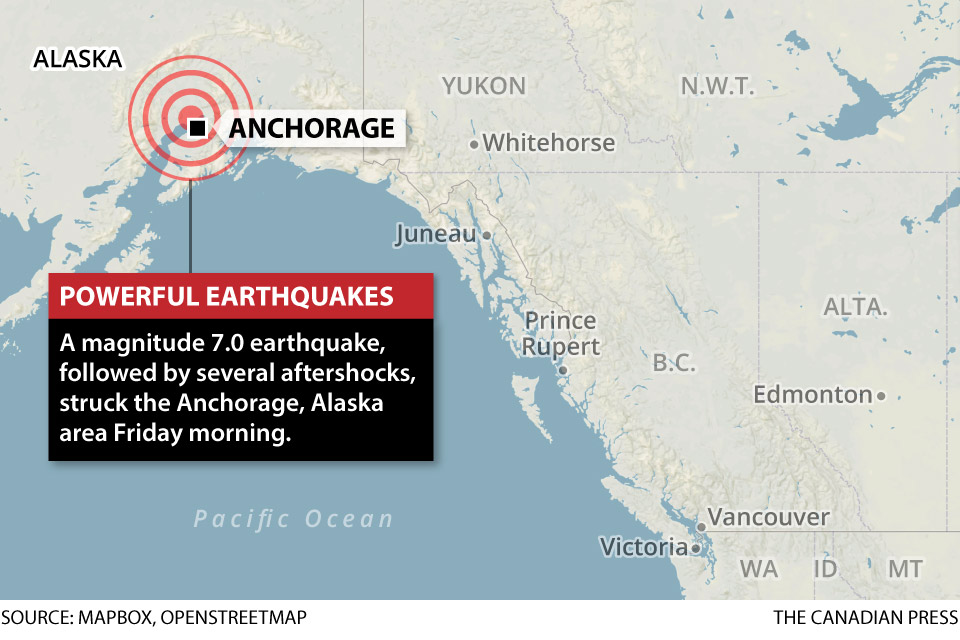 "Earthquakes are common in this region," the USGS website states. "Over the past century, 14 other M 6+ earthquakes have occurred within 150 km of the Nov. 30, 2018 event."
The region's largest earthquake in recent history was in March 1964, with a magnitude of 9.2. That earthquake stands as the strongest ever recorded in U.S. history, lasted for more than four minutes and claimed the lives of about 130 people.
—With files from the Associated Press and Reuters
© 2018 Global News, a division of Corus Entertainment Inc.