Survivors of a mass shooting at Florida high school this past February protested a supermarket's connections to the NRA by hosting "die-ins" at two of the chain's locations.
Supermarket chain Publix announced Friday that it would suspend political contributions to Florida Republican candidate Adam Putnam because of his dedicated support for the National Rifle Association — moments before "die-in" protests got underway at several locations.
WATCH: Parkland students blast U.S. lawmakers: 'Nothing has happened'
Parkland students blast U.S. lawmakers: 'Nothing has happened'
"We would never knowingly disappoint our customers or the communities we serve,'' Publix said in a statement Friday. "As a result, we decided earlier this week to suspend corporate-funded political contributions as we reevaluate our giving processes."
The protests — which consisted of student activists lying on their backs in the aisles of two Publix supermarkets — caused brief delays.
The event was organized by Parkland shooting survivor David Hogg, the 18-year-old gun control activist who's risen to fame following the massacre at Marjory Stoneman Douglas high school in February, which left 17 people dead and another 17 injured.
Hogg is one of many student survivors of the Marjory Stoneman Douglas shooting that have taken up the fight against gun violence in recent months.
"A lot of people don't support who Publix is supporting," Haylee Shepherd, a 15-year-old sophomore at Stoneman Douglas, told the Associated Press. "It's going to reflect on them as a brand and people shopping there."
Even more recently, a shooting at a Santa Fe high school in southeast Texas left 10 people dead, and that same day an Indianapolis middle school student opened fire in his classroom, injuring one student and one teacher.
The students held signs and shouted "USA not NRA" repeatedly, forcing customers to reroute through the aisles and at times requiring store managers to retrieve items for shoppers. Pro-NRA counter-protesters also showed up to demonstrate, and heated interactions came close to breaking into physical fights at times.
At one point, a counter-protester, Bill Caracofe, stuck his middle finger an inch from Hogg's face outside the grocery store just a few miles from the school where 17 of Hogg's classmates and teachers were gunned down.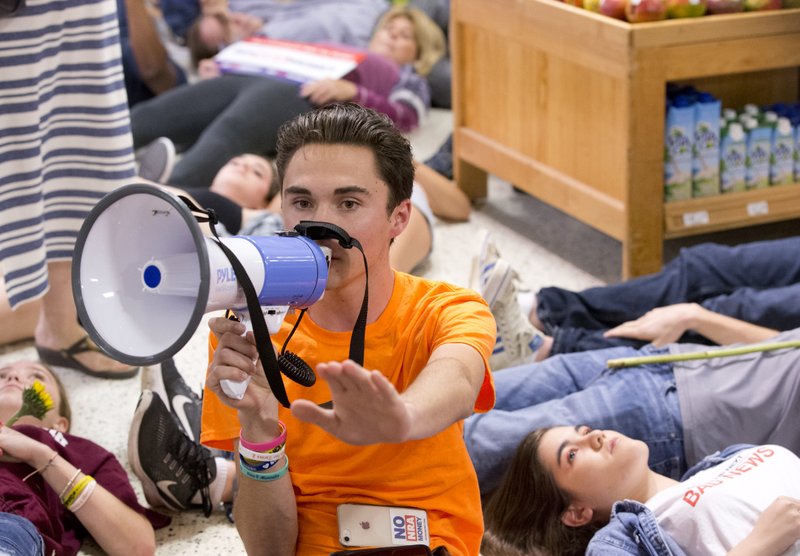 "There are millions and millions of people who don't worship everything that comes out of his mouth," said Caracofe, who joined about a dozen NRA supporters who counter-protested inside the store. He said the students' anger toward Publix should be directed at the sheriff's office and school district for failing to protect them.
Publix is far from the only corporation to provide financial support for Putnam's campaign; donations have also come from Walt Disney Co., Florida Power & Light and U.S. Sugar. Publix has said it supports candidates focused on building the economy.
WATCH: Parents of Parkland School shooting victims announce they're running for school board
Parents of Parkland School shooting victims announce they're running for school board
"We regret that some of our political contributions have led to an unintentional customer divide instead of our desire to support a growing economy in Florida," the company said in a statement.
Putnam, whose called himself a "proud NRA sellout" in the past, has yet to comment on the protests.
-With files from the Associated Press. 
© 2018 Global News, a division of Corus Entertainment Inc.