A house fire that happened Thursday morning has claimed the lives of one mother and four of her children in Kitchenuhmaykoosib Inninuwug, also known as Big Trout Lake First Nation.
The cause of the fire is not yet known, Sam McKay, the communications liaison of Kitchenuhmaykoosib Inninuwug's chief and council for this incident, told Global News on Thursday. "(This) lady that we lost was a foster parent and she adopted and raised three other children besides her own," McKay said.
The woman had two children of her own, one of which was out of town, and three kids that she adopted from people within the community, McKay added.
"Everybody knows everybody and so they're all directly affected," McKay said. "They're all local families."
The Kitchenuhmaykoosib Inninuwug police service responded to a report of a fire at a house on Macheetao Road at approximately 5 a.m. on Thursday.
Kitchenuhmaykoosib Inninuwug, a fly-in community about 600 kilometres north of Thunder Bay, is home to just over 1,000 people.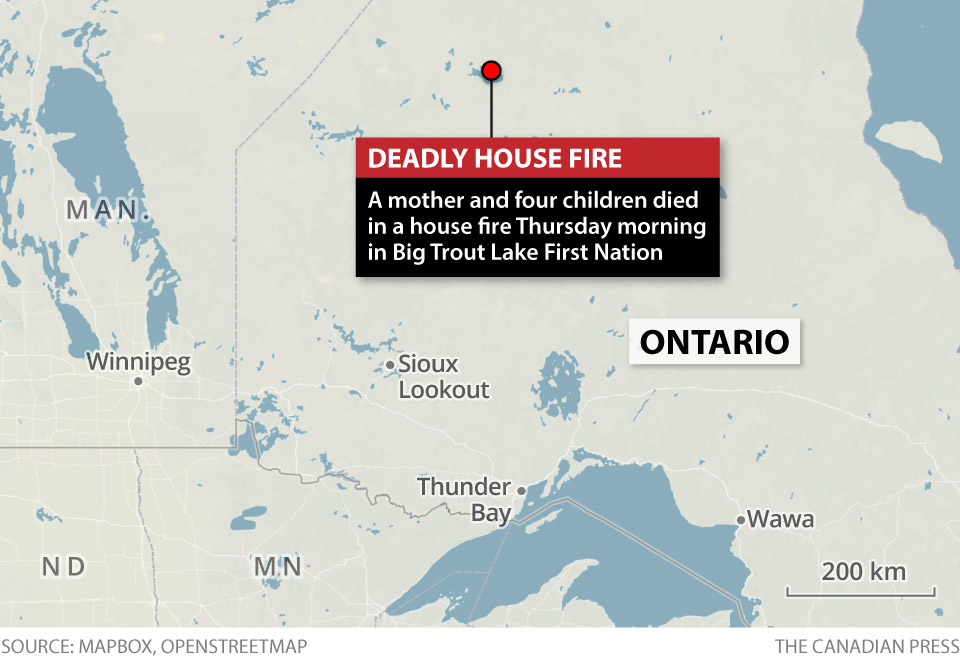 "This is a devastating loss for the community," Nishnawbe Aski Nation Grand Chief Alvin Fiddler said in a statement. "We have assured chief and council that we will support them in any way possible as they grieve in the days and weeks ahead."
Members of the OPP's North West Regional Crime Unit and Forensic Identification Services are investigating the incident.
The first team of investigators was deployed Thursday, McKay said, and another team will be arriving on Friday.
"On behalf of the Mushkegowuk Council, council of chiefs and our citizens, we would like to express our sincere condolences to the community, the families and to the leadership of Kitchenuhmaykoosib Inninuwug," Mushkegowuk Council Grand Chief Jonathan Solomon said in the statement.
Members from the Office of the Fire Marshall and Emergency Management, the Ontario Forensic Pathology Services and the Office of the Chief Coroner for Ontario are also working with the OPP.
"Today, we join with the people of Kitchenuhmaykoosib Inninuwug First Nation who are grieving the tragic deaths of community members and loved ones in an early morning house fire," NDP leader Andrea Horwath and Kiiwetinoong MPP Sol Mamakwa said in a statement. "Our thoughts and our hearts are with the surviving family members, their friends, and the community during this difficult time."
The Nishnawbe Aski Nation arranged for a team of crisis support workers to be sent to the community Thursday morning.
A GoFundMe campaign has also been set up to honour the victims.
"Everybody just wants to know what happened," McKay said.
Anyone with information can contact the OPP at  1-888-310-1122, Crime Stoppers at 1-800-222-8477 or leave an anonymous tip at http://www.p3tips.com/273.
© 2019 Global News, a division of Corus Entertainment Inc.