A blast of 94,100 new jobs last month has knocked the country's unemployment rate down to 5.6 per cent — its lowest level since Statistics Canada started measuring comparable data more than 40 years ago.
The overall number marked the labour force survey's largest monthly increase since March 2012 when there was a gain of 94,000 jobs, Statistics Canada said Friday.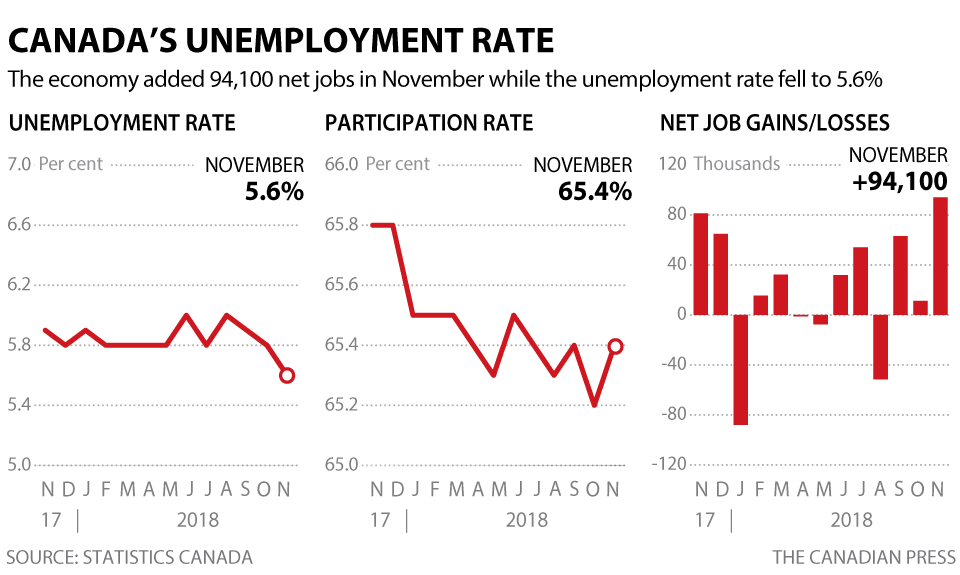 The November employment surge was fuelled by the addition of 89,900 full-time positions. For employee work, the private sector added 78,600 positions in November, while the public sector gained 8,300 jobs.
Last month's increase pushed the jobless rate down from October's reading of 5.8 per cent, which had been the previous low mark since comparable data first became available in 1976. The old statistical approach – prior to 1976 – registered an unemployment rate reading of 5.4 per cent in 1974.
But Friday's report also contained disappointing details.
WATCH: B.C. unemployment rate falls to lowest in a decade
B.C. unemployment rate falls to lowest in a decade
Year-over-year average hourly wage growth for permanent employees continued its decline in November to 1.46 per cent – to deliver its weakest reading since July 2017.
Experts have been expecting wage growth to rise thanks to the tightened labour market, but it has dropped every month since its May peak 3.9 per cent. It now sits well below inflation.
The Bank of Canada keeps a close watch on wages ahead of its interest-rate decisions. On Wednesday, the central bank held its benchmark rate at 1.75 per cent, but in explaining its decision it highlighted other economic negatives such as weaker-than-expected business investment and the sharp drop in oil prices.
Statistics Canada's report Friday also said that, compared to 12 months earlier, employment was up 1.2 per cent following a net increase of 218,800 jobs. The addition of 227,400 full-time positions offset a small decrease in part-time work.
The November jobs report showed the goods-producing sector added 26,900 jobs following a notable gain of 14,800 construction positions. The services sector generated 67,200 jobs last month with help from the addition of 26,000 positions in professional, scientific and technical services.
By region, employment rose in six provinces and was led by gains in Quebec and Alberta.