The 2018 Winter Olympics in South Korea is officially Canada's most successful Winter Games ever, after hauling in 27 medals, surpassing previous benchmark set at the 2010 Vancouver Olympics.
On Day 14 of the Pyeongchang Games, Canada claimed its 27th medal thanks to figure skater Kaetlyn Osmond, who captured bronze in the women's free skate competition. Canada's previous medal record of 26 was set on home soil eight years ago.
Winter Olympics 2018: medal count results
Finishing first overall in the total medal count was the goal in both 2010 and 2014. Canada was third in 2010 and finished the 2014 Winter Games with 25 medals.
Canada set the new record with two and a half days left in Olympic competition, thanks to a surge in medals on Friday.
Kelsey Serwa and Brittany Phelan took home gold and silver in the women's ski-cross event, taking the one-two spots ahead of Fanny Smith of Switzerland. Osmond followed it up with her bronze medal figure skating performance.
WATCH: Canada captures first gold medal in team figure skating event.
Canada captures 1st gold medal in team figure skating event

On Day 2 of the Pyeongchang Games, Canada grabbed its first four medals after Max Parrot nabbed a silver medal and Mark McMorris bronze in the men's snowboard slopestyle event while Ted-Jan Bloemen secured a silver in long track speedskating and Justine Dufour-Lapointe struck silver in women's moguls.

READ MORE: Canada's Kaetlyn Osmond wins figure skating bronze at 2018 Winter Olympics

As of Day 14, Canada has 10 golds, eight silver and nine bronze medals. A month before the Games were underway, an international data analytics company predicted Canada would haul in 33 medals in South Korea.

Gracenote predicted Canada would take home seven gold, 12 silver and 14 bronze medals.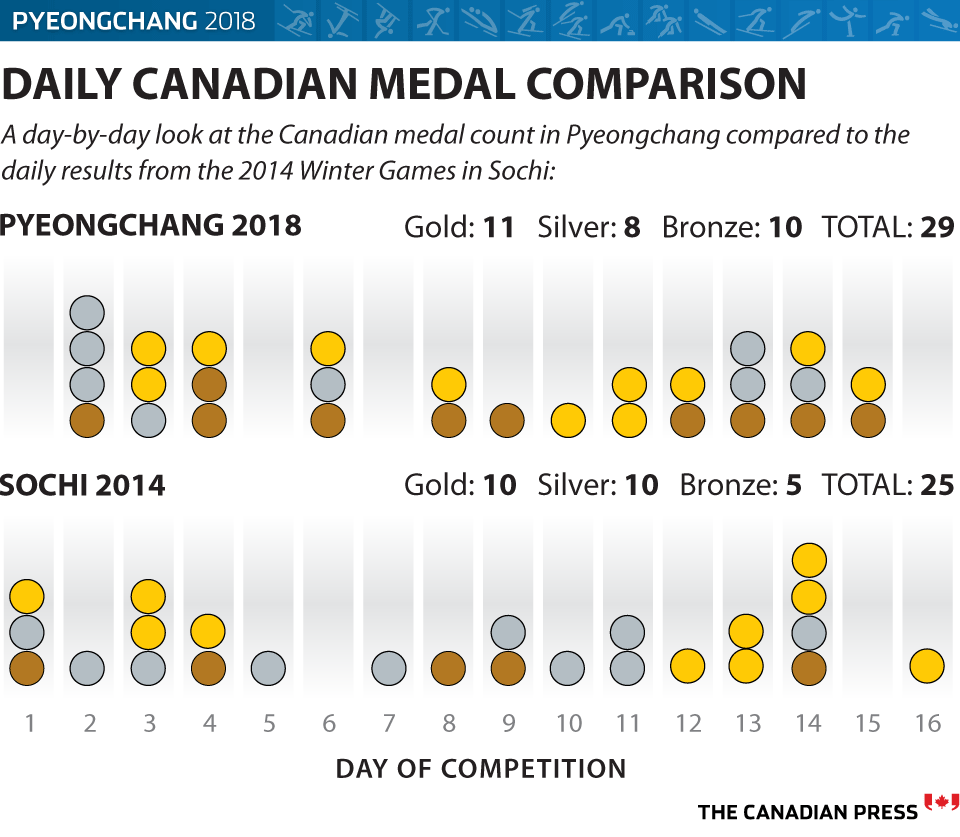 -with a file from The Canadian Press
© 2018 Global News, a division of Corus Entertainment Inc.