After seven full days of competition in Pyeongchang, Canada is off to a great start in medals.
Canada has 13 medals so far: four gold, five silver and four bronze, two more than it had at the end of Day 7 in Sochi in 2014.
Canada's record haul for Winter Olympic medals is 26, set in Vancouver 2010. So, Canadian athletes are halfway there, with nine days of competition – more than half of the Olympics – left to go.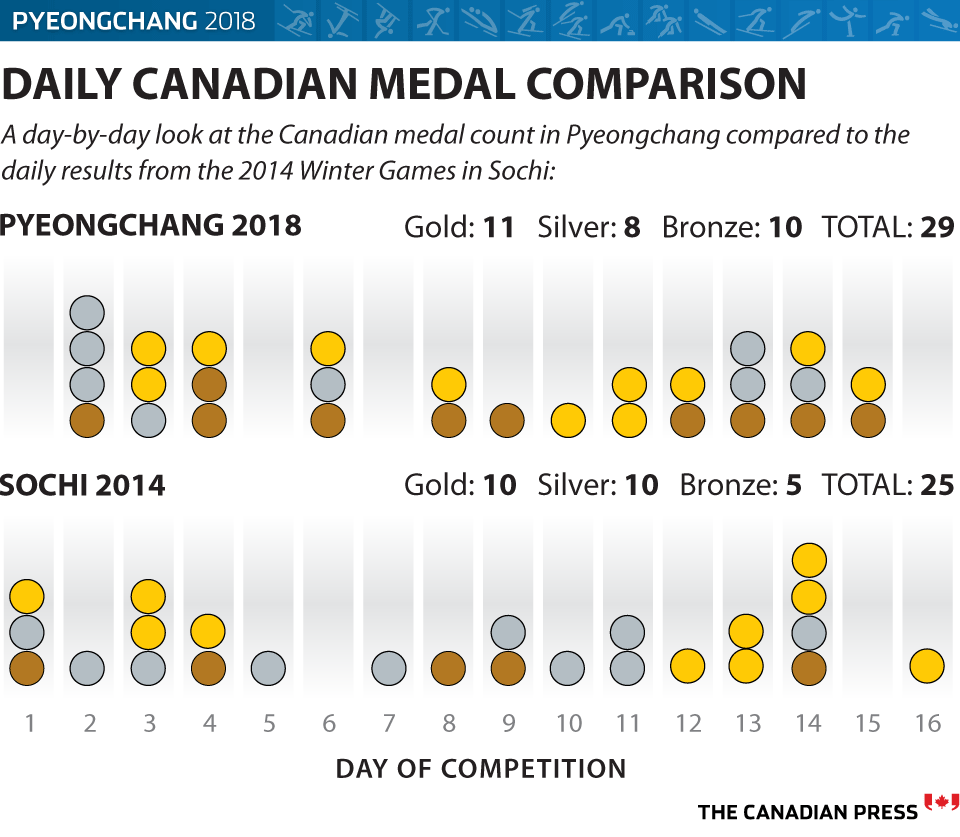 It is of course hard to predict Olympic medals. Much of the fun of watching comes from the possibility of underdogs and upsets. But one estimate had Canada winning 29, which would make this a record year.
Here's a look at some of the medal possibilities still to come:
Short-track speed skating
Canada has several standout athletes on the short track, and like swimming at the Summer Olympics, there are a lot of short-track events.
With 500, 1,000 and 1,500-metre events for men and women, as well as relay races, there are a lot of chances at a medal. Two races have already been decided, but there are still six medals left to be awarded, starting on Saturday.
WATCH: Through seven days of competition, Canada's athletes have captured the most medals by any Canadian Winter Olympic team.
Canada off to best ever start at Winter Olympics
Some notable Canadians competing include Marianne St-Gelais, Kim Boutin – who already won a bronze — Valerie Maltais, Charles Hamelin, Charle Cournoyer and Samuel Girard. Hamelin set an Olympic record during one of his heats in the 1,000-metre race. The quarterfinals are Saturday.
Freestyle skiing
There are still seven medals remaining in freestyle ski, and Canada could capture some of them.
It's worth keeping an eye on defending Olympic ski cross champion Marielle Thompson. Although she's recovering from a knee injury, she's still on the schedule to compete this Olympics, alongside another medal winner, Kelsey Serwa.
Long-track speed skating
There are still seven medals left up for grabs at the long track, and Canada has several skaters in the running. Although the Dutch have dominated the podium so far, as they often do, Canada has had some successes and some near misses.
Canada could medal in some of the men's short distances, as well as the women's mass start and men's team pursuit.
Team sports and others
Canada's men's curling team is undefeated so far at the Olympics, and the Canadian hockey teams tend to be medal contenders – even though not having NHL players makes the men's tournament less predictable.
Canada could also pick up a snowboarding medal in the big air event.
Ice dancers and flag bearers Scott Moir and Tessa Virtue could pick up a medal in their event, along with fellow figure skaters Kaetlyn Osmond and Gabrielle Daleman.
© 2018 Global News, a division of Corus Entertainment Inc.