Our BC – Global BC Featured Community Events Calendar

SPONSORSHIP SUBMISSIONS & EVENT LISTING REQUESTS
Submit Your Event for Consideration
Global BC has been an important part of the community for over 50 years and is proud to support various events, organizations and campaigns each year!
Have an event you're wanting to promote on Global BC?
Click the link above and e-mail us your details.
If it is something we are interested in pursuing, we will contact you for further information.
PLEASE NOTE – We are generally booking 3-4 months in advance and due to the sheer number of requests we receive, we simply cannot accommodate everyone.
To add your own event to our community calendar, click here.
Be sure to include #OurBC to your hashtags through your Social Media networks!
We thank you for choosing Global BC to promote your event and we wish you all the best success!

Global BC is proud to partner with these featured events:
---
Parkinson's Awareness Month
On now until April 30
This April you can help over 13,000 British Columbians living with Parkinson's disease!
Share your Parkinson's story on social media using the hashtag #PDANDME.
Details at Parkinson.BC.ca
---
Jeans Day
Thursday, May 3
Across BC
Annual Fundraising BBQ at Vancouver Art Gallery | 11:30am-1pm
Wear your jeans for Jeans Day!
On May 3,buy your button and deck yourself out in denim.
Jeans Day helps raise money for BC Children's Hospital.
Info at JeansDay.ca
---

Golf Surrey Passes on sale now!
One round of golf and 15% off subsequent rounds for the 2018 year
Kick off the golf season with a Golf Surrey Pass!
You can golf one round, plus 15% off subsequent rounds at four courses including; Hazelmere, Northview, Morgan Creek and Peace Portal Golf Course.
Passes on sale now at GolfSurrey.ca
---

Girl Guides of Canada – Classic Cookies
On now until they are gone
Throughout BC
One of Canada's best-loved traditions is back for April!
Get your Girl Guide cookies this month and help support local BC Girl Guide Programs.
Details at GirlGuides.ca
---

Art! Vancouver
On now until April 22
Vancouver Convention Centre – East
Friday: 1 – 9pm
Saturday: 12 – 8pm
Sunday: 12 – 5pm
Art! Vancouver returns to the Vancouver Convention Centre this year for the fourth time.
As an international, contemporary art fair, artists and galleries come from across Canada and around the world to exhibit their work. The show also features live artist demonstrations, keynote speakers and panel discussions.
Details at ArtVancouver.net
---
40th Annual Vancouver Greek Food Festival
On now until April 22
St Georges Greek Orthodox Church and Community Centre, 4500 Arbutus Street, Vancouver
Friday: 11:30am – 10pm
Saturday & Sunday: Noon – 10pm
Come out and enjoy the taste, sights and sounds of Greece!
Celebrate the 40th anniversary of the Vancouver Greek Food Festival with performances, food and more!
Details at HellenicCommunity.org
---
Vancouver Sun Run
Sunday, April 22
Downtown Vancouver
The 2018 Vancouver Sun Run presented by Ford is on Sunday, April 22nd.
Run, walk or dance with thousands of people through the streets of downtown Vancouver.
Register today by visiting VancouverSunRun.com
---
AccolAIDS 2018
Sunday, April 22 | 6-1opm
Vancouver Convention Centre West, Vancouver
Come out to AccolAIDS 2018!
The annual awards gala will honour organizations, businesses, groups and individuals responding to the HIV/AIDS epidemic in BC.
Details at AccolAIDS.ca
---
#48in48 Campaign
April 25 to 27 | 11am-1:30pm
London Drugs, Granville Street, Vancouver
You're invited for the kick off of #48in48 at London Drugs on Granville Street.
Meet transplant recipients, participate in Zumba and register your wishes.
Info at Transplant.BC.ca
---
BC Professional Fire Fighters' Burn Fund Responder Dinner
Thursday, April 26 | 6-11pm
Stanley Park Pavilion, Vancouver
You're invited to "The BC Professional Fire Fighters' Burn Fund" Responder Dinner!
The event will honour the Burn Fund's special responders and support "Too Hot For Tots' Burn Education Program.
Details at BurnFund.org
---
GrapeJuice Wine Auction benefitting Big Sisters of BC Lower Mainland
Thursday, April 26 | 5:30pm-8:30pm
Aston Martin Vancouver & Bentley Vancouver, 1770 Burrard Street
Come out to the GrapeJuice Wine Auction!
Pick up some rare wines and network with 200 business professionals while supporting Big Sisters of BC Lower Mainland.
Info at BigSisters.BC.ca
---
Gala of Grace
Friday, April 27
The Pipe Shop, North Vancouver
The North Shore Crisis Services Society provides support and resources to women and children fleeing domestic abuse in our community. All proceeds from the 3rd annual Gala of Grace will go towards a new second stage house. Grab your girlfriends, co-workers and all the special women in your life and join this vibrant celebration!
Tickets and info at GalaofGrace.ca
---

2018 Strathcona ROTARY Youth Leadership Hoop-A-Thon
Saturday, April 28 | 10am-4pm
Strathcona Community Centre Gym, Vancouver
On April 28 join the Annual Strathcona ROTARY Hoop-A-Thon!
Help shoot hoops and make a difference for kids on and off the court!
Info at HoopAThon.ca
---
Women's Health Show
April 28 to 29
Fairmont Hotel Vancouver
Get your tickets for the 2nd Annual Women's Health Show!
The two day event will have lectures, healthy cooking demos, prizes and more!
Tickets are free at WomensHealthShow.ca
---
Rhythm of Life Walk/Run 20th Anniversary
Sunday, April 29
Burnaby Lake Park
This year marks the 20th anniversary of the Rhythm of life walk run – Burnaby's annual community fundraising event.
The funds from this event provide support for FITT Cardiac programs, Burnaby Hospital's Healthy Heart program and the Heart and Stroke Foundation's Big Bike Ride
Details at HealthyHeartRun.ca
---
McHappy Day
Wednesday, May 2
McDonald's Restaurants across Canada
On May 2nd, McDonald's® Canada restaurants in Vancouver will join more than 1,400 restaurants across the country to celebrate McHappy Day.
Visit any participating restaurants across the lower mainland to help make a difference in the lives of families in your community, as $1 from every Big Mac®, Happy Meal® and hot McCafé® beverage sold will go to benefitting Ronald McDonald House Charities® Canada and other local children's charities across the country.
Details at RMHbc.ca
---
Spring Okanagan Wine Festival
May 2 to 13
Throughout the Okanagan Valley
You're invited to the "Spring Okanagan Wine Festival."
The annual festival will have over 90 events to create the perfect wine experience.
Info at TheWineFestivals.com
---
Dirty Dancing
Thursday, May 3
Abbotsford Centre
Dirty Dancing is coming to Abbotsford.
The Classic Story on Stage will be at the Abbotsford Centre on May 3rd.
Tickets at AbbotsfordCentre.ca
---
LOVE HER Vancouver
Thursday, May 3 | 6pm
Fairmont Waterfront, Vancouver
You're invited to "LOVE HER" Vancouver.
An elegant evening of fashion in support of Ovarian Cancer Canada.
Info at love-her.ca
---

Athletics for Kids Hollyburn Boxing Gala
Friday, May 4 | 6pm
Hollyburn Country Club, West Vancouver
Help put marginalized children in organized sports at the 16th Annual Athletics for Kids Hollyburn Boxing Gala!
On May 4th the event will have a Mardi Gras theme.
Info at A4K.ca
---
Ridge Meadows Home Show
May 4, 5 & 6
Planet Ice, Maple Ridge
Check out the Ridge Meadows Home Show!
The event will have over 400 exhibitor booths with everything to landscape, renovate and decorate your home.
Info at RidgeMeadowsHomeShow.com
---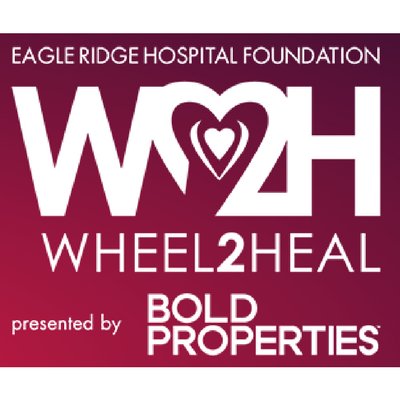 Wheel 2 Heal 2018
Saturday, May 5 | 10am
Town Centre Park (Lot D), Coquitlam
A fun, unique bike ride through the Tri-Cities raising money for enhanced patient care at Eagle Ridge Hospital.
Trail Ride and Road Ride options; perfect for all skill levels. Food & festivities post-ride. Raising funds ensuring our families continue to have access to immediate, life-saving healthcare in our community.
Info at WheeltoHeal.ca
---
Investors Group Walk for Alzheimer's
Sunday, May 6
Multiple BC locations
Nobody should walk alone. Join the movement and show British Columbians affected by dementia that you stand with them by participating in the Investors Group Walk for Alzheimer's!
It's a fun and family-friendly way to create new memories while raising awareness and funds to make a difference.
Register at WalkForAlzheimers.ca
---
Wings Over the Rockies
May 7 to 13
Pynelogs Cultural Centre, Kinsmen Beach, Invermere
Come out to Wings Over the Rockies!
The Festival will have over 100 events in the Columbia Valley and include hikes, presentations, field trips and more!
Details at WingsOverTheRockies.org
---
Coast Mental Health's Courage To Come Back Awards presented by Wheaton Precious Metals
Thursday, May 10 | 5pm Reception
Vancouver Convention Centre West
You're invited to the 20th annual Courage To Come Back Awards presented by Wheaton Precious Metals!
The event will celebrate individuals who have overcome adversity or illness and have gone on to give back to their communities.
Tickets at CourageToComeBack.ca
---
Eagles concert
May 10 & 11 | 8pm
Pepsi Live at Rogers Arena, Vancouver
The Eagles are coming to Vancouver!
The American Rock band will be playing at Rogers Arena on May 10 and 11.
Tickets at LiveNation.com
---
RBC Cup – Canadian Junior A Hockey Championships
May 12 to 20
Prospera Centre, Chilliwack
Come out the RBC Cup!
The Chilliwack Chiefs will host the Canadian Junior A Hockey Championships from May 12th to 20th.
Tickets at ChilliwackChiefs.net
---
#BC TECH Summit
May 14 to 16
Vancouver Convention Centre West
Come out to the largest technology conference in Western Canada!
The BC Tech Summit will showcase the province's vibrant tech and innovation sectors from May 14th to 16th.
Details at BCTechSummit.ca
---
Day Out with Thomas
May 19 to 21, 26 & 27
Railway Heritage Park, Squamish
More than just a train ride.  Ten other activities including Meet Sir Topham Hat.
Tickets and info at: WCRA.org
---

BC Sports Hall of Fame Induction Gala
Thursday, May 31 | Reception at 5pm. Dinner & Induction Ceremony 6:30-10pm
Parq Vancouver
You're invited to the BC Sports Hall of Fame Induction Gala!
The annual gala will honour the 2018 inductees into the BC Sports Hall of Fame on May 31st.
Info at BCSportsHallofFame.com
---
Tom Jones concert
Saturday, June 2 | 7:30pm
Queen Elizabeth Theatre, Vancouver
Tom Jones is coming to Vancouver!
The iconic Welsh singer is set to play the Queen Elizabeth Theatre on June 2nd.
Tickets at LiveNation.com
---
Rock Ambleside Park
August 17 to 19
Ambleside Park, West Vancouver
Rock Ambleside Park is back for 2018!
Get your tickets to Vancouver's biggest classic rock festival next summer, featuring 11 Canadian classic rock icons including Loverboy and Trooper!
Tickets at RockAmblesidePark.com
---
SKOOKUM Festival
September 7 to 9
Stanley Park, Vancouver
A weekend of music, creativity, and culinary excellence all set in a spectacular vibrant coastal atmosphere just minutes from downtown Vancouver.
Headliners include The Killers, Florence + The Machine, Metric and more!
Get the full line-up details here.
Tickets on sale now at SkookumFestival.com
---
Luke Bryan: What Makes You Country Tour –XL Stadium Sized
with Special Guest Sam Hunt along with Jon Pardi and Carly Pearce
Saturday, October 13
BC Place, Vancouver
Luke Bryan is coming to BC Place!
Luke will be on his "What Makes You Country Tour" with special guest Sam Hunt along with Jon Pardi and Carly Pearce.
Tickets at LiveNation.com
---
After 73 years, the CKNW Orphan's Fund has changed its name to the CKNW Kids' Fund.
It will continue to support vulnerable kids with physical, social, cognitive and mental health challenges living in BC communities.
Details at CKNWKidsFund.com
---
Listen to Global News Morning and Global News Hour at 6 on CKNW
You can now listen to the simulcast broadcast of Global News Morning weekdays from 5-5:30am while you start your mornings!
While you're driving home from work or you can't get to your TV set to watch Global News Hour at 6, you can now listen to the simulcast broadcast on Global News Radio 980 CKNW every night at 6pm!
Tune in on your radio dial on AM 980, on the Radioplayer Canada App, Google Home, Amazon Alexa, Apple Music, Apple CarPlay or 101.1 FM HD2.
---
Send us your Weather Window photos to Global BC
Do you have a wonderful or spectacular weather photo that you would like to share to our TV viewers?
Email us at WeatherWindow@globaltv.com
Or send your pictures through the Global News SkyTracker Weather app – download free on your Apple App Store and Google Play Store.
Your photo(s) may be featured weeknights on Global News Hour at 6!
---
Do you know someone who is celebrating their 100th birthday or older?
Or a wedding anniversary of 70 years or over?
You can send us your details including the name of the person/persons, their date of birthday, where they live, how old they will be and leave a contact name and number and/or return email address.
Email us to GlobalBCReception@corusent.com
Birthdays and Wedding Anniversaries Announcements are made during Global News at Noon and on Global News Hour at 6.
*We are not required to announce the birthdays or anniversaries, but we will do our best to accommodate all requests. We only announce 70th Anniversaries and up and 100th Birthdays and up.
---
Welcome to Radioplayer Canada… "Where Canadian Radio Plays"
Now Listen to more than 500 of Canada's best radio stations. Every type of music, riveting talk, thrilling sports, and engaging personalities.
Canada's most powerful radio in your hands, pocket or purse.
Listen Anywhere… in the car, at the gym, relaxing at home, or at work.
And listen across all your devices – mobile, tablet, desktop, and online
Download today at RadioPlayer.ca