Global Calgary Featured Events
Our YYC Community Segment – Click Here  
---

Oct 15 – Nov 2, 2019 | Max Bell Theatre
This powerful on-act play, told through three interconnected monologues, follows three imperfect characters and their relationships with money, greed and righteousness. Rents rise and tempers flare, when all are tested with just how far they will go for the sweet smell of cold hard cash.
Get you tickets today!
---

Oct 16 – Nov 3, 2019 | Martha Cohen Theatre
Winner of the 2013 Pulitzer Prize for Drama, Disgraced is a compelling play by Ayad Akhtar and directed by Nigel Shawn Williams. When successful Pakistani-American lawyer Amir Kapoor and his wife host a dinner party for an African-American colleague and her Jewish husband, the evening gives way to a searing debate about race, privilege, politics and identity, fearlessly taken on from a variety of cultural perspectives. Marriage, friendships, ambition, religion, race, art and power: nothing is off-limits in this riveting drama.
Tense, surprising and shockingly funny, Disgraced will hold audiences on the edge of their seats.
Audience Considerations: Contains mature themes, violence and coarse language. Suggested for ages 18+. Click here for tickets.
---
Oct 19, 2019 | Eau Claire Market
The Halloween Howl Fun Run and Walk, supports life-changing diabetes research through family fun and exercise. Our goal is to create a unique event, that is exciting and engaging for participants and their families, while also increasing diabetes awareness.
Register now by clicking here.
---

Oct 19, 2019 – Jan 11, 2020 | Jubilations Dinner Theatre
Just take those old records off the shelf. That's what Kevin Stevens is doing. You see, Mr. and Mrs. Stevens are finally selling the family home. When their son Kevin comes to help them clean out the clutter in the basement, he stumbles upon their stash of old records that have been collecting dust for decades.
Let the nostalgia trip begin! Come and jump back in time with Kevin to that by gone age when TV's were a huge piece of furniture that sat on the floor, and phones were olive green and hung on the wall! All the greatest records, containing all the greatest songs are in that basement just waiting for us to let them spin again. Jubilations Dinner Theatre presents Old Time Rock and Roll… a trip back through the wonder years! Grab your tickets here!
---
ALBERTA BALLET PRESENTS FRANKENSTEIN
October 23-26, 2019 | Southern Alberta Jubilee Auditorium
Possibly the only truly mythical character conceived since the early Greeks, Frankenstein's creature will be reincarnated on stage and through movement in this highly-anticipated world premiere by Alberta Ballet Artistic Director Jean Grand-Maître.
Click here for tickets and more info.
---
ALBERTA BUSINESS HALL OF FAME GALA & INDUCTION CEREMONY
Oct 24, 2019 |  Hyatt Regency, Calgary
Join us as we celebrate the 2019 Alberta Business Hall of Fame – Southern Alberta Inductees: Geoffrey Cumming, Margaret Southern, Jay Westman and Suzanne West (1965-2018).
Established by JA Southern Alberta in 2004, the Alberta Business Hall of Fame honours the lifetime achievements of southern Alberta's most distinguished individuals. These leaders shape our province through their business success, entrepreneurial spirit and philanthropic contributions. For more information on the 2019 Gala & Induction Ceremony, click here.
---
GHOULS' NIGHT OUT – HERITAGE PARK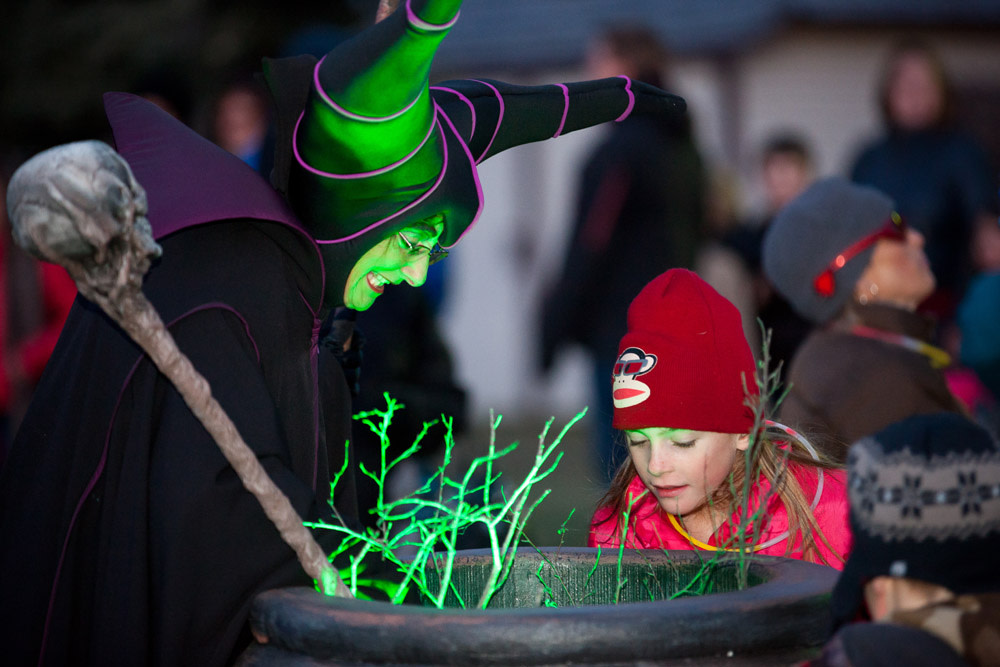 Oct 24-27, 2019 | Heritage Park
Ghouls' Night Out at Heritage Park is perfect for families with little Ghouls' aged 3-9, who are looking for a fun and safe night out! This year you can enjoy meeting the Addams Family, and interactive live stage play.
By popular demand! Take a spooky stroll down our well decorated streets, and meet some of the ghoulish residents of the village. Do the Mash – the Monster Mash! Our Family Halloween dance will have your bones jumping along to top Halloween hits. Drop in for storytelling and crafts with some of our favourite  wizards, witches and more. Kick up your heels and get ready to take to the skies at the Witches Flying School. Have a freaky feast as you decorate your very own "Ginger-dead Man" cookie. Travel down the rabbit hole and join Alice and her funny friends for tea. Be on the lookout for the spooky scarecrows and their pumpkin patches, werewolves, a cast of creepy characters, Carnivale games of chance and more!
For more information, Click here!
---

Oct 27, 2019 | Bowness Park
Joggin for a Noggin is a one day Halloween themed fun run with the purpose of sending Neurosurgery kids to camp. Kids and adults can register for a 1.4K trick-or-treat walk or a 5K run. Registration includes s'mores campfire roast, food and beverages, best costume prizes and a silent auction. Funds raised go to help send neurosurgical kids to Camp Everest South. For many, this offers the only opportunity for kids to experience the joys of summer camp. To register, click here.
---
BARNEY BENTALL & THE CARIBOO EXPRESS BENEFIT CONCERT

Nov 1, 2019 | Bella Concert Hall, MRU
Over a decade ago, legendary singer/songwriter Barney Bentall launched what is now known as The Cariboo Express tour. Featuring some of Canada's finest roots and country musicians, his one-of-a-kind fundraising event has raised nearly $1 million in Western Canadian cities in support of local charities. This year in Calgary, Mawer Investment Management and Stantec present the 5th Annual Peter Burgener Memorial Charity Concert featuring guests Ridley Bent, Dustin Bentall, Wendy Bird, Leeroy Stagger and more.
The concert is an annual tribute to the late Peter Burgener, an exceptional and influential architect, community activist, philanthropist and avid country music fan. All concert proceeds go to Classroom Champions to build strong communities by providing students, teachers and athletes with the skills for success. Click here for more details and to get your tickets.
---

Nov 1 – 11, 2019 | Memorial Dr. (between 3rd St. NW & Centre St.)
Over 3500 crosses are placed along Calgary's Memorial Drive from Nov 1st – 11th each year. Each cross memorializes an individual soldier from Southern Alberta who made the ultimate sacrifice during active duty protecting our country.
Daily Ceremonies: Sunrise Flag raising and Sunset Flag lowering ceremonies will run daily from November 1st to November 11th.
Remembrance Day: Members of the public are welcome to attend the Sunrise and/or Sunset ceremonies or to visit the site at any time to walk among the crosses. The Remembrance Day service will begin at 10:30 AM.
Click here for more details.
---

Nov 1 – 30, 2019 | City Wide
During the month of November, Canadian Legacy Project will be hosting their annual Veterans Funding Drive. Supporting our Canadian veterans in their time of need, Canadian Legacy Project's programs support military veterans in the areas of employment, housing, PTSD, service dogs, education and fitness.
Give back to those who sacrificed everything for Canada. Click here and donate today.
---

Nov 5, 2019 | cSpace King Edward
You are invited for an inspiring evening of live music, stories, delicious hors d'oeuvres and cocktails, silent auction and amazing company.
For many young people the difference between trouble and triumph is someone who sees the good in them. We have an inspiring evening planned with an opportunity to hear from a youth participant and their Volunteer Coach about their experience. Their story of hope and change will help you understand why we love what we do, and learn how, together, we can help others to reach their potential too. When we see what's strong, they see what's possible.
Since 1996 the Calgary Youth Justice Society has helped youth find what is strong in their lives through programs proven to build resilience, reduce risk and nurture community connections. We connect adult volunteers with young people who need support. Our approach is strength focused, seeing beyond what's wrong to nurture what's strong. Get your tickets here.
---
TASTE OF HOME 80'S HOUSE PARTY

Nov 9, 2019 | Hyatt Regency
Welcome to the 4th annual Taste of Home 80's House Party, in support of Ronald McDonald House Charities® Alberta, presented by Dilawri Group of Companies and Raymond James Eighth Avenue Private Wealth Management. Six of Calgary's finest chefs will come together to create a six-course meal with food stations, delicious drinks, fun activities, and one gnarly 80's cover band!
This event supports families who stay at the Ronald McDonald House when they need to travel for their child's vital medical treatment. In 2018, nearly 200 communities in Alberta had at least one family stay at a Ronald McDonald House.
This event SELLS OUT every year, so don't hesitate to buy your tickets TODAY!
---
DISNEY ON ICE PRESENTS MICKEY'S SEARCH PARTY
Nov 14-17, 2019 | Stampede Corral
Join Mickey Mouse and his friends at Disney On Ice presents Mickey's Search Party, a brand-new adventure filled with world-class skating, high-flying acrobatics, and unexpected stunts! Help them follow Captain Hook's treasure map and look for clues in the search for Tinker Bell in immersive, fantastic worlds. Explore the colorful spirit realm of Coco in Miguel's Disney On Ice debut, sail away with Moana as she bravely saves her island, see Belle in the sky above you as the enchanted chandelier comes to life, and sing-along with Elsa in the icy world of Frozen. Make memories with your whole family during Aladdin, Toy Story and The Little Mermaid as the search party becomes an all-out magical celebration on the ice, in the air, and all around!
In Calgary November 14-17 2019 with showtimes that work with everyone's schedule! Ticket prices and showtimes available here!
---
Nov 16, 2019 | Eau Claire Market, Bow River Pathway
When the sun goes down on Saturday, November 16th, the light from hundreds of headlamps will bob and weave along the Bow River Pathway as enthusiasts and supporters of visually impaired Albertans join in sight night Calgary – a fun run after dark.
Raising funds and awareness for the Alberta Sports and Recreation Association for the Blind (ASRAB), sight night, presented by Flaman Fitness, is more than just another run. It is a vision-optional event. Runners who are visually impaired will share the path with sighted runners. The after-dark timing makes it a more even playing field!
Click here for more information and to get your pledge form.
---
LIVE & UNSIGNED – EMPOWERING MINDS

Nov 16, 2019 | Bella Theatre, MRU
The 5th annual Live & Unsigned Talent Show fundraiser for Empowering Minds takes place Saturday, November 16th in the Mount Royal University's Bella Theatre. The top acts from our auditions will go on to compete at this talent show vying for $1000 for first place, $500 for second place and $250 for third place. Winners are chosen by audience votes.
Click here for tickets to the Talent Show. Empowering Minds provides a way for youth to access world-class leadership training that helps them develop the confidence, motivation and resilience necessary to thrive in today's world.
---
WAITRESS – BROADWAY ACROSS CANADA

Nov 19 – 24, 2019 | Jubilee Auditorium
Meet Jenna, a waitress and expert pie-maker who dreams of a way out of her small town and rocky marriage. Pouring her heart into her pies, she crafts desserts that mirror her topsy-turvy life such as "The Key (Lime) to Happiness Pie" and "Betrayed By My Eggs Pie." When a baking contest in a nearby county — and a satisfying run-in with someone new — show Jenna a chance at a fresh start, she must find the courage to seize it. Change is on the menu, as long as Jenna can write her own perfectly personal recipe for happiness.
Brought to life by a groundbreaking, all-female creative team, this Tony Award® -nominated hit features original music and lyrics by 7-time Grammy® nominee Sara Bareilles ("Love Song," "Brave"), a book by acclaimed screenwriter Jessie Nelson (I Am Sam) and original direction by Tony Award winner Diane Paulus (Pippin, Finding Neverland).
"WAITRESS is a little slice of heaven!" says Entertainment Weekly, and is "sweet, sassy and passionate," according to New York Magazine. Don't miss this uplifting and hilarious musical! Get your tickets here!
---
THE LION, THE WITCH AND THE WARDROBE – ATP

Nov 19 – Dec 29, 2019 | Martha Cohen Theatre
The thrilling stage adaptation of C.S. Lewis' well-known tale takes four children from a dusty English mansion to a mythical, far-away world gripped in an epic battle between the forces of good and evil. Helped along by the fawn, Mr. Tumnus, the friendly Beaver family and a forest of talking animals, Peter, Susan, Edmund and Lucy take centre stage in the struggle to free Narnia from the forces of the White Witch as they await the triumphant return of Aslan the Lion.
Alberta Theatre Projects brings the magical, wintery landscape of Narnia to life onstage in the Martha Cohen Theatre through the use of extraordinary scenic elements, costumes and puppetry, as the characters learn profound lessons of courage, loyalty and wisdom. "Ceaselessly inventive and joyously imaginative" (National Post), The Lion, the Witch and the Wardrobe is sure to be an exciting and deeply heartwarming theatrical experience for children and adults alike.
Audience Considerations: Recommended for ages 5+. Click here for tickets.
---
ZOOLIGHTS, presented by Olympia Trust Company, is back for the 23rd time! Calgary's award winning, magical holiday tradition will be glowing for six weeks of perfect family-friendly fun. We're committed to helping you enjoy this incredible event while supporting wildlife conservation.
We're brightening your ZOOLIGHTS experience with enchanting new themes and special guests. Of course, we're bringing back the classic activities you've come to love and have added in some new ones designed to light you up. This year's ZOOLIGHTS will feature exciting new activities including Wizarding Wednesdays, Potions Class, Axe-Throwing, the Sugar Shack, and more, in addition to the classics we have all come to love like ice skating and fire pits. Get your tickets here.
---
THEATER CALGARY'S A CHRISTMAS CAROL

Nov 28 – Dec 28, 2019 | Max Bell Theatre
It's a frigid Christmas Eve and with a heart as cold as the freezing London winter, Ebenezer Scrooge is paid a visit from the spirits of Christmas Past, Present and Yet to Come, and is forced to finally confront how his actions have affected others and where they are leading him.
Get your tickets today.
---
ALBERTA BALLET PRESENTS THE NUTCRACKER
Dec 13-15, 20-24, 2019 | Southern Alberta Jubilee Auditorium
The Nutcracker features a live orchestra and a cast of more than 120 dancers, with dazzling sets and costumes designed by Emmy-award winning designer Zack Brown, and choreography by our own Edmund Stripe.
Click here for tickets and more info.
---
ALBERTA BALLET WELCOMES DIAVOLO
Jan 16-18, 2020 | Southern Alberta Jubilee Auditorium
Diavolo was seen by over 95 million people as one of the top 10 finalists on NBC's America's Got Talent. The Los Angeles-based dance company Diavolo continues to push a new edge of performance with Artistic Director Jacques Heim's inventive genius and his fearless, athletic daredevils.
Click here for tickets and more info.
---
THEATRE CALGARY PRESENTS 'THE LOUDER WE GET'
January 28 – February 22, 2020 | Theatre Calgary
Destined for Broadway, this dazzling musical follows the compelling and inspirational true story of Marc Hall as he navigates the Catholic school system to fight for his right to take his boyfriend to prom. With colourful pop-inspired songs and heart-warming unity, you won't want to miss this electric love story at Theatre Calgary.
Click here for tickets and more info.
---
ALBERTA BALLET PRESENTS UNLEASHED
Feb 12-15, 2020 | Southern Alberta Jubilee Auditorium
Featuring three of the world's most innovative and stimulating dance makers, accompanied by ground breaking designers and composers, join us as we revel in the intoxicating and vertiginous rush created by these acclaimed choreographers who seek to bring us where no one has gone before.
Click here for tickets and more info.
---
THEATRE CALGARY PRESENTS 'ADMISSIONS'
March 10 – April 4, 2020 | Theatre Calgary
As the admissions director at a New England prep school, Sherri Rosen-Mason aims to change the school for the better through increasing inclusivity and diversity. When her son and his Black American best friend both apply to Yale, Sherri's vision for her son's future gets in the way of her liberal, white beliefs. Admissions is yet another stunning, raw, honest and hilarious depiction of humanity by Joshua Harmon, the author of Bad Jews.
Click here for tickets and more info.
---
ALBERTA BALLET PRESENTS SEPTIME WEBRE'S PETER PAN
Mar 18-21, 2020 | Southern Alberta Jubilee Auditorium
Get lost in the adventures of all of your favourite characters from this classic story as they journey through the skies from The Darling residence to Never Never Land in Septime Webre's Peter Pan.
Click here for tickets and more info.
---
THEATRE CALGARY PRESENTS 'MILLION DOLLAR QUARTET'
April 21 – May 24, 2020 | Theatre Calgary
Four rock n' roll legends are brought together in Memphis Tennessee at Sun Records for an impromptu jam session. Prepare for a blast from the past! It's December 4, 1956, you are in the recording studio with Johnny Cash, Jerry Lee Lewis, Carl Perkins and Elvis Presley. You see them play together for the first and only time. These nostalgic rock n' roll classics will have you wanting to jump out of your seat to dance.
Click here for tickets and more info.
---
ALBERTA BALLET PRESENTS SWAN LAKE 
May 6-9, 2020 | Southern Alberta Jubilee Auditorium
Directed by Christopher Anderson whose interpretations of The Sleeping Beauty and Cinderella astounded audiences. Swan Lake is arguably ballet's greatest achievement, a monument of artistic triumph surviving the centuries, still challenging dancers and audiences today with its pure brilliance and exacting choreography.
Click here for tickets and more info.
---
Youth Singers delivers a leading-edge professional curriculum encompassing choral (from classical to contemporary pop), musical theatre and a wide variety of dance styles. Our artistic team includes over 50 outstanding educators, directors, arrangers, composers, choreographers and dramatists. Youth Singers of Calgary is a Performing Arts Company with divisions covering all ages from three to 93. Register today!
---
Through the generous support of the Calgary Flames Foundation, YMCA Calgary provides grade 6 students with a full year membership and special programming for FREE! You'll practice independence and leadership in a safe and positive place that promotes the values of respect, responsibility, honesty and caring.
As a Calgary Flames Grade 6 YMCA Member, you'll have free access to all YMCA Calgary locations any time throughout your grade 6 year (memberships are valid until August 31 of the same year). Drop by any YMCA location with your completed grade 5 report card and you're good to go! Be independent and grow with other positive, healthy youth. Become a member today!
---
Grey Eagle Resort and Casino is one of Calgary's newest entertainment destinations located on the Tsuu T'ina First Nation, nestled in the beautiful backdrop of the Rocky Mountains.
Offering to their guests professionally conducted, exciting entertainment in a unique environment!
---
Global Calgary is proud to support the Canadian Women's Hockey League and Calgary's home team, the Calgary Inferno! Check out their website and find out how you can support Women's Hockey in our city! With affordable game packages and single ticket pricing, what better way to ring in the new year then to show some team spirit!