Canada is on track to surpass 10,000 coronavirus cases a day by February if "we maintain the current number of people we contact each day," according to new modelling from the federal government.
The feds on Friday released an updated picture of the current COVID-19 pandemic facing Canada, which included new modelling and estimates on the number of cases and deaths.
The modelling showed that if Canadians increase the current number of people they contact each day by February, COVID-19 cases could skyrocket past 30,000 per day.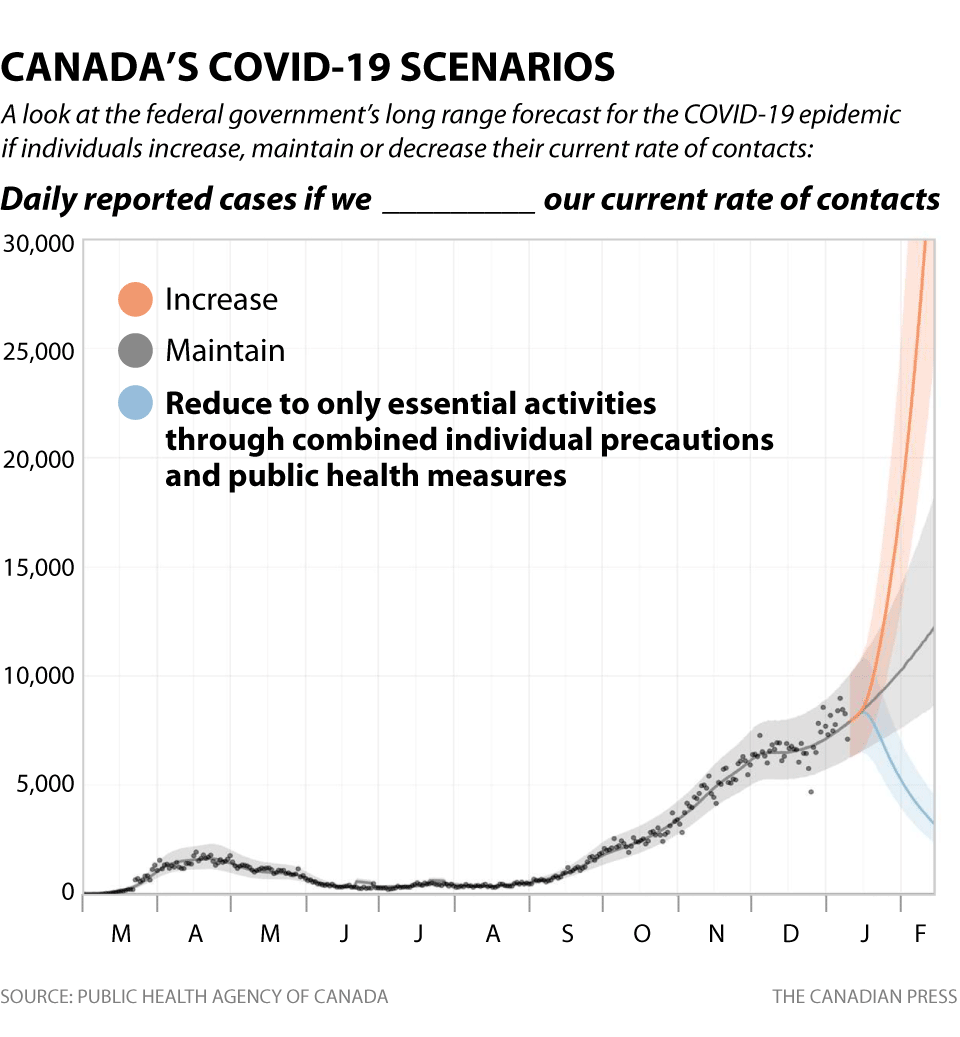 Speaking at a media conference, chief public health officer Dr. Theresa Tam said the rise in COVID-19 numbers is largely due to Canadians gathering during the holidays. She added that measures must be "further intensified" to help stop the spread.
The modelling also showed that COVID-19-related deaths are steadily rising and may soon exceed levels seen during the first peak in May 2020.
[ Sign up for our Health IQ newsletter for the latest coronavirus updates ]
Tam said over the past seven days, 137 COVID-19-related deaths have been reported daily, adding that those 80 years and older account for 70 per cent of all deaths.
"A majority of deaths continue to be linked to long-term care homes," Tam said.
Coronavirus: Canada's top doctor says COVID-19 measures must be 'further intensified' to help stop spread
Canada added 7,563 coronavirus cases Thursday and 154 deaths as the second detection of the South African variant of the disease was reported in the country.
There are now 688,891 cases in total and 17,537 deaths in the country.
Friday's modelling showed the total number of cases could reach 796,630 by Jan. 24 and another 2,000 people could die.
Despite ongoing vaccination efforts, Canada's cases have been steadily increasing, forcing provinces to take harsh measures to keep people at home. Ontario has issued a stay-at-home order and Quebec has implemented a curfew in a bid to quash the rise in cases.
Tam said measures to reduce contacts must be kept in place long enough to prevent an immediate resurgence of infections as soon as the lockdown measures are lifted.
"If we ease measures too soon the epidemic will resurge even more strongly."
The modelling numbers come as Canada continues its coronavirus vaccination rollout campaign.
Coronavirus: Canada's deliveries of Pfizer vaccine hit by 'temporary delay,' Anand says
Tam said in the short-term the vaccines are not going to make a difference in transmission rates, but over time, the number of COVID-19 cases should start diminishing.
To date, Canada has received about 380,000 doses of the vaccine and was on track to more than double that figure before the end of the month. In February, Canada was also expecting just shy of two million doses to be delivered.
However, on Friday, Procurement Minister Anita Anand said the country's supply of the Pfizer coronavirus vaccine has been hit by a temporary delay because the company is scaling up its European manufacturing capacity – a move that will impact the vaccine's production for a "short period."
Anand said this won't impact Canada's long-term vaccination timeline.
View link »
© 2021 Global News, a division of Corus Entertainment Inc.